German Academic Exchange (DAAD) Students
German Academic Exchange Service RISE-North America Students
DAAD Toledo RISE-North America Program 
Four undergraduate students from across Germany are spending the summer and fall months carrying out research with faculty in the Physiology and Pharmacology at the University of Toledo College of Medicine. The students are funded through the (Research Internship in Science and Engineering) RISE in North America program sponsored by the Deutscher Akademischer Austauschdienst (DAAD), a German Academic Exchange Service supported by the Federal Republic of Germany through funding from the Federal Ministry of Education and Research.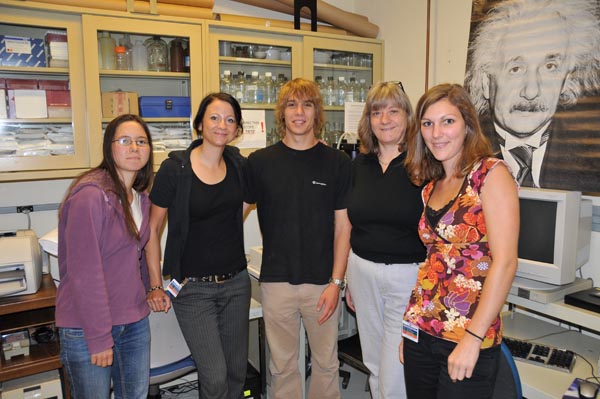 Maiko Ziegler, Maximilian Krause, Professor Tietz, Amrei Krings
The Director of the Toledo RISE program, Elizabeth I. Tietz, Ph.D. who is also hosting a DAAD student in her laboratory became aware of the new RISE-North America program through an invitation to participate in a DAAD Information Tour 2008: Life Science in Germany: New Developments in Research, Interdisciplinary Cooperation, and Higher Education.  The tour visited research institutions in Hannover, Braunschweig, Leipzig and Berlin to foster reciprocal research relationships among American, Canadian and German scientists and to draw attention to German research facilities, initiatives and programs, as well as the scientific Excellence Initiative funded through the European Union. The short-term RISE-North America internships partially cover student living and travel expenses for students from German universities pursuing degrees in biological, physical, earth sciences or engineering to gain insights into advanced research in the US and Canada while gaining practical experience in their fields. 
The students are being hosted in the College of Medicine Physiology and Pharmacology Department research laboratories.  They include:  Maximilian Krause, Friedrich-Schiller-Universität, Jena in the laboratory of Professor Zi-Jian Xie, Ph.D.; Amrei Krings, Rheinische Friedrich-Wilhelms-Universität, Bonn, in the laboratory of Professor Beata Lecka-Czernik, Ph.D., Professor of Orthopedics and Physiology and Pharmacology; Hochschule Anhalt (FH), Bernburg in the laboratory of Professor Sonia Najjar, Ph.D.; and Maiko Ziegler Philipps Universität, Marburg in the laboratory of Professor Elizabeth Tietz, Ph.D.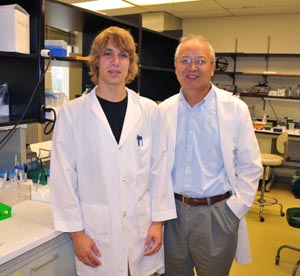 Maximilian Krause and Professor Xie
Hello, I'm Maximilian Krause and I am a student of Biochemistry in my second year. For future scientists it is very important to speak, write and understand English very well, so I wanted to spend a little time of my education in America or Canada. Because the University system changed from diploma to Bachelor and Master and I'm one of the last lucky diploma students, there was no chance for me to spend a whole semester overseas without losing my diploma degree course. So I decided to spend an internship in the summer in America. It was very helpful to me that one of our Professors presented the DAAD "RISE" program in one of our lectures. After a few investigations on the web I was on fire for this idea and I tried to do everything to spend my summer somewhere in the big USA. That was the best opportunity for me to combine both learning English and experience scientific laboratory work in the US, especially because a two-month internship offers the possibility to start an experiment on your own.
After a long flight and a very long day (because of the time lag) I arrived in Toledo, a (for Americans) small city in northern Ohio, bordering on Lake Erie. The first thing you learn about America is the kindness of the Americans. In a very short time I had a lot of friends and plenty of nice social appointments that made my time entertaining.
The work was starting after a few days of warming-up. I was overwhelmed about the very interesting topic of the work here in the laboratory of Dr. Zi-Jian Xie in the Department of Physiology and Pharmacology at the University of Toledo College of Medicine. I never heard about the possibility, that the sodium pump is a receptor. So I spent the first time to read more about this theme. But very quickly I had to care about my own experiments. I liked it very much that there is a lot of trust in the students here so that they can do their work independently. I learned a lot of new techniques and experiments here and especially learned to handle cell cultures. For a student with the major biochemistry it was a very interesting work. Methods like MTT-tests for cell activity, ATPase-assays, SDS-PAGEs and Western blots were used very often so that I know them now very well.
This exchange internship is a great possibility to learn a lot about scientific lab work and literature research but also about America and the people who are living in this country. I would like to recommend this internship to every student who wants a scientific career.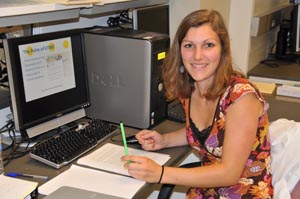 Amrei Krings
My name is Amrei Krings and I study biology at Rheinische Friedrich-Wilhelms-Universität in Bonn.
I am doing an internship in the Department of Orthopaedic Surgery and the Department Physiology and Pharmacology working at the University of Toledo College of Medicine with Dr. Beata Lecka-Czernik for 8 weeks through the RISE in North America program. This program is offered by the German Academic Exchange Service (DAAD) and gives undergraduate students the possibility to gain practical experiences and international competence in a lab abroad. I got to know about this program through a Professor from my University who recommended us to apply for an internship and encouraged us to take this chance to go abroad. 
The work in the Department of Orthopaedic Surgery is very interesting with a sincere team that supports me a lot. Especially working in the field of Diabetes and Osteoporosis with a biomedical background is a fascinating experience, which makes me open my mind for new fields or research I have not thought about before. With my own project I get to know about the effect of insulin on osteoclastogenesis and the so caused increased fracture risk. 
In the lab I can enlarge my knowledge in practical lab work and get to know new techniques I would not be able to get to know at university with about 100 students attending one course. Furthermore I can become more secure about the work I do by planning experiments on my own and especially working with animal tissue let me surmount my own personal difficulties. Moreover it gives me an orientation on what I would like to do after my Bachelors and makes me think a lot about maybe coming back to the United States or another foreign country for my Ph.D. 
I can recommend this DAAD RISE program to everybody. It is a wonderful experience even for those who are maybe a bit afraid of going abroad. Everybody welcomed me and involved me in everyday lab- and private life so you can just enjoy the time.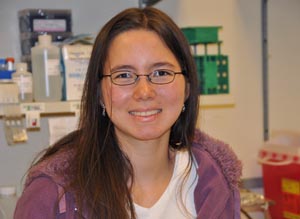 Maiko Ziegler
I am Maiko Ziegler a Pharmacy student at Phillips Universität in Marburg.  I heard about the DAAD exchange program and immediately decided to apply.  I thought I had little chance of being accepted and when the happy news finally came I was not prepared for it. I was anxious. 
Now I know that there was no reason to be anxious.  This academic research exchange is one of the best experiences in my life!  The University of Toledo College of Medicine is great. Paperwork, accommodations, getting to know people – everything went smoothly thanks to the organizational skill of the Department of Physiology and Pharmacology.  Everyday I see more of what real-life research is like. Dr. Tietz' Lab is currently working on benzodiazepine-induced changes in expression and activity of voltage-gated calcium channels (VGCC) using flurazepam-withdrawn rat hippocampal CA1 tissue. The experimental approach of this topic includes cell culturing of both human embryonic kidney cells (HEK), which is part of my work with Damien Earl, an M.D./Ph.D. student. These HEK cells need to be transfected with VGCC-subunit coding plasmids in order to record calcium currents from them. I also carried out transfection a few times and was involved in the making the plasmids. There is also a need to record from rat embryonic hippocampal neurons. I already learned how to dissociate these and I am now starting to learn how to record from them. The Lab also uses Western blot to determine the levels of calcium channel proteins in flurazepam-treated and non-treated rats. My own small project includes recording currents from dissociated cells and blotting of KCC1 and NKCC2 transporter proteins of the hippocampal dentate gyrus. I am really looking forward to the results.
But of course, though the most important part of my stay, it is not all research. I am also discovering a whole new culture, practicing the language, meeting wonderful people. I am really having a great time in and outside the lab.  
The Department of Physiology and Pharmacology in the University of Toledo College of Medicine offers a great opportunity to learn and to grow and I hope this will still be so in the future.