Pre-Med Summer Camp
Please Note:
Due to COVID19 precautions, the Summer Camp has been canceled. We regret having to make this decision but the safety of our students is our priority. Thank you for your kind understanding.
Pre-Med Summer Camp is a week long program designed to enhance one's ability to understand the medical field and to encourage your student's interest in physiology, genetics, immunology and bioinformatics in Medicine. We are excited to host this camp designed to give students the tools they need to prepare for a career in the field of Medicine. Students will experience fun and creative student centered activities and challenges.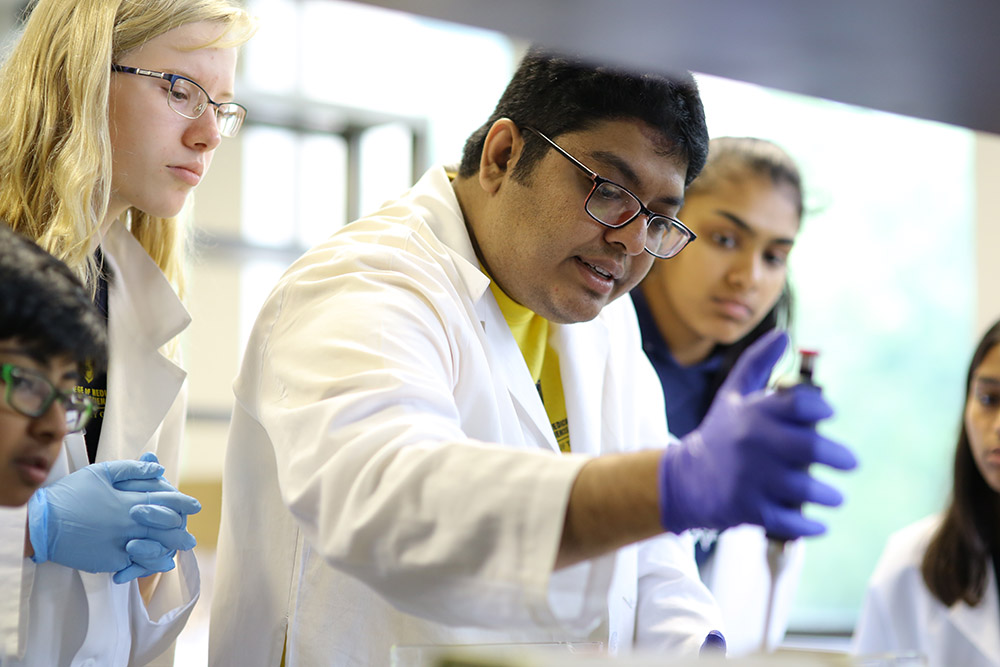 When is Summer Camp?
Summer Camp begins June 15, 2020 and ends June 19, 2020. The camp runs daily from 8:30 a.m to 4:30 p.m.
How much does it cost to attend?
The cost is $175 for registration and $750 for materials and supplies; a total of $925 per student.
When is payment due? 
Payment is due at time of registration. Registration is incomplete until we receive payment which is due within seven days of online registration.
Online payments can be made by visiting the Foundation webpage https://www.utfoundation.org/ , click the yellow GIVE NOW button on the top right hand side of the screen, go to the box on the left hand bottom of the page that says SEARCH ALL FUNDS and enter 2600208 (Physiology, Pharmacology, Cardiovascular and Metabolic Diseases Dept), enter the amount, click on add to cart, click on complete registration, Enter Physiology & Pharmacology Pre-Med Summer Camp in the Gift Comments Box, click Next, enter personal information, click next, enter payment information and click submit payment.
Checks and money orders can be made out to the University of Toledo and are accepted via mail or walk-ins are welcome as well. Please call 419.383.7621 for directions.
Mailing address:
Attn: Summer Camp Coordinator
Department of Physiology and Pharmacology
3000 Arlington Ave., Mailstop: 1008
Toledo, Ohio 43614 
What about lodging?
This is a day camp only, lodging is not provided. However, if you are not from the area, the Radisson Hotel located on our campus has a special code just for the summer camp and you will receive a discount if you make your reservation over the phone. Call them at (800) 333-3333 and use the code "UTCAMP".
Who may I contact for questions/further information?  
Please contact the camp coordinator by emailing: PhysPharm@utoledo.edu or calling: 419.383.7621.
How do I register?  
Registration is closed.
Where does Summer Camp meet? 
Pre-med Summer Camp is located on the University of Toledo's Health Science Campus, Block Health Science Building in the Department of Physiology and Pharmacology, located on the second floor (the first day we will greet you in the lobby of the main floor). The official address is 3000 Transverse Dr., Toledo, Ohio 43614.  Click here for an interactive map of our location. 
Does my student need to bring anything? 
Your student will be provided with all supplies and materials needed for summer camp activities. Lunch will be provided. Please note any food allergies or any other special conditions or needs of your student on our registration forms. Students are not permitted to share or trade lunches at anytime during the camp due to food allergies.
How about electronic devices? 
Only cell phones are permitted. Computers and tablets are not encouraged as these will be available for their use as required. The Summer Camp Coordinator and staff will not be held responsible for damaged or lost devices. 
Who are the Summer Camp instructors/staff? 
The summer camp instructors and staff are faculty and students of the Department of Physiology and Pharmacology. 
How do I receive updates about Summer Camp? 
While we post updates and important information on the website, email will be our primary tool of communication. 
Are students with disabilities able to attend Summer Camp? 
We welcome students with disabilities and ask that you provide us with the information we need to support and help your student to be successful in the summer camp activities. You may speak directly to the summer camp coordinator regarding your student's needs as your privacy is very important to us and only necessary information will be shared with staff according to your student's needs. 
Do you offer scholarships to Summer Camp?
At this time, scholarships are not offered but hope to be implemented in future summer camps. 
What about photography? 
You will be required to sign a disclosure permitting or not permitting us to use photographs of your students in our materials or social media.