In Memory of Jim Coss
InJuly 2007, the Lake Erie Center experienced the loss of a dear friend and wonderful colleague, Mr. James Coss.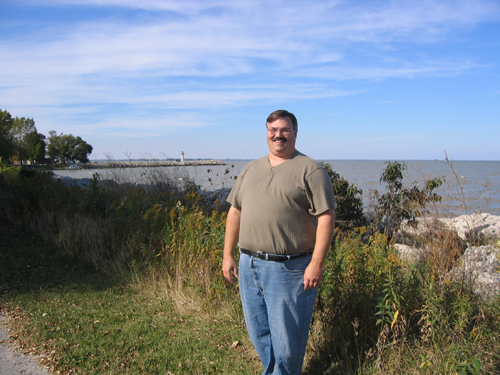 Here are some words shared by colleagues and friends:

Jim Coss was known here in Oklahoma.  I got to know him through my work through Kevin Czajkowski.  I saw him in situ at the Lake Erie Center and on a visit here in Oklahoma.  He was a gentle man who was a great colleague in the sense of dependability and making every task go better. However, my enduring memory of him is the time we got him to Oklahoma.  He, my graduate student (a tough girl raised in west Texas), and myself were climbing over the gate into one of Oklahoma state's Ag experiment station sites where we were going to tie thermistors onto various vegetation types.  Jim saw the herd of cows grazing in that pasture and had to be coaxed into the enclosure.  His comment was "I don't like living cows close up… I like them on my plate."  Afterwards, we got him some Oklahoma barbeque and all was well.
 
As you dedicate the memory garden, I wanted to know how those of us who knew him professionally, felt a deep affection for what he was about.
 
Steve Stadler
Professor of Geography, Oklahoma state University
The State Geographer of Oklahoma
Here is his obituary, published in the Toledo Blade on July 12, 2007:

COSS, James Gregory
James Gregory Coss, 41, Toledo, died at home July 4th, 2007, after a courageous year-and-a-half long battle with cancer. Born April 11, 1966, in Pensacola, Florida, to Susan Ashley Coss and Brian P. Coss, he graduated from Northwood High School in 1984. After his US Marine Corps enlistment, Jim wed Annette Albert of Fremont. They had one child, Elisabeth Gwyn, now 17. Jim received his BA and MA in geography and planning from UT with honors. He worked for Kodak in Rochester, NY as an image scientist, returning to UT as research tech/instructor. Most recently, Jim worked as a Geography Communication Analyst at the Lake Erie Center, UT. Beloved by all, Jim enjoyed traveling with his wife and daughter, was an extensive reader, relished museums, music, art and life. He sang with the 1st Congregational Church choir. His brilliant, delightful wit made him an extraordinary storyteller and inspiring teacher. He is survived by his wife; daughter, and mother; sister, Shelly (Catherine M. [Salvatore] Molaro) and grandmother, Mary Coss; numerous in-laws, a large family and a loving friends. He was preceded in death by his dad; grandparents, James M. and Ruth S. Ashley, Bert A. Coss. A memorial service to celebrate Jim's life is planned at 1st Congregational Church, 2315 Collingwood Blvd. at Virginia, Toledo, for July 17, 2007, at 10:00 a.m. Donations to a college fund for Elisabeth may be made through College Advantage Savings Plan, P.O. Box 691078, Cincinnati, Ohio 45269-1078, Account #2325722.