Western Lake Erie Limnology Laboratory
Monitoring the Lake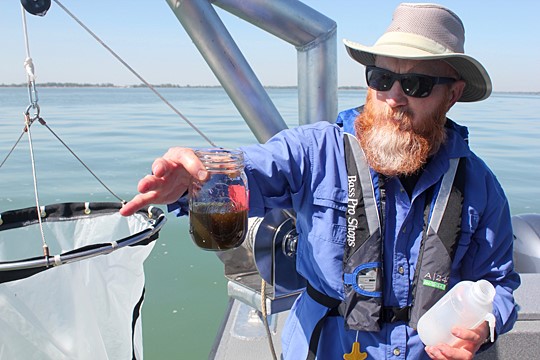 Since April 2002 we have been conducting monitoring cruises at 10 -14 day intervals between April and October with the objective of establishing baseline water-quality conditions in Maumee Bay and western Lake Erie. These data will be used to establish seasonal trends and to understand the influence of the Maumee River in determining offshore water quality. Because we are using Maumee Bay
sampling sites
established by UToledo professor Peter Fraleigh in the 1970s, and offshore sites used by the US Geological Survey and others since the 1930s, these data will be especially useful in determining historic trends in water quality.
Anepisodic event could be defined as any natural phenomenon that is brief enough to be missed by routine monitoring efforts, yet has effects that may linger for months or years.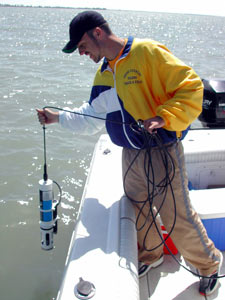 One of our major objectives is to sample frequently enough to catch these events as they are occurring and then to monitor their development. These efforts have allowed us to detect and track the following short-term phenomena:


Invasive species
Population dynamics of two invasive species, the fish-hook water flea Cercopagis pengoi and Daphnia lumholtzi. Western Lake Erie has been identified as an 'Invasion Hotspot'. Along with Lake St. Clair, it is usually the first place in the Great Lakes where invading species appear, and is often severely affected by their colonization.
Algal Blooms
Extent and duration of blooms of toxic Microcystis blooms. In August 2003, a massive bloom of the cyanobacteria Microcystis aeruginosa formed in western Lake Erie and persisted for nearly a month. Surface scums of Microcystis containing high concentrations of the toxin microcystin washed ashore in Michigan and Ohio, resulting in foul-smelling, rotting, algal mats. Beaches and recreational boating areas were rendered unusable and sport fishing was adversely affected. The Microcystis bloom of 2003, was perhaps the most severe in Lake Erie's recent history, but it was only the latest in a trend towards increasing frequency of Microcystis blooms in the last decade.
Hypoxia
Development of transient western Lake Erie 'dead zones' (hypoxia)
In the summer of 2002, we documented extensive oxygen depletion across our sampling area that persisted for several days. In the fall of the same year, USGS researchers noted a widespread failure of burrowing mayfly Hexagenia reproduction. After analyzing climate data and Hexagenia reproduction from 1997-2002 it is becoming clear that stratification events have a large and predictable affect on the reproductive success of Hexagenia (IAGLR abstract). In order to track these events, we have installed in situ dissolved oxygen and temperature loggers at several locations in western Lake Erie.