Our Programs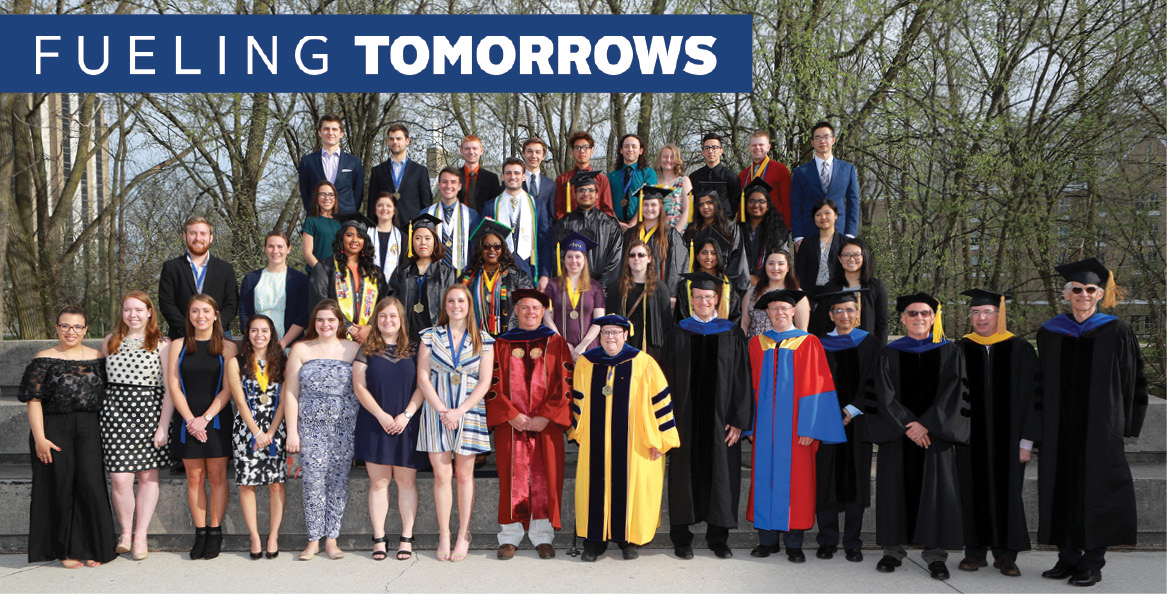 At UToledo you can explore a wide-range of degree programs in the natural sciences and mathematics! Fields of study include astronomy, astrophysics, biochemistry, biology, chemistry, data science, ecology, environmental studies, geology, mathematics, medical technology, physics, pre-med, statistics and more. UToledo provides a first-class education in science and math setting you up to compete with the "best-of-the-best" for employment in STEM careers or admission to graduate, professional or medical school!
Undergraduate Degrees
Graduate Degrees
M.A. Degrees
M.S. Degrees
Ph.D. Degrees
Dual-Degree BS/MS "Pipepline" Program
A campus visit is the best way to see what UToledo has to offer and learn more about how you can become a Rocket. We look forward to seeing you!
Registration is capped at 14 students and our tour groups will consist of no more than 10 students and guests with a single tour guide.
Our presentation seating accommodates social distancing.
We sanitize our space daily.
Virtual Admission Presentation
This live, interactive webinar (approximately 45-minutes) will provide general admission, campus life, residence life, financial aid and next step information. Meet an admission counselor from The University of Toledo's Office of Undergraduate Admission and ask questions! Schedule a day that works best for you!
Take a virtual tour of our campus now!
LEARN MORE ABOUT:
Bowman-Oddy/Wolfe Hall Complex
The facility contains state-of-the art research laboratories, modern mediated lecture rooms, a greenhouse and a fully operational teaching pharmacy. Close access to support space, including instrumentation rooms and walk-in cold rooms, is also available. In addition, the close proximity to researchers in many departments has created many exciting interdisciplinary collaborative research projects among the faculty. Learn More.
McMaster Hall
Located atop McMaster Hall is the Brooks Observatory which houses several refracting and reflecting telescopes for viewing the heavens. McMaster Hall also houses a solar telescope for viewing sunspots and other solar phenomena. Learn More.
Ritter Planetarium-Brooks Observatory
Located on the main campus of the University of Toledo, the Ritter Planetarium is your gateway to the Universe.  Outfitted with a state-of-the-art digital projector and 5.1 surround sound, the Ritter Planetarium is capable of transporting you though space and time to view the wonders of the Universe. We offer public programs on the weekends, K-12 school programs, Scout programs, private parties and birthday parties by reservation. Learn More.
Plant Science Research
The Plant Science Research Center (PSRC) undertakes basic research in plant biology with an emphasis on plant molecular biology, nutrition, pathology, bioremediation and ecology. The PSRC instructs students from undergraduate through post-doctoral levels; develops, in collaboration with other academic, government and industrial partners technologies for transfer to the public and private sectors; and, serves as a regional and global resource for research in the plant sciences. Learn More.
Lake Erie Center
The Lake Erie Center encloses 30,000 square feet of laboratory, classroom, office and support space. Major facilities include:

a wet-lab featuring a flow-through lake water system for maintaining living organisms and for conducting research relating to the physiology, production, and interactions of aquatic organisms
an instrumentation laboratory equipped to perform a wide variety of soil and water analyses
a geographic information and database laboratory with a satellite downlink for gathering, archiving and analyzing regional environmental data
Supplementing these core facilities are 12 laboratories assigned to individual researchers, offices for faculty and students, classrooms, a library, a public lobby and support facilities. The building itself reflects our goal as it is designed to fit harmoniously into the surrounding neighborhood, constructed for energy efficiency from recycled materials and is landscaped with native vegetation. The front of the building features a constructed wetland. Learn More.
Stranahan Arboretum
The University of Toledo's Stranahan Arboretum is a 47-acre site, about a 10 minute drive from the main campus, that consists of cultivated ornamental trees, rolling lawns, natural woods, ponds, wetlands and prairie. It serves as one of the Department of Environmental Science's field sites for environmental education and research. Both graduate and undergraduate courses in ecology and geology use the Arboretum as an outdoor laboratory. It also hosts a number of educational programs for area school students (K-12) throughout the year. Learn More.
Instrumentation Center
The primary purpose of the Center is to support research activities of the faculty of UToledo by providing advice, technical assistance and access to advanced scientific equipment. This includes education and training for graduate students.  Important secondary purposes are to support the research activities of other Universities, and to assist local business ventures in solving sophisticated scientific problems.


Currently, the Center provides assistance to UToledo researchers in the Colleges of Natural Sciences and Mathematics, Engineering, and Pharmacy and Pharmaceutical Sciences. The Center specializes in Crystallographic studies and is the home to the Ohio Crystallographic Consortium (OCC). Learn More.
Pre-Health Advising Center
UToledo's Pre-Health Advising Center is the first stop for prospective pre-med students. Our pre-medical, pre-dental or pre-veterinary career tracks — we also call them pre-professional programs — help you develop the skills you need to succeed in medical, dental or veterinary school.

Our center also serves current undergraduates in our pre-professional health programs. We'll give you the tools you need to successfully apply to the professional programs of your choice. Learn more.