Addressing Challenges
Sept. 21, 2020
The University of Toledo is currently operating on a six-month temporary operating budget through the end of the calendar year. The UToledo Board of Trustees approved Sept. 21 the $348.9 million six-month operating budget to guide the University's academic and clinical operations, which takes the place of the previous three-month temporary operating budget.
The temporary budget is needed due to a number of contributing factors that lack clarity, including the University's ability to continue in-person courses during the pandemic, unpredictability in auxiliary revenues such as housing, dining and athletics and ongoing efforts to stabilize the University of Toledo Medical Center.
University leadership is thankful for the campus community's support to address deficits caused by the pandemic, the state and federal stimulus dollars to help offset those losses and the support from Ohio leaders to preserve a good portion of state share of instruction dollars.
A permanent fiscal year 2021 budget will be considered at the next regularly scheduled meeting of the Board on Dec. 21 that could potentially restore some reductions and strategically reinvest in the institution.
An update on the stabilization efforts at UTMC also was provided at the Board of Trustees meeting. Net income for the first two months of the fiscal year, including one-time COVID stimulus funding, reflect a $6 million profit for the period. Other operating revenues, which consist primarily of retail pharmacy, contract pharmacy, and contract lab services, have also exceeded primarily budget forecasts.
The hospital has experienced growth in admissions in key service lines, such as the emergency department and inpatient and outpatient surgeries, all of which have rebounded as UTMC reschedules procedures that had been delayed during the shutdown in the spring due to the pandemic. Now, with patient volumes rising significantly, along with federal and state stimulus funding, the hospital is beginning to hire again for a number of key positions.
Budget Presentation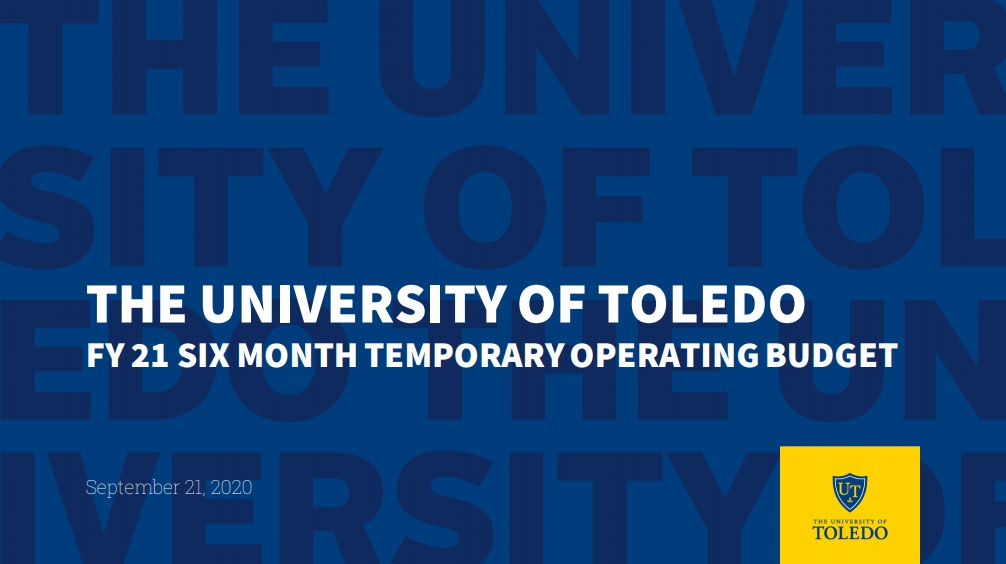 Aug. 11, 2020
UToledo is currently operating on a three-month temporary budget through the end of September that was approved in June by the Board of Trustees due to the uncertainty of the effects of COVID-19 and future of UTMC operations. One important change since that temporary budget was passed is our decision to postpone the requests for proposal process (RFP) to focus efforts on stabilizing UTMC and a safe return to on-campus classes and activities. Recent federal and state support has eased the immediate urgency to address the hospital's fiscal challenges, but we recognize these are one-time monies and we must seek additional opportunities for growth and efficiencies.
We also appreciate the support the state has shown for higher education with the announcement of better than anticipated funding in state share of instruction (SSI) dollars, reducing the planned reduction to 4.38%. We remain cautiously optimistic that the state's financial forecasts remain accurate and there are not adjustments needed to SSI in the coming months of the fiscal year since these resources are greatly needed.
While we are in a better position today than we were weeks ago, it is important to recognize that this is the direct result of sacrifices and cost containment efforts we've collectively made in recent months. Together, we made the difficult decisions needed to keep the general fund from going into deficit as we ended fiscal year 2020 and looked ahead to this fiscal year to address our financial challenges. We also made an impact by reducing discretionary spending, canceling/delaying capital projects and instituting a hiring freeze that will continue for the foreseeable future.
And yet a number of uncertainties remain, requiring us to continue to be conservative in our financial planning and we need your continued support.
We've been putting in the work to attract students to UToledo, but we recognize that enrollment will be down this fall compared to last year.
We also recognize that COVID-19 continues to be unpredictable.
While we are confident in our Rocket Restart plan, we need be prepared to make adjustments quickly based on this ever-changing situation. Any such changes could have a significant impact on our revenue. 
---
 July 16, 2020
The University of Toledo, after consultations with the Board of Trustees, announced Thursday, July 16, that it is postponing the Request for Proposals (RFP) process indefinitely, and will focus immediate efforts on stabilizing the University of Toledo Medical Center's (UTMC) fiscal challenges.
The RFP was one aspect of the University's ongoing research to explore all possible options for the future of the hospital. At the same time, we have been making progress in short-term stabilization efforts that include:
Amending our medical bylaws, which has led to 16 Toledo Clinic physicians who are now credentialed to work in our hospital;
Enhancing partnerships with the Toledo Clinic in key practice areas, including hematology, oncology, cardiology and infusion services;
Continuing to work with the UT Physician group on new program and operational efficiencies;
Approval of UTMC's request to the Centers for Medicare and Medicaid Services for a rural designation change providing $5 million in additional reimbursement;
Implementing business efficiencies and cost reduction strategies.
Recent one-time federal and state support, including CARES Act funding and an accelerated Medicare payment, have helped to improve UTMC's FY21 operating budget and cash position allowing us the opportunity to continue stabilization efforts and seek additional opportunities to grow volumes, enhance revenues and maximize efficiencies.
---
 July 9, 2020
University officials have been working closely with the Ohio Department of Higher Education, Governor DeWine and other higher education leaders throughout this financial crisis. The FY21 temporary budget approved by the Board of Trustees on June 22 was based, in part, on the Governor's recommendation that all state agencies be prepared for a 20% decline in state funding. Earlier this week we learned that the state is planning that the funding cut will be 4.38%; however, they are continuing to evaluate the pandemic's ongoing impact on the state's revenue fund and this could change.
While we are grateful to the Governor and our Ohio leaders for their support and recognition of the value of public higher education, we must also be cognizant of the ongoing uncertainty of the COVID-19 pandemic and its long-term economic impacts on both the state and our institutional revenue sources.
In addition, there are still a number of unknown factors impacting the University's financials, including projected enrollment declines, the financial strain of UTMC and possible revenue losses tied to auxiliary operations and athletics. As such, UToledo will continue to operate on the $171.8 million three-month temporary budget. The Board expects to consider a permanent budget for the complete fiscal year at the next regularly scheduled meeting of the Board on Sept. 21.
---
June 15, 2020
As previously shared, COVID-19 has had a dramatic financial impact on all of higher education, and UToledo is no exception. As a public institution, we are dependent on tuition revenue, state funding and hospital revenue, all of which continue to decline as a result of the COVID-19 pandemic.

With the academic enterprise facing a projected $36 million budget shortfall in FY 2021, University leaders have been working tirelessly to address the deficit caused by the COVID-19 pandemic and other market forces, while prioritizing student success and mission-critical operations and identifying opportunities for increased efficiency. University leaders are making difficult decisions regarding operational budget cuts across the institution. Most capital, renovations and time and material projects have been postponed. Institution-wide operational cuts include elimination of nearly all travel funds, overtime expenses and cell phone stipends.

Among the many initiatives designed to reduce duplication of effort and increase efficiency across campus, UToledo is exploring a partnership to create a centralized print vendor. Other areas under consideration include mail services, shipping and receiving, and increased integration of information technology services.

While budget decisions have not been finalized, reductions must necessarily impact employees at every level throughout the institution. In total, the University expects to eliminate more than 200 vacant positions and more than 75 filled positions. In addition, some positions that were temporarily reduced or furloughed to address budget deficits in FY 2020 are expected to extend into in the coming fiscal year. The institution-wide hiring freeze previously implemented will also continue throughout FY 2021. Unfortunately, because personnel is the University's largest expense, these cuts are unavoidable. UToledo expects to recover approximately $20 million from these personnel actions.

As part of the response to the fiscal challenges, the University intends to continue reviewing programs — both academic and non-academic — over the course of FY 2021 as part of its ongoing commitment to explore consolidation and right sizing opportunities while maintaining high-quality academic programs, continued student success and essential research focus. While our mission has not changed, we recognize that there are a number of difficult decisions and critical conversations ahead as we work to align our resources with our institutional priorities.

Additionally, the University continues to work to address the fiscal challenges of the University of Toledo Medical Center. UToledo leadership has begun the review phase of the request for proposal process (RFP) for a potential transaction for the hospital. As planned, an update on the RFP process will be provided during the next regular meeting of the UToledo Board of Trustees scheduled for June 22.
---
May 1, 2020
These are challenging times as we — and everyone across the country and the world — respond to the coronavirus pandemic. We've made difficult decisions and have more on the horizon. This is undoubtedly a watershed moment for all of higher education. The COVID-19 pandemic has only exacerbated our financial challenges and it will be years before we fully recover.
This is a time for necessary but thoughtful change. We must adapt to meet the challenges before us now, to enable The University of Toledo to continue its forward momentum. Our mission hasn't changed, but how we facilitate it must.
BUDGET PRESENTATION
COVID-19 BUDGET IMPLICATIONS
The financial impact of the COVID-19 pandemic is still not fully known at this time, and we must plan accordingly. No source of revenue for the University has gone unaffected. To date, the financial impact is estimated to be at least $20.93 million.
While one-time funds will help offset some of these expenses, it won't cover the entirety of the fiscal impact, but rather roughly 30%. UToledo is expected to receive $13.5 million through the federal Coronavirus Aid, Relief and Economic Security (CARES) Act. The first installment of $6.7 million was received late last week and is being used to immediately assist current students experiencing financial hardships caused by the pandemic. 
University leadership has taken preliminary, immediate cost saving measures, including: implementing a hiring freeze; releasing intermittent call-ins and student workers; canceling most capital projects; and reducing expenditures. In addition, all senior leaders and academic deans volunteered to take an immediate 20% pay cut.
Additional immediate FY 2020 cost saving actions are expected to begin in May, including furloughs and temporary layoffs. Recognizing that our people are our greatest asset, UToledo has committed to ensuring that employees maintain their health insurance during these temporary workload adjustments.
In recognition of the 100% online summer 2020 course offerings, the University will be reducing a number of fees for summer, including eliminating the distance learning fee, facility fee and all lab and technology fees. The general fee will be cut by approximately 35% for the summer term in recognition that students won't have access to some campus resources such as study aboard, Rec Center, student activities, Night Watch, Student Union, etc. Other important student services such as tutoring, counseling, career services and library resources, remain available online. These fee adjustments will be made to students' accounts in the next week, and any credit due to the student will be refunded.
BUDGET CONTINGENCY PLANNING
The University is planning for multiple scenarios for the upcoming fiscal year with a commitment to maintaining our strategic focus on research, teaching and learning. University colleges and support units have been asked to prepare a range of budget projection scenarios for FY 2021, including potential 10% and 20% reductions in spending. This approach aligns with the governor's instruction to all state agencies.
During the next several weeks University leaders and academic deans will be working to build the FY 2021 budget. Preliminary calculations indicate that we are facing a $36 million deficit that must be addressed. By state statute we are required to submit to the University's Board of Trustees a balanced budget in June.
And while the losses at our hospital, UTMC, are difficult to predict, it is foreseeable that this deficit could double the University's FY 2021 deficit due to the hospital's ongoing financial challenges.  As such, the University has determined that it cannot continue to operate the hospital in its current state, depleting resources from the University and our primary academic mission. The University is currently undergoing a public request for proposal process (RFP) for a potential acquisition, lease, management agreement or other transaction of its community hospital.
Addressing challenges
While these challenges aren't of our making, we have no choice but to face them head on. Together, we will carefully consider our options and seek creative solutions. We must innovate. We must evolve.
There will be difficult decisions. There may be some sadness and disappointment as we implement the changes required. We may not all agree on every decision, but I am confident that together we will make the tough choices and sacrifices needed to preserve the core missions of our university, and most importantly, to help our students achieve their academic goals, and to support our community.
Additional resources
COVID-19 RESPONSE
Shortly after Governor DeWine declared a state of emergency in Ohio, our University responded quickly to implement the recommendations of our healthcare professionals. We moved all academic courses to remote instruction for the remainder of the spring semester. We facilitated the move-out and closure of on-campus residence halls. All University travel was suspended and study abroad students were brought home early. All in-person events were cancelled, and alternate arrangements were made for digital versions of cherished events like Match Day, Songfest, and even Commencement. We expanded our academic support services for students to include remote access to advising and success coaches, as well as tutoring and library services. Our faculty and staff have been working remotely since mid-March. And we've made the difficult decision to offer all our summer courses online, to continue to protect the health and safety of our students, staff, and faculty.
STUDENT FINANCIAL SUPPORT
UToledo is coordinating emergency financial assistance programs for current students experiencing financial hardship as a result of the COVID-19 pandemic through existing financial aid processes. All emergency funds available for students have been compiled and we have streamlined the application process to expedite the distribution in an effort to assist as many students as possible.