William T. Gunning III, Ph.D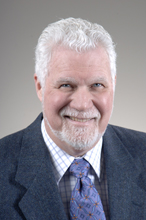 Professor of Pathology
University of Toledo, College of Medicine
Mail Stop #1090 Health Sciences Campus
3000 Arlington Ave.
Toledo, OH. 43614-5804
Phone: 419-383-3752
Fax: 419-383-3066
E-mail: William.Gunning@utoledo.ed
Primary Responsibility:

Director, Electron Microscopy Facility

Extramural Activity:
President, Microscopy Society of America

Research/Scholarly Activities:

Experimental Carcinogenesis and Chemoprevention
Bleeding Disorders/Storage Pool Deficiencies

Publications:

Garrett MR, Gunning WT, Radecki T, Richard A. (2007) Dissection of a genetic locus influencing renal function in the rat and its concordance with kidney disease loci on human chromosome 1q21. Physiol Genomics  30:322-34

Cui H, Hu B, Li T, Ma J, Alam G, Gunning WT, Ding HF. (2007) Bmi-1 is essential for the tumorigenicity of neuroblastoma cells.  Amer J Pathol 170:1370-8

Alyaqoub FS, Tao L, Kramer PM, Steele VE, Lubet RA, Gunning WT, Pereira MA. (2007) Prevention of mouse lung tumors and modulation of DNA methylation by combined treatment with budesonide and R115777 (Zarnestra MT). Carcinogenesis 28:124-9

Zhang B, Wang Z, Ding J, Peterson P, Gunning WT, Ding HF. (2006)  NF-kappaB2 is required for the control of autoimmunity by regulating the development of medullary thymic epithelial cells.  J Biol Chem 281:38617-24

Alyaqoub FS, Tao L, Kramer PM, Steele VE, Lubet RA, Gunning WT, Pereira MA. (2006) Prevention of mouse lung tumors and modulation of DNA methylation by combined treatment with budesonide and R115777 (ZarnestraMT). Carcinogenesis 27:2442-7

Tietjen GE, Conway A, Utley C, Gunning WT, Herial NA. (2006) Migraine is associated with menorrhagia and endometriosis.  Headache 46:422-8

Johnson EE, Overmeyer JH, Gunning WT, Maltese WA. (2006) Gene silencing reveals a specific function of hVps34 phosphatidylinositol 3-kinase in late versus early endosomes. J Cell Sci  119:1219-32

Pereira MA, Kramer PM, Nines R, Liu Y, Alyaqoub FS, Gunning WT, Steele VE, Lubet RA. (2006) Prevention of mouse lung tumors by targretin.  Int J Cancer 118:2359-62

Research Interests:

Two distinct research projects are ongoing. One project involves experimental carcinogenesis and chemoprevention studies with the strain A mouse lung tumor adenoma model. The second research project is clinically oriented; it is directed toward evaluation of individuals having prolonged bleeding times.

Dr. Gunning has an extensive research background using the strain A mouse lung tumor model. His expertise includes morphologic assessment of neoplasms arising in the lungs of these animals, a subject that continues to be somewhat controversial in the literature to date. He has shown that a variety of chemical carcinogens will induce lung tumors in mice that have distinctly different morphologies. These variances in phenotype appear to be due to the initiation of different progenitor cells in the lungs. Others have reported that differences in morphology are related to benignity versus malignancy. Regardless of this debate, the animal model has also been used extensively for putative chemopreventive agent screening to determine efficacy of lung tumor inhibitory effect. Dr. Gunning and Dr. Pereira currently have two research contracts awarded by the National Cancer Institute (NCI) to study the efficacy of a variety of chemopreventive agents. The results of these studies may be used by NCI to determine whether a compound may be suitable for clinical trials.

A completely different research emphasis is Dr. Gunning's involvement in the study of bleeding diathesis. Specifically, he is evaluating patients with prolonged bleeding times and/or a history of bleeding including individuals that bruise easily and women with menorrhagia. When tested for von Willebrand disease, these individuals are usually found to have normal aggregation responses or have a slight abnormality in response to epinephrine but not to ristocetin and are therefore, often a diagnostic enigma. The research utilizes a transmission electron microscope and computer analysis of platelets obtained from peripheral blood to determine the number and volume of delta granules (dense bodies) that contain important substances used for the effective coagulation of blood. Dr. Gunning has a number of collaborators throughout the country and the preliminary results of these studies suggests that delta granule storage pool deficiencies may be a significant etiology of bleeding diathesis, especially in the case of menorrhagia.