Media Communication Faculty Member wins Outstanding Teacher Award
Dr. Jacqueline Layng, Professor of Media Communication, was presented with the University of Toledo 2018 Outstanding Teacher Award last Thursday, April 19, 2018.  This award recognizes Dr. Layng's commitment to student success and her significant contributions to the mission of our University.  Dr. Layng's willingness to go the extra mile to bring out the best in her students was demonstrated in the materials included with her nomination. This prestigious award recognizes the difference she is making among our students.
To see more about the award and presentation, read the story on UT News or watch the UT:10 News Broadcast.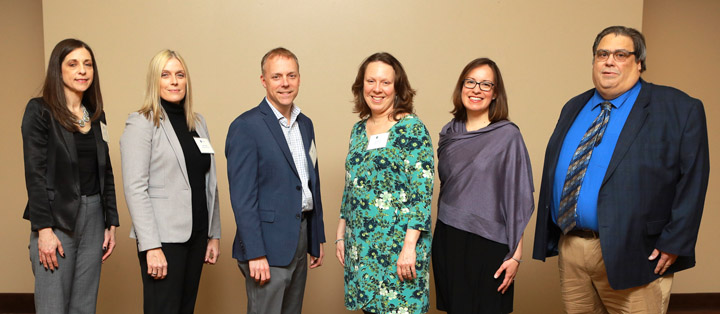 Taking home Outstanding Teacher Awards
Elyce Ervin, Dr. Jackie Layng, John J. Schlageter III, Dr. Kim E. Nielsen, Kara Bruce and Dr. Edward Cancio
Media Communication student wins award, moves on to national competition
Madison Humphrey, a senior Media Communication major, is currently the Student Producer for UT:10 news and reporter in the class for Spring 2018. She submitted her work for the 2017 Region 4 Society for Professional Journalists Mark of Excellence Award competition for General TV reporting and placed as one of the top three finalists.
The story was "Voices of DACA": a feature piece highlighting how President Trump's decision to rescind DACA would impact local dreamers. The story can be found here.
Madison attended the Society for Professional Journalists Region 4 Conference "Building Bridges: Navigating the Ever-Changing World of Journalism" on March 9 & 10th in Pittsburgh, PA. She won first place for her submission and her work will compete for the national award at the Society for Professional Journalists Mark of Excellence award in TV General Reporting this September in Baltimore, MD at the Excellence in Journalism 2018 Conference.