Welcome to the Department of Sociology and Anthropology Homepage
Sociology
is the study of societies and all that happens within them. We are particularly interested in the institutions people create and the relationships they forge with each other. In our rapidly changing world, those institutions and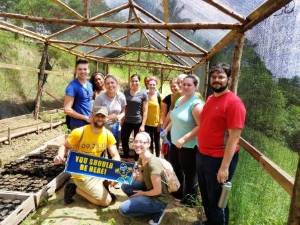 relationships can maintain stability and continuity in communities – but also injustice and inequality. In other words, we study people; and we try to understand how all of us are changing with our times. Our hope is that a better understanding of how humans interact with each other will lead to more just and tolerant societies.
Anthropology
is the study of what it means to be human - both past and present. It is among the most diversified fields in the humanities: part history, part natural science, part literature, part social science. Thriving on this heterogeneity, anthropological training provides a multifaceted way to engage and understand our world[s]. Through intensive study of both past and present human cultures, we develop skill sets that both aid is in the preservation of our cultural past, maintenance of the present, and offer guidance as we move ahead toward a mutual future.
Whether engaging in a sociological or anthropological path, our respective curricula here at the University of Toledo Department of Sociology and Anthropology champion the exploration of multiple perspectives, numerous forms of evidence, and a concrete set of methodological practices that foster a distinct comprehension of human societies and cultures.
Sociology Program
Our Department offers a B.A. degree and Undergraduate Minor. It also offers a M.A. degree. The program promotes  a strong curriculum emphasizing practical methods grounded in theoretical perspectives.
Anthropology Program
The UT Anthropology program includes a holistic, multi-field approach to the study of human culture, offering a B.A. and Undergraduate Minor.
Africana Studies
This  B.A. and M.A. program promotes greater understanding and improvement of socio-economic life in the black community, nationally and globally.