UT Engineering classmates win first place prize in COBI's 2017 Business Plan Competition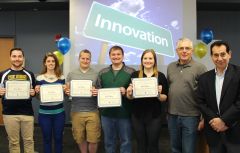 The winners of the Seventh Annual University of Toledo College of Business and Innovation's Business Innovation Competition were announced on April 26.
Finishing first was the SpecuLIFT Team, which claimed the $10,000 prize to help them develop their idea into a successful business.
The winning team - - Michael Peachock, Rachel Wagner, Andrew Oehrtman, Mark Caris, and Melissa Brodsky - -  all met in the College of Engineering, are all bio-engineering majors, and have remained close friends through their shared five-year educational journey. Their competition idea submission, developed for their engineering senior design project, was for a Novel Vaginal Speculum, a medical diagnostic device for which they are pursuing a patent.
"We started with about 50 different ideas for our senior design engineering project," Wagner said. "Melissa and I worked on research. My sister works in the healthcare field, and current specula are uncomfortable. Our team member Michael is a business minor and gave us a lot of insight into developing our business plan." 
"Since our major is bio-engineering, we saw that it has good market potential," Caris said, "so it was one of our top three ideas. The device is used by gynecologists for a pelvic exam, and a likely scenario for our device would be in an emergency room setting. Our goal was to maximize patient comfort with functionality."
"We all met in engineering and have known each other for five years," Caris added. "They are all great people and we are great friends."
Brodsky added, "The $10,000 prize will enable us to do more prototyping, such as a version that has a light source. Entering the business plan competition was a very eye-opening experience."
"We are willing to support you, to provide free advice about how to spend, where to spend and when not to spend," advised Dr. Sonny Ariss, Chair of the COBI Department of Management. "Statistically you have a 5% chance of success, and I'm telling you this so you will be diligent not to fail. Your prize money is a major leap. Don't underestimate yourself. Surround yourself with a great advisory board."
Caris added, "We are pursuing a patent for the device, and ultimately will need to obtain FDA approval. I am super excited about this and fully expect to work lots of hours. We are ready to proceed!"
Finishing in second place was GREEN AGROTHERMAL, LLC, submitted by Mohammadmatin Hanifzadeh and Dr. Dong Shik Kim, who received the $5,000 second place prize to develop their business. Honorable mention went to RowBot, submitted by Jeffrey Darah and Andrew Puppos.
The COBI Business Plan Competition received 31 entries this year, and was open to all UT faculty, staff and students.
In photo, left to right: First place winners of the SpecuLIFT Team Michael Peachock, Rachel Wagner, Andrew Oehrtman, Mark Caris, Melissa Brodsky, Dr. Ronald Fournier, College of Engineeering, and Dr. Sonny Ariss, Chair, COBI Department of Management.