Early Learning Center - Welcome!
ABOUT US ...
Accredited by the National Academy of Early Childhood Programs, the Early Learning Center (ELC) adheres to the NAEYC's rigorous standards and provides a secure environment and superior curriculum.


The center maintains a lower adult to child ratio than is required by state licensing, allowing our staff to focus on individual needs. The high quality of care offered in this program is due to the professional teaching staff, who hold Associate and Bachelor degrees, in addition to many years of hands-on experience. Our staff prides itself on teacher longevity, a family-friendly atmosphere, and our continual commitment to quality care.

The ELC is located in a sunny building, formally utilized by Toledo Public Schools. The building contains large, spacious classrooms, a full-size gym, and an open, airy kitchen. Hot meals are prepared on the hospital campus and served at our center daily. We are located in a quiet, residential neighborhood, just right for discovery walks. Large fenced-in playgrounds are used in conjunction with a spacious front yard for play and sports.

The ELC provides quality care for children of faculty, staff and students, as well as for families in the community, beginning at 18 months of age up to kindergarten. An adventurous field-trip based school-age program is also available during the summer months, for children ages 5-10 years.
Step Up To Quality   "5 star rated"
Enrolling in a 5 STAR program means your child is in a program whose level of quality exceeds Ohio's child care licensing standards. High quality  learning and development programs are important because early experiences last a lifetime. Your child has 1,892 days from the day they are born until they enter kindergarten. What happens on this journey lays the foundation for success in school and life. 
Below are some of the ways our program provides increased quality:
1.  Lower staff/child ratios.
2.  Administrator and teachers have higher education qualifications.
3.  Administrator and teachers complete more than 20 hours of specialized training every 2 years.
4.  Teachers develop lesson plan, individual goals and portfolios that support each child's growth.
For more information on Step Up to Quality visit www.earlychildhoodohio.org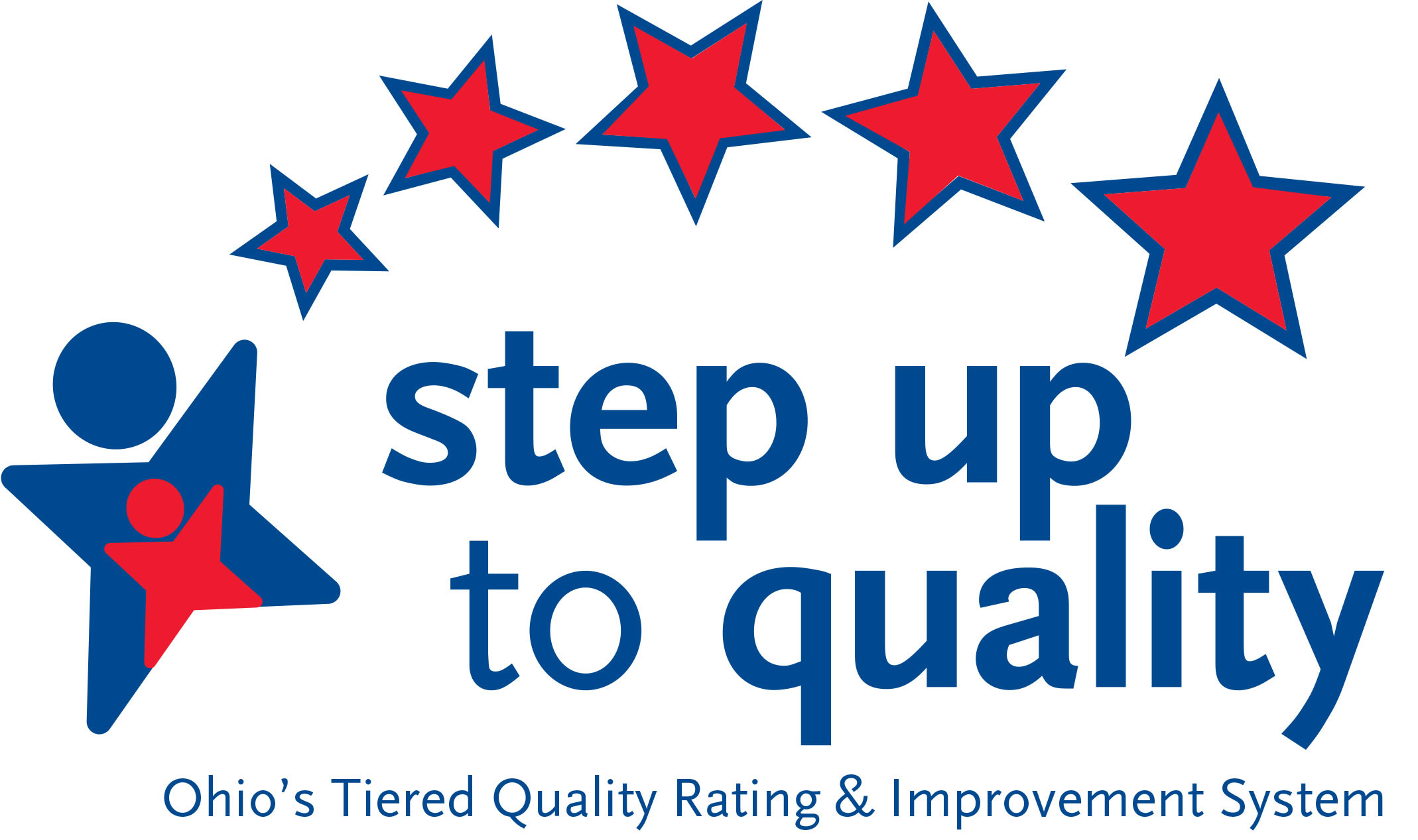 HOURS:   6:30 a.m. - 6:00 p.m. Monday - Friday
FEES:         
| | |
| --- | --- |
| Toddler | $185.00 per week (Full time) |
|   |   $65.00 per day (Part time) |
|   |   $35.00 per half day (Part time mornings) |
|   |   |
| Preschool | $175.00 per week (Full time) |
|   |   $55.00 per day (Part time) |
|   |   $35.00 per half day (Part time mornings) |
|   |   |
| School-age | $165.00 per week  |
|   |   $50.00 per day  |
In order to enroll children, it is necessary to call as soon as possible. At certain times throughout the year there may be a waiting list. For further information, please feel free to contact us to arrange a brief tour to see first hand what our center can offer your family...