UT BANNED BOOKS COALITION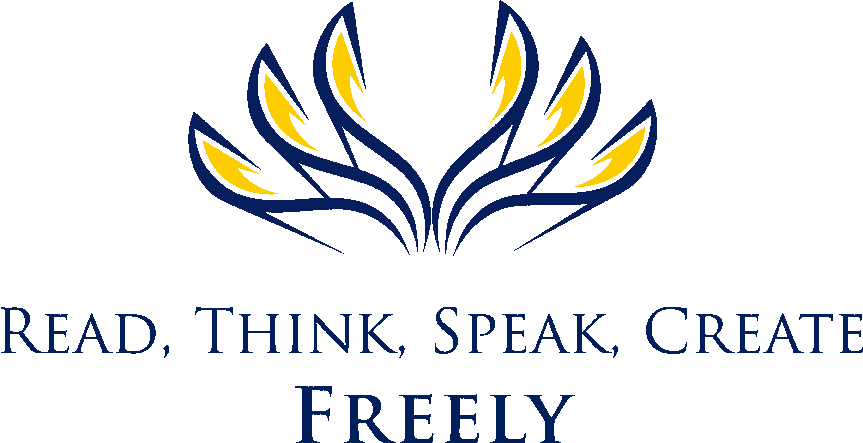 Our mission is to promote our freedom to think, read, create, and communicate to strengthen our democratic ideals.
---
Save the date! Upcoming Events:
9/15 - 9/28: UT Banned Books Scavenger Hunt [LINK]
9/28: 2017 UT 20th Annual Banned Books Week Vigil
---
WHAT: Celebration of the right to read and think freely (Thursday, September 28) during the national American Library Association's Banned Books Week (September 24 - 30, 2017).  Please join the community in celebrating the 20th anniversary of the Banned Book movement on the University of Toledo campus. This also happens to be the 35th anniversary of the national movement.  [LINK]

20-minute presentations, free light snacks (all day). The public is invited. View the program here [LINK].

Door prizes and banned books given away every half hour!

The 2017 ALA slogan: "Words Have Power:Read a Banned Book."
Dr. Linda Smith Lecturer, Heidi Appel, Dean, Jesup Scott Honors College talking at noon: "Suppressing 'Truths' in the Age of Fake News."

These sponsors donated money, door prizes, or food in 2016:

Ann Lumbrezer, Aramark,Barry's Bagels,Carver Resource Center,Elaine Reeves,Lambda Pi Eta (UT Communication Honor Society), Mitchell and Kelly Auctioneers,New Sins Press, Phoenicia Cuisine, Starbucks at the UT Student Union, The Anaya/Arroyo Scholarship Fund,The Independent Collegian, UT Barnes & Noble Bookstore, UT Campus Activities, UT Center for Experiential Learning and Career Development, UT College of Law and Social Thought, UT College or Arts and Letters

UT Counseling Center, UT Department of Art, UT Department of Communication, UT Department of Disability Studies, UT Department of English, UT Department of Foreign Languages, UT Federal Credit Union, UT Greek Life (Office of Student Involvement), UT Jesup Scott Honors College, UT LGBTQA+ Advisory Board, UT Libraries, UT Marketing and Communications, UT Office of Diversity and Inclusion, UT Office of Excellence and Multi-Cultural Success, UT Office of the Dean of Students, UT Office of the President, UT Office of the Provost, UT PRSSA, UT School for Interdisciplinary Studies, UT Student Affairs Team, UT Student Government, UT Theatre and Film Department, and WXUT Radio Station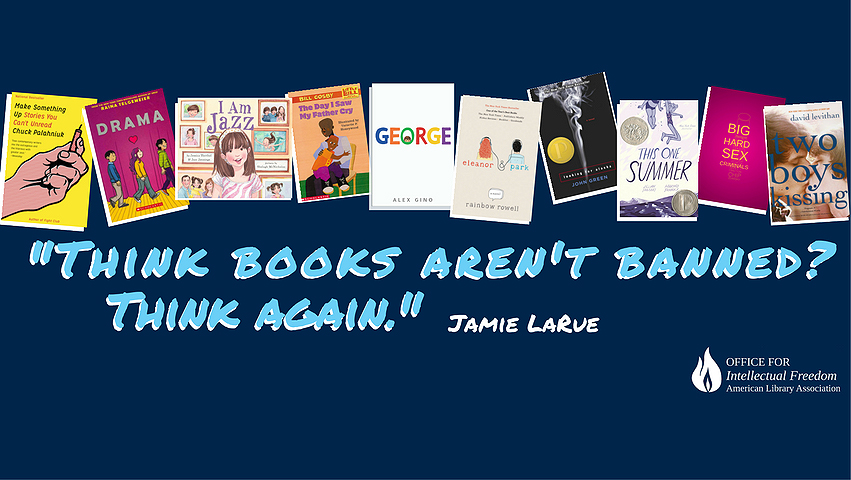 Image source: Top Ten Challenged Books of 2016, © Copyright 1996-2015, American Library Association


WHEN: 9 a.m. through 5 p.m. on Thursday, September 28. (The last presentation starts at 4:30 p.m.)
WHERE: Carlson Library, Third floor (Follow the signs from the elevator)
WHO: UT faculty and Toledo area teachers are invited to bring classes; we provide attendance vouchers at this freedom of expression festival. [Click here for the event program]
WHY: We host the Banned Books Week Vigil to celebrate the right to read and think freely.

Become a Champion of Freedom of Expression! Donate a banned book. Email Mallorie or Jay, sm573@bncollege.com, or phone them at 419-530-2516. Use the Banned Books Libguide to view multiple lists of challenged and banned books from 1990-2016. [LINK]
---
An Evening With Jack Lessenberry
"Censorship and Self-Censorship; the Media In the Age of Trump"
Friday, October 6,  7-9 p.m. Room 1005
Carlson Library
Free! Public Welcome! Light Refreshments Served!
Biography: Jack Lessenberry directs the journalism faculty at Wayne State University and as WUOM-FM's senior news analyst delivers daily essays and commentary on important local and national issues. His pieces have appeared in many national and regional publications, including Vanity Fair, Esquire, George, The New York Times, The Washington Post, and The Boston Globe.  Currently, he contributes as an editor and columnist to the Metro Times, the Traverse-City Record Eagle, Dome Magazine and the Toledo Blade, as well as formerly for the Oakland Press and the Heritage Newspaper Group in Wayne and Washtenaw counties. He also serves as The Blade's writing coach and ombudsman.
Consider donating to our gofundme initiative
---
The University of Toledo Banned Books Coalition:
Paulette D. Kilmer, Communication Department, 419-530-4672, pkilmer@utnet.utoledo.edu
Glenn Sheldon, Honors College, 419-530-3261, glenn.sheldon@utoledo.edu
Arjun Sabharwal, University Libraries, 419-530-4497, arjun.sabharwal@utoledo.edu
Laura Mitchell, UT Alumnalknisel@hotmail.com
Josie Schreiber, ToledoLove Mobile Children's Library Founder, themomillennial@gmail.com, and
Jessica Harker, Independent Collegian, jharker@independentcollegian.com
Save
Save
Save
Save
Save
Save
Save
Save
Save
Save
Save
Save
Save
Save
Save
Save
Save
Save
Save
Save