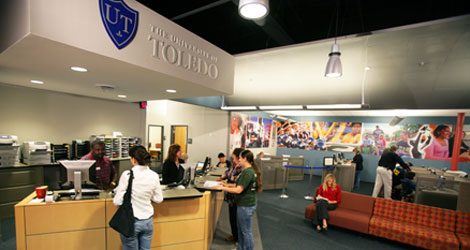 Office of Financial Aid
The University of Toledo is committed to helping find ways to make a college education affordable for UT students and their families. We offer a variety of services and programs designed to help you find ways to meet your educational expenses. Our staff is dedicated to making sure you receive your aid in a timely and efficient manner.
All questions regarding financial aid are handled by our Rocket Solution Central Office (RSC) located in Rocket Hall Room 1200 and may be reached at 419.530.8700
Financial Aid Menu
Resources
Contact Us
Main Campus
Rocket Hall 1200
2801 W. Bancroft St.
Mail Stop 314
Phone: 419.530.8700
Fax: 419.530.5835
utfinaid@utoledo.edu
Financial Aid Program Changes for 2015-2016

New for 2015-2016  (Coming Soon)

Outside Scholarship Funding Submission Address

      Options available to access your 2014 Federal Tax Return Transcript