Welcome
/med/depts/
Additional Information
Contact Us
Health Science Campus
Ruppert Health Center
Suite 1520
3000 Arlington Ave
Phone: 419-383-4590
webmaster@utoledo.edu
Obstetrics and Gynecology Residency  
The most current detailed summary of our program, as submitted on November 16, 2011 to the Association of Professors of Gynecology and Obstetrics (APGO), can be viewed by clicking here.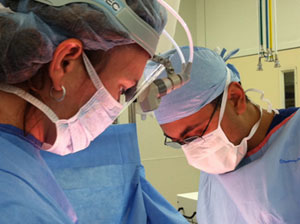 The program is served by two hospitals: the University of Toledo Medical Center, and the ProMedica Toledo Hospital.
Outpatient Ob/Gyn services, as well as inpatient gynecologic services, are based at both institutions - while inpatient obstetric services are based at the ProMedica Toledo Hospital.

The full-time faculty, including the department Chair, interact daily with the residents.  Our department has all three subspecialties represented on the full-time faculty. Voluntary clinical faculty (private practitioners) are also involved on a daily basis with the teaching program.
The major strengths of our program are the quality of education offered and the appropriate volume of patients seen at each hospital. We have successfully combined a medical college and a community hospital in one program.
It is our desire for you to become the best obstetrician gynecologist you can be, whether a private practitioner or an academic physician.