Jill Zyrek, M.D.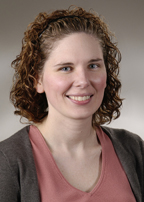 Assistant Professor
University of Toledo Health Sciences Campus
Department of Pathology, MS #1090
3000 Arlington Avenue
Toledo, Ohio 43614-2598
Medical Education and Training:

   M.D. Wayne State University, Detroit, Michigan
   Resident in Pathology, Medical College of Ohio
   Fellow in Cytopathology, Detroit Medical Center
Board Certification:
   American Board of Pathology, Anatomic and Clinical Pathology
Clinical Interests:

   Director of Cytopathology
   Associate Residency Director
   Surgical Pathology
Recent Publications:
Zyrek-Betts J
, Micale M, Lineen A, Chaurhuri PK, Keil S, Xue J, Thomas JE:  Malignant blue nevus with lymph node metastases.  J Cutaneous Pathol,
in press.
Zyrek-Betts J
, Calkins S, Elsamaloty H, Medhkour A.  Radiation necrosis of undetermined etiology.  Lab Med 38:157-9, 2007  
Zyrek-Betts J
, Donabedian H, Booth R.  A 49-year-old man with AIDS, fever, and weight loss.  Lab Med 37:536-8, 2006