NEWS
Our Department conducts funded research by the NHLBI/ National Institutes of Health and the American Heart Association. We support the Go Red day. https://www.goredforwomen.org/fight-heart-disease-women-go-red-women-official-site/about-go-red/
Why is the red dress the symbol of women and heart disease?
In 2003, the National Heart, Lung and Blood Institute (NHLBI), the AHA and other organizations committed to women's health joined together to raise awareness of women and heart disease. The NHLBI introduced the red dress as a national symbol for women and heart disease awareness and the AHA adopted this symbol to create synergy among all organizations committed to fighting this cause.
By working together to advance this important cause, the AHA, NHLBI and other women's health groups will have a greater impact than any one group could have alone.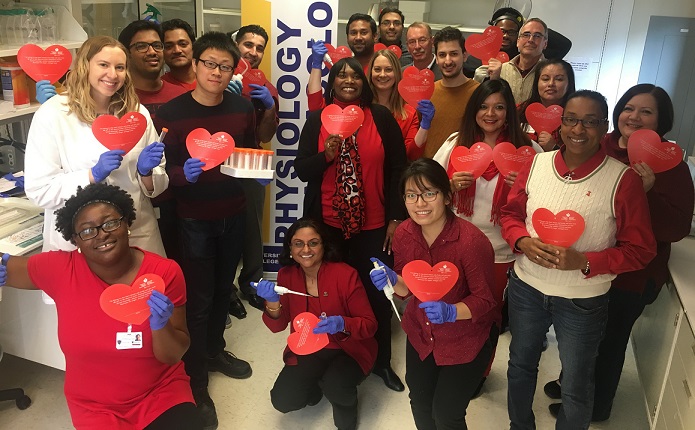 ---
Congratulations to Mengjie Wang from the Hill Lab! Her abstract entitled "Roles of Insulin Receptors and IGF-1 Receptors in Leptin-Responsive Neurons in Regulation of Body Weight, Growth, Pubertal Development and Fertility" has been selected for one of the Endocrine Society Outstanding Abstract Awards in conjunction with ENDO 2017 in Orlando, FL. 
---
Congratulations to Dr. Vazquez and lab! The manuscript "Reduced Necrosis and Content of Apoptotic M1 Macrophages in Advanced Athersclerotic Plaques of Mice with Macrophage-Specific Loss of TRPC3", authored by Sumeet Solanki, Prabhatchandra Dube, Lutz Birnbaumer and Guillermo Vazquez, has been accepted for publication in Scientific Reports.
---