Disability Studies
Disability Studies explores the meaning of human difference – how we value some bodies and devalue others, how we accept or resist certain notions of "normal" behavior, function, and appearance. Rather than positioning the range of human circumstances that today we call "disability" simply within a medical framework, disability studies helps us to understand the full spectrum of human variation, challenging the barriers which may prevent disabled people from participating fully in their communities by promoting the ideals of inclusion, independent living, and community integration.
Program
The Disability Studies Program offers the first of its kind major in Disability Studies in the United States. This degree is truly interdisciplinary, centered in the liberal arts and social sciences while drawing on insights from across the campus. The DST major and minor emphasize critical thinking in an accessible framework of creative problem-solving. Today's graduates will have to solve problems that we cannot even imagine yet; DST helps students develop the skills not only to understand the world around them but also to design and execute the best solutions to those problems.
Relevance
Estimates suggest that as many as one in every five people could be considered disabled, so knowledge of disability issues can be useful for anyone who works with or provides products and services to the wider community. DST is relevant not only to students from medical and rehabilitation fields but also to students in many other disciplines as well. Students in disability studies enter a wide range of fields, including business, social work, engineering, policy and advocacy, law, education, nursing, pharmacy, and Recreation Therapy. The program prepares students for work in industry, government agencies, community organizations, media outlets, and education, as well as in the disability community.
Collaboration
The Disability Studies Program at the University of Toledo works closely with the Ability Center of Greater Toledo and other local, state and national disability organizations. We are committed to producing scholarship that is of practical benefit to the lives of disabled people, work which influences local, national, and international debates. 
Through our scholarship and creative activity in disability studies, we can make important contributions to the broadest range of public discourse, from the most fundamental questions (for example, What does it mean to be human?) to applied questions about how we choose to organize and make sense of a complex world. Along the way, we participate in social policy debates over the most pressing problems facing society, including health care, education, welfare, the role of government, personal freedom and independence, and many other key matters.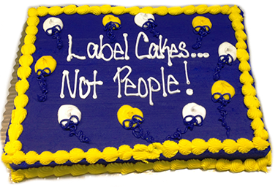 Giving
Students in the internationally-recognized Disability Studies program at The University of Toledo have great potential, but they need your help. When you give to the Disability Studies Scholarship and Research Fund, you transform lives by helping students obtain their education.
The Disability Studies Scholarship is near endowment, but we need your help to reach our goal. In 2020, we plan to celebrate five years of offering the B.A. by providing additional student scholarships. Your generous contributions will enable us to give financial assistance to more talented and hardworking students.
Contact
Contact us about the major or minor if you have any questions, or if you would like to discuss your options, phone: 419.530.7254, email: Kim Nielsen.