Dorothy MacKenzie Price Piano Series
2016-2017 PIANO Series
Each pianist will present a master class and recital on the weekend they are in town. Master classes are held on Saturdays at 10 a.m. to 12 p.m. Noon. Recitals are on Sundays at 3 p.m. Both events are free and open to the public, and will be held in the Recital Hall in the UT Center for Performing Arts (main campus). Parking is free also in Area 12, directly across the street from the UT Center for Performing Arts.
GUEST PIANISTS AND CONCERT DATES
October 8–9
Matthew Gianforte and Meeyoun Park (Murray State University)
Recognized for his sensitivity and panache, pianist Matthew Gianforte enjoys an active career as a soloist, collaborator, and teacher, having performed across the United States and abroad. Highlights of past seasons include successful debut appearances at Weill Recital Hall (New York), Sarada and Philia Halls in Japan, as well as appearances at several universities across the United States to present solo and collaborative recitals honoring the bicentennial birthdays of Mendelssohn, Chopin, Schumann, and Liszt. More...
A native of Seoul, Korea, Dr. Meeyoun Park has performed throughout the United States and abroad as both a soloist and collaborator. Her musical versatility has led to collaboration with both the Korean National Opera Company, and with renowned singers such as Virginia Zeani, Paul Kiesgen, Carol Vaness, Carlos Montane, and Alice Hopper. She has also participated in master classes with some of the world's finest performers, including André Watts, Alicia de Larrocha, and Marilyn Horne. She was worked extensively for the Indiana University Opera Theater as a vocal coach and rehearsal accompanist for numerous productions, and served as an Associate Instructor in piano. She has also served as a staff accompanist at both DePauw University, and the Oberlin Conservatory. More...

NOVEMBER 6 AT 3 P.M. 
STEINWAY GALA
The University of Toledo Department of Music will hold an inaugural public performance of a Steinway grand piano donated by the late Dorothy MacKenzie Price, a long time, generous supporter of the UT Music program as well as many other local causes. The concert will be performed by UT Music faculty, alumni, graduate students and special guests.
Tickets utoledo.Tix.com
February 4-5, 2017
Caroline Hong (Ohio State University)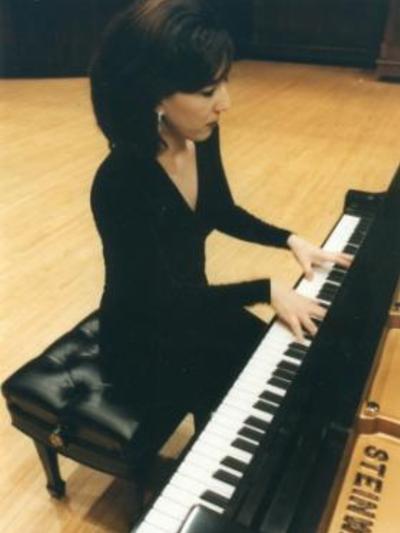 Caroline Hong has received critical acclaim as soloist with symphonies in the nation including Utah, Richmond, and Columbus Symphonies. As winner of the Chicago Civic Orchestra Soloist Competition, she made her debut in Orchestra Hall in a performance of Sergei Prokofiev's Third Piano Concerto under the baton of Michael Morgan. She is a Laureate of the Van Cliburn International Audition, the Robert Casadesus International Competition, William Kapell International Piano Competition, UNISA International Piano Competition, Beethoven Foundation, and was also selected to compete in the Montréal International Piano Competition. She made her debut at Carnegie Hall's Weill Recital Hall as the winner of the Frinna Awerbuch International Piano Competition (NY). 
Dr. Hong holds degrees from the Peabody Institute, the Juilliard School, and Indiana University. She is internationally active as a soloist, chamber musician, lecturer, adjudicator, and master class teacher at universities, institutions, and competitions. Dr. Hong was the first female appointed to the Piano at Peabody Summer Program, and has also served as faculty for the Vianden International Chamber Music Festival, Longwood University, and Indiana University as a graduate assistant in both theory and secondary piano. More...
April 1-2, 2017
Matthew Bengston
Critically acclaimed as a "musician's pianist," Matthew Bengtson has a unique combination of musical talents ranging from extraordinary pianist, to composer, analyst, and scholar of performance practice, and thus is in demand as both soloist and collaborator. An advocate of both contemporary and rarely performed music, he commands a diverse repertoire, ranging from William Byrd to Gyorgy Ligeti and numerous contemporary Philadelphia-area composers. He has performed concerts in France, Germany, Italy and Hungary, in Mexico, in Washington, DC, at Monticello, and in solo recitals at Carnegie Hall's Weill Recital Hall. He has performed with the Reading, Pottstown, Ridgefield and Bay-Atlantic Symphony Orchestras, and has appeared with violinist Joshua Bell on NPR's "Performance Today" and XM Satellite Radio's "Classical Confidential." His recordings can be heard on the Romeo, Arabesque, Griffin Renaissance, Albany and Navona record labels.
Mr. Bengtson is lauded as one of the most persuasive advocates of the music of Scriabin and Szymanowski. On his complete Scriabin Piano Sonatas, the American Record Guide writes: "Big-boned pianism, rich tonal colors, and dazzling technique are on display here. Has Scriabin ever been played better? Only Horowitz and Richter can compare," while Fanfare magazine calls him "a Scriabinist for the 21st century .. upon whom future generations can rely for definitive interpretations." In 2015 he toured with the complete Scriabin sonatas, performed in the historic centennial "Scriabin in the Himalayas" festival in Ladakh, India, and is a co-author of an upcoming book on Scriabin for Rowman and Littlefield Press.
Mr. Bengtson is Assistant Professor of Piano Literature at the University of Michigan School of Music, Theatre and Dance, where he teaches piano, fortepiano, and courses in piano repertoire, history and culture. He has taught at the University of Pennsylvania, at Haverford and Bryn Mawr Colleges, at Carnegie Mellon University's School of Music and the Peabody Institute, and been on the collaborative piano staff at the Curtis Institute of Music.