Alumni
/
Contact Us
Law Alumni Affairs Office
Office Address:
Law Center
1825 W. Rocket Dr., Ste. 1030
Mailing Address:
2801 W. Bancroft, MS 507
Toledo, OH 43606
419.530.2851
Law.Alumni@utoledo.edu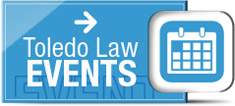 Alumni Spotlight
Boyd White '08 delivers TEDx Talk
October 15, 2014
Martin Mohler '73 takes office as OSBA president
June 18, 2014
Neil Kookoothe '87 is featured in CNN's story "Unique skill set helps save man from death row"  
March 21, 2014
Matthew Mitten '84 to serve as arbitrator at Winter Olympics
January 31, 2014
Remi Alli '13 wins American Judges Association Essay Competition
November 18, 2013
Toledo Law to honor four outstanding alumni Oct. 3 
October 2, 2013
Jeffrey Kay '69 to share highlights from distinguished career as Assistant United States Attorney
September 11, 2013
Kyle Smitley '11 to open charter school in Detroit
August 7, 2013
Alumni
A J.D. degree is the central credential of the American legal profession and constitutes a significant academic achievement. More than that, it represents power to influence the justice system, the economy, and public affairs.
Our distinguished alumni have achieved success in law, government, business, non-profits, and many other fields throughout the nation and internationally. No matter what you want to do or where you want to work, Toledo Law can help you get there.
In the News
July 30, 2014 - Albin Bauer, II, '90 joined the law firm of Day Ketterer as a member in the firm's Education Law and Environmental Law Practice Groups.
July 29, 2014 - Zachary D. Prendergast '06 joined the Cincinnati office of Roetzel & Andress, LPA. His areas of concentration are Business & Commercial Litigation and Bankruptcy & Creditors' Rights.
July 3, 2014 - Dana R. Quick, '07 has joined Bugbee & Conkle as an associate in the Labor & Employment and Creditor Rights & Insolvency Practice Groups.
May 5, 2014 - Beth L. O'Laughlin '10 joined Warner Norcross & Judd LLP as a new attorney in the firm's Midland office. O'Laughlin concentrates her practice in estate planning and business law.
April 22, 2014 - Scott A. Norcross '00 has joined Gallagher Sharp as a partner in the Business & Employment and Professional Liability Practice Groups.
April 15, 2014 - California Gov. Jerry Brown recently appointed former State Bar President Anthony Capozzi '70 to serve a second term on the Commission on Judicial Performance. Capozzi is the owner and operator of the Law Offices of Anthony P. Capozzi.
April 3, 2014 - Kyle Verrett Kern '08, assistant consumers' counsel, has been selected as the 2013 Ohio Consumers Council's Employee of the Year.
March 23, 2014 - Shannon M. Draher '01 and colleagues have formed a boutique Labor & Employment law firm, Nilges Draher LLC. The firm focuses on providing high quality employment law services to employers and to individuals.

Gallery: Toledo Women Lawyers History Project Dedication (10/2/2014)