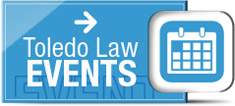 Alumni Spotlight
The New York Times reports that Todd Flood '97 will lead the Michigan Attorney General investigation into the Flint water crisis
January 25, 2016
Bridget Connelly '10 is the 20th alumna or student to travel to Cuba to observe the Guantanamo Military Commissions
December 4, 2015
Mettle of Mattimoe '07 improves lives of trafficking victims
November 23, 2015
Toledo Law honors Thomas '87
October 8, 2015
Thomas '87 develops and helms leadership training program for upper level law students
September 10, 2015
College of Law mourns passing of Richard LaValley '53
September 10, 2015
William Snyder '78: A Toledoan in Paris
February 25, 2015
Lecturer in law Patricia Wise '85 delivers EEOC testimony
January 14, 2015
Alumni
A J.D. degree is the central credential of the American legal profession and constitutes a significant academic achievement. More than that, it represents power to influence the justice system, the economy, and public affairs.
Our distinguished alumni have achieved success in law, government, business, non-profits, and many other fields throughout the nation and internationally. No matter what you want to do or where you want to work, Toledo Law can help you get there.

Gallery: Reception with Justice Judith Ann Lanzinger '77 (2/25/2015)

Alumni in the News
July 9, 2015 - Megan Mallone '08 describes her career as an officer in the U.S. Air Force Judge Advocate General's Corps. She was interviewed by an Ohio State University law professor in a podcast for Law School Transparency.
May 28, 2015 - Roetzel & Andress LPA announced that two partners were named Leading Lawyers in the 2015 edition of Chambers USA: America's Leading Lawyers for Business. Both Shane Farolino '88 and Terrence Finn '87 were named for work in the area of Natural Resources & Environmental Law.
May 15, 2015 -  Gary Farmer '91, a partner at Farmer, Jaffe, Weissing, Edwards, Fistos & Lehrman, PL, has been appointed to the Florida Bar's Code & Rules of Evidence Committee.