Alumni
/
Contact Us
Law Alumni Affairs Office
Office Address:
Law Center
1825 W. Rocket Dr., Ste. 1030
Mailing Address:
2801 W. Bancroft, MS 507
Toledo, OH 43606
419.530.2851
Law.Alumni@utoledo.edu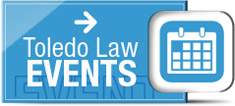 Alumni Spotlight
William Snyder '78: A Toledoan in Paris
February 25, 2015
Lecturer in law Patricia Wise '85 delivers EEOC testimony
January 14, 2015
Toledo Law honors Paul Hancock '70
October 27, 2014
Boyd White '08 delivers TEDx Talk
October 15, 2014
Martin Mohler '73 takes office as OSBA president
June 18, 2014
Neil Kookoothe '87 is featured in CNN's story "Unique skill set helps save man from death row"  
March 21, 2014
Matthew Mitten '84 to serve as arbitrator at Winter Olympics
January 31, 2014
Remi Alli '13 wins American Judges Association Essay Competition
November 18, 2013
Kyle Smitley '11 to open charter school in Detroit
August 7, 2013
Alumni
A J.D. degree is the central credential of the American legal profession and constitutes a significant academic achievement. More than that, it represents power to influence the justice system, the economy, and public affairs.
Our distinguished alumni have achieved success in law, government, business, non-profits, and many other fields throughout the nation and internationally. No matter what you want to do or where you want to work, Toledo Law can help you get there.

Gallery: Toledo Women Lawyers History Project Dedication (10/2/2014)

Alumni in the News
July 30, 2014 - Albin Bauer, II, '90 joined the law firm of Day Ketterer as a member in the firm's Education Law and Environmental Law Practice Groups.
July 29, 2014 - Zachary D. Prendergast '06 joined the Cincinnati office of Roetzel & Andress, LPA. His areas of concentration are Business & Commercial Litigation and Bankruptcy & Creditors' Rights.
July 3, 2014 - Dana R. Quick, '07 has joined Bugbee & Conkle as an associate in the Labor & Employment and Creditor Rights & Insolvency Practice Groups.