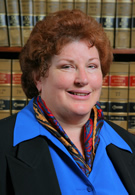 Professor Lee A. Pizzimenti, a faculty member from 1985-2014 and Associate Dean of Student Affairs from 2008-2014, is a graduate of the University of Michigan (BGS) and Wayne State University (JD).
Prior to joining the faculty, Professor Pizzimenti clerked for Judge Engel of the United States Court of Appeals for the Sixth Circuit and was associated with the firm of Dykema Gossett in Detroit.
Professor Pizzimenti has been active in a number of professional and civic organizations including the State Bar of Michigan Committee on Professional and Judicial Ethics, the American Civil Liberties Union, and the United Way.    
Publications
Screen Verité: Do Rules About Ethical Screens Reflect the Truth About Real-Life Law Firm Practice?, 52 U. Miami L. Rev . (November 1997)
Ethical Consultation From a Client Perspective, 8 Professional Lawyer (November 1997)
Post Conference Reflection: In Defense of Fuzzy Rules and Simple Truths, 35 South Texas L. Rev. 1263 (1996)
The Lawyer's Duty to Warn Clients About The Limits To Confidentiality, 39 Catholic L. Rev. 441 (1990)
Informing Clients About Limits to Confidentiality, 9 Bus. & Prof. Ethics Journal 207 (1990)
Prohibiting Lawyers From Assisting With Unconscionable Transactions: Using An Overt Tool, 72 Marquette L. Rev . 151 (1989)
Note, A Lawyer's Duty to Reject Groundless Litigation, 26  Wayne L. Rev. 1561 (1980)