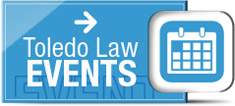 Faculty Spotlight
Prof. Lee Strang files amicus brief in Obergefell v. Hodges
April 15, 2015
Prof. Bryan Lammon's article wins appellate lawyers academy prize
January 20, 2015

Prof. Howard Friedman's Religion Clause Blog named to ABA Journal's Blawg 100
December 3, 2014
Prof. Joseph Slater's new book focuses on 'Mastering Labor Law'
October 15, 2014
Toledo Law faculty give TEDx Talks
October 15, 2014
Prof. Geoffrey Rapp is profiled in UT Discovers 2014, the University's annual research magazine
October 2, 2014  
Prof. Llewellyn Gibbons's book to be translated to Chinese
June 20, 2014
Social media law scholar Agnieszka McPeak to join College of Law faculty
June 19, 2014
Faculty
College of Law faculty members are nationally recognized scholars and excellent teachers.
Our faculty members have written more than 30 books and published hundreds of articles, many in the best law journals across the country. They include Fulbright Scholars, celebrated law bloggers, and members of the American Law Institute.
Moreover, they are highly committed to our students' success, offering personal attention and a "no appointment required" open door policy.

In The News
As experts in their fields, College of Law professors are regularly consulted for analysis and opinion by the news media. Faculty members are interviewed for local television and newspaper articles, and by national publications such as The New York Times and USA Today. Topics range from doping by professional athletes to the death penalty to electronic surveillance. The following is a sampling of recent media coverage of the Toledo Law faculty.
4/16/2015 - A report co-authored by Professor Kenneth Kilbert is the subject of The Toledo Blade article "Lucas Co. considers new water authority."
4/12/2015 - Professor Bruce Kennedy talks eminent domain with The Toledo Blade in "Houses may be a barrier to Jeep future."
3/24/2015 - Professor Kara Bruce discusses her latest article,"Vindicating Bankruptcy Rights," with badcredit.org.
3/13/2015 - Professor Eric Chaffee is quoted by Reuters in "Probe of Ackman team over Herbalife campaign may go nowhere."
3/2/2015 - Professor Nicole Porter is quoted in the womensenews.org story "Wage Segregation Robs Women in Peak Earning Years."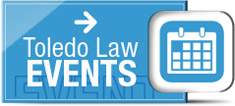 Faculty Spotlight
Prof. Lee Strang files amicus brief in Obergefell v. Hodges
April 15, 2015
Prof. Bryan Lammon's article wins appellate lawyers academy prize
January 20, 2015

Prof. Howard Friedman's Religion Clause Blog named to ABA Journal's Blawg 100
December 3, 2014
Prof. Joseph Slater's new book focuses on 'Mastering Labor Law'
October 15, 2014
Toledo Law faculty give TEDx Talks
October 15, 2014
Prof. Geoffrey Rapp is profiled in UT Discovers 2014, the University's annual research magazine
October 2, 2014  
Prof. Llewellyn Gibbons's book to be translated to Chinese
June 20, 2014
Social media law scholar Agnieszka McPeak to join College of Law faculty
June 19, 2014