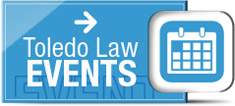 Faculty Spotlight
Prof. Llewellyn Gibbons quoted in Federal Circuit opinion
January 21, 2016
Dean D. Benjamin Barros recognized among top property law professors
December 30, 2015
Toledo Law one of Princeton Review's best; Professors ranked most accessible among nine Ohio law schools
October 14, 2015
Toledo Law faculty recognized for scholarly impact; ranks #62 of nation's law schools
August 13, 2015
Prof. Kelly Moore named UT Honors College interim dean
July 28, 2015
Prof. Benjamin Davis appointed to American Bar Association Standing Committee on Law and National Security
July 24, 2015
College of Law faculty well represented at law school association conference
July 24, 2015
Faculty
College of Law faculty members are nationally recognized scholars and excellent teachers.
Our faculty members have written more than 30 books and published hundreds of articles, many in the best law journals across the country. They include Fulbright Scholars, celebrated law bloggers, and members of the American Law Institute.
Moreover, they are highly committed to our students' success, offering personal attention and a "no appointment required" open door policy.

In The News
As experts in their fields, College of Law professors are regularly consulted for analysis and opinion by the news media. Faculty members are interviewed for local television and newspaper articles, and by national publications such as The New York Times and USA Today. Topics range from doping by professional athletes to the death penalty to electronic surveillance. The following is a sampling of recent media coverage of the Toledo Law faculty.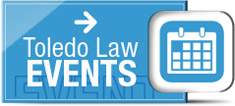 Faculty Spotlight
Prof. Lee Strang files amicus brief in Obergefell v. Hodges
April 15, 2015
Prof. Bryan Lammon's article wins appellate lawyers academy prize
January 20, 2015

Prof. Howard Friedman's Religion Clause Blog named to ABA Journal's Blawg 100
December 3, 2014
Prof. Joseph Slater's new book focuses on 'Mastering Labor Law'
October 15, 2014
Toledo Law faculty give TEDx Talks
October 15, 2014
Prof. Geoffrey Rapp is profiled in UT Discovers 2014, the University's annual research magazine
October 2, 2014  
Prof. Llewellyn Gibbons's book to be translated to Chinese
June 20, 2014