Faculty
/
Contact Us
Law Academic Affairs Office
Office Address:
Law Center
1825 W. Rocket Dr., Ste. 2000
Mailing Address:
2801 W. Bancroft, MS 507
Toledo, OH 43606
419.530.5597
Kenneth.Kilbert@utoledo.edu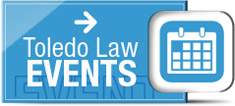 Faculty Spotlight
Faculty
College of Law faculty members are nationally recognized scholars and excellent teachers.
Our faculty members have written more than 30 books and published hundreds of articles, many in the best law journals across the country. They include Fulbright Scholars, celebrated law bloggers, and members of the American Law Institute.
Moreover, they are highly committed to our students' success, offering personal attention and a "no appointment required" open door policy.

In The News
As experts in their fields, College of Law professors are regularly consulted for analysis and opinion by the news media. Faculty members are interviewed for local television and newspaper articles, and by national publications such as The New York Times and USA Today. Topics range from doping by professional athletes to the death penalty to electronic surveillance. The following is a sampling of recent media coverage of Toledo Law faculty.
6/1/2014 - Professors Joseph Slater and Geoffrey Rapp weigh in on sports and labor law for The Toledo Blade's piece "Union concept carries wave of complexities."
5/30/2014 - Professor Geoffrey Rapp chats with Southern California Public Radio's Airtalk program for its story "Steve Ballmer makes $2 billion winning bid to purchase the Los Angeles Clippers."

5/22/2014 - The May 2014 Yale Law Journal includes a review of Professor William Richman's book "Injustice on Appeal: The United States Courts of Appeals in Crisis."
5/17/2014 - Professor Eric Chaffee is interviewed by the Seattle Times in the story "Local China Firm Charged with Fraud."
5/16/2014 - Professor Geoffrey Rapp is interviewed by USA Today for its story "Donald Sterling not paying fine is key legal opener."