Student Life
/
Contact Us
Law Student Affairs Office
Office Address:
Law Center
1825 W. Rocket Dr., Ste. 2000
Mailing Address:
2801 W. Bancroft, MS 507
Toledo, OH 43606
419.530.2882
Kate.OConnell@utoledo.edu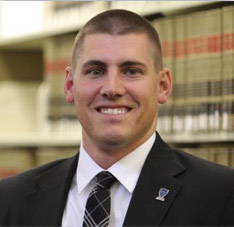 Why Toledo Law?
ADAM MOTYCKA '13
"The professors all have an open-door policy, and they are routinely on a first-name basis with their students. The administration and faculty do everything within their power to ensure that a student succeeds: whether that's by personally meeting with a student to go over a challenging topic or by planning events in which the students can get to know the lawyers and alumni in the community."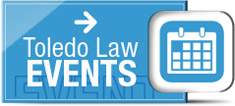 News
Benjamin Imdieke '16 receives Chief Justice Thomas J. Moyer Fellowship
May 22, 2014
Linda Amrou '15 elected national president of the International Law Students Association
May 21, 2014
Toledo Law Moot Court teams find success at competitions nationwide
April 25, 2014
Anthony Sallah '14 places second in national securities law writing competition
February 13, 2014
Toledo Law caps tuition at $17,900 for Ohio and Michigan residents entering fall 2014
February 10, 2014
College of Law creates Certificate of Concentration in Health Law
November 25, 2013
Student Life
Toledo Law students have their own close-knit community within the larger campus of The University of Toledo while still having access to an impressive Student Recreation Center, Division I athletics, and the rich cultural and entertainment opportunities of a big university.
Many students choose to maximize their legal education by getting involved in our Toledo Law community and beyond. Our students have the option to join a moot court or trial advocacy team, or one of our many student organizations. Students can elect to participate in one or more of our legal clinics, write for Law Review, or complete an externship or fellowship nationwide. Many students also take advantage of our close proximity to state and federal courts and the Toledo Bar Association.
Law Student Affairs Office
The Law Student Affairs Office and the Assistant Dean for Student Affairs are here to welcome and support students and student organizations. The Office should be the starting point for any and all student questions or concerns.
Kate O'Connell
Assistant Dean for Student Affairs
Office: Law Center Suite 2000
Phone: 419.530.4125
Kate.OConnell@utoledo.edu

Gallery: Public Interest Fellowship Benefit Auction (2/6/2014)