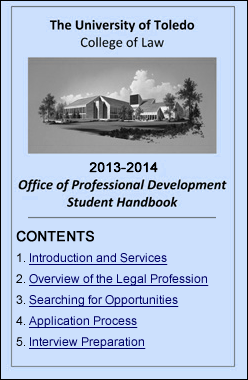 Symplicity Log-in
Office of Professional Development
The Office of Professional Development is dedicated to helping students and graduates achieve their career objectives. We focus on the professional development of our students from their very first year of study at Toledo Law. An attorney-student mentorship program, career building workshops, interview preparation, a student and alumni jobs database, and individual career counseling are just a few of the services offered by our office.
Heather Karns
Assistant Dean for Law Career Services and Alumni Affairs
Kelly Tomlinson
Assistant Director of Law Career Services and Public Service Coordinator
Kirsten Winek
Assistant Director of Law Career Services
Maureen Dwyer
Secretary
Office Hours:
Monday - Friday, 8:30 a.m. - 5:00 p.m. or by appointment

Non-Discriminination Policy
The University of Toledo College of Law is committed to a policy of equal opportunity in education, employment, membership and contracts without regard to race, color, religion, sex, age, national origin, ancestry, sexual orientation, gender identity and expression, military or veteran status, the presence of a disability, genetic information, familial status, political affiliation and participation in protected activities, except as mandated by pertinent legal requirements. The College of Law will take affirmative action as required or permitted by federal or state law.
Events & DeadlineS
Tuesday, November 17 - US Department of State and Foreign Service Information Session
Tuesday, November 17 - 1L Workshop #3 (Job Search/Interviewing)
Tuesday, November 17 - OPD Evening Hours (6:00 pm)
Thursday, November 19 - Faculty Job Search Tips for 1Ls
Monday, November 23 - OSBA Juvenile Law Brown Bag Lunch