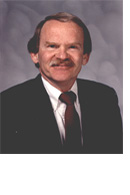 Professor Roger W. Andersen, a faculty member since 1979, is a graduate of Knox College (BA), the University of Iowa (JD), and the University of Illinois (LLM).  Prior to joining the faculty, Professor Andersen worked in a bank trust department in Michigan, was in private practice in Seattle and taught at Oklahoma City University School of Law.   He assumed Emeritus status in December, 2004.
Professor Andersen has written in the fields of estate planning, disability law, environmental law and real property. He has also published a book for the general public on Disability Planning.
Publications
Fundamentals of Trusts and Estates, LexisNexis (3d ed. 2007) (with Ira Bloom) with Teachers' Manual. Casebook.
Plan While You Can: Legal Solutions For Facing Disability, AuthorHouse (2003). For general audiences.
Skills & Values: Trusts and Estates, LexisNexis (2009) (with Karen Boxx) with online materials. Problem book.
Understanding Trusts and Estates, LexisNexis (4th ed. 2009). Law student text.