Department News
Faculty News and Events
Dr. Ruili Xie, Assistant Professor of Neurosciences, received a R01 award titled "Cellular mechanisms of age related hearing loss" to study one of the most prevalent health conditions that affect the elders.  This project investigates the consequences of aging on hearing in the central auditory nervous system, and aims to elucidate the underlying mechanisms of ARHL at the synaptic, cellular and circuit levels.  The knowledge will provide guidance and new strategies for the development of clinical interventions in treating ARHL and other hearing impairments. Total direct cost for the 5-year grant that starts September 2017 is about $1.9 million
Marthe Howard, professor of neurosciences, received an extremely competitive award from the office of the Director of the NIH through the Stimulating Peripheral Activity to Relieve Conditions (SPARC) program. Her project, "Anatomical-Functional Mapping of Enteric Neural Circuits," was one of the few projects in the entire country funded under this prestigious program, and was awarded over $2.3 million for the first year of activity.  Total if funding for the proposed period will be about $7 million.
Joseph Margiotta, professor of neurosciences, has accepted the position as chair of the College of the Appointments, Promotions & Tenure Committee.  All recommendations for promotion or appointment at the rank of Associate Professor or Professor are reviewed by the committee and determinations are based on the Bylaws, Rules and Regulations of The University of Toledo College of Medicine.
 Joshua Park, assistant professor of neurosciences, received a NIH R21 award to develop an effective therapeutic agent for the treatment of Alzheimer's disease (AD), a devastating neurodegenerative disease that affects more than 27 million people worldwide. The study will examine the efficacy of a novel BBB-permeable polysaccharide, midi-GAGR (from human food additive), in slowing AD pathogenesis in AD animal model.  Dr. Park also received an Ohio Third Frontier  – Phase I grant to develop a novel gel device for bone defect treatment and for commercialization of the device.
 Joseph Lee, Ph.D. candidate in the Giovannucci lab, recently published an article in the Toledo Blade newspaper titled "University of Toledo students studying how to prevent dry mouth" on his research in medication induced salivary gland dysfunction.

October 2016 - Joint Appointment Researcher (Dr. Xin Wang, Associate Professor of Psychiatry) receives $3.38 million grant to study PTSD.
Nicolas Chiaia received the 2013 Dean's Award for Teaching Excellence
Nicole Northrop received a Travel Award by the Society for Neuroimmune Pharmacology to attend the 2014 annual meeting in New Orleans
Congratulations to David Giovannucci on receiving an NIH R21 award entitled "Novel Calcium Signaling Pathways in the Salivary Gland"

Nicole Northrop's research highlighted by NIDA
"Stress-Induced Enzyme Compounds Methamphetamine Neurotoxicity"
2013  2nd prize to Nicole Northrop for Oral Presentation at the ASPET/FASEB meeting in Boston and a Postdoctoral Scientist Award to attend the meeting
2012 Golden Apple Awards to Carlos Baptista and Carol Bennett-Clarke
2011 COM Dean's Award for Teaching Excellence in the Basic Sciences to Mark Hankin
2011 Golden Apple Awards to Dennis Morse and Carol Bennett-Clarke
2011 Outstanding Researcher Award to. Marthe Howard
2011 Outstanding Teaching Award to. Joseph Margiotta
2011 Outstanding Mentor Award to. David Giovannucci
Graduate Student News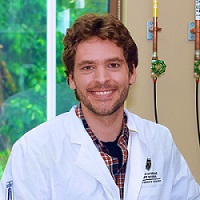 Eric Starr of the Margiotta laboratory successfully defended his dissertation for his Ph.D. in July.  His defense was titled "Pituitary Adenylate Cyclase Activating Polypeptide and Synaptic Plasticity at Autonomic Cholinergic Synapses".  His work has expanded our understanding of neuroplasticity mechanisms in the peripheral nervous system.  Eric is currently considering offers from a number of prestigious labs for a postdoctoral position.  Please congratulate Eric (and his mentor!) and wish him well in the new chapter in his scientific life.
2017 Welcome to Neuroscience & Neurological Disorders Scott Miruzzi, Ph.D. student from Michigan State University!
2013 First Place in the Oral Presentation Category at UT's Council of Biomedical Graduate Student's Research Forum to Laura Halpin

2013 Graduate Student Association Research Award to Priyo Goswamee

2012 Royal College of Psychiatrist's Travel Award to Laura Halpin

2012 FENS Travel Award to Laura Halpin

2012 Student Satellite Scholarship for academic excellence to Sumit Bhattacharya

2012 Honorable Mention Award at the 2nd Midwestern Graduate Research Symposium to Sumit Bhattacharya

2011 2nd prize for Oral Presentation at the 3rd Midwestern Graduate Research Symposium to Priyodarshan Goswamee