Welcome
/med/depts/
Additional Information
Contact Us
Health Science Campus
Dowling Hall
Second Floor, Room # 2440
Phone: 419.383.4020
Fax: 419.383.6170
webmaster@utoledo.edu
We do more than set broken bones...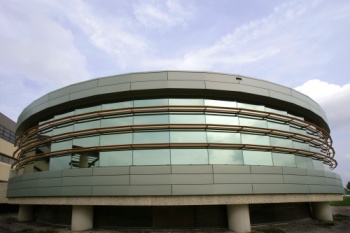 The New Orthopaedic Center
Welcome to the website for the Department of Orthopaedic Surgery at the University of Toledo. We hope you find this site to be a valuable resource in learning who we are and how we support the three-part mission of UT to provide excellent service in education, research, and patient care.          
As northwest Ohio's only academic health center, our surgeons provide the highest quality of care as well as provide the education for the physicians and surgeons of the future. The orthopaedic department at UT is one of the most published in the country. UT has a team of 11 highly skilled physicians, many whom are nationally renowned, and all of whom provide expert surgical and orthopaedic care in a variety of specialty areas. In fact, U.S. News and World Report has ranked UTMC twice as one of the best hospitals in the country for orthopaedic surgery.
The Department of Orthopaedic Surgery recently opened a $10 million Orthopaedic Center to provide exceptional access, service, convenience, and quality patient care. The Department is now offering appointments with an orthopaedic surgeon within 24 hours of calling the Center. If there is an emergency, however, we will see the patient immediately. To create a patient-friendly environment, the Orthopaedic Center was designed to house all services in one convenient location.

The Department of Orthopaedic Surgery has a fully accredited, five-year residency program which was recently received a commendation by the Accreditation Council for Graduate Medical Education following its site visit in September 2007. In addition, the program was granted an increase in resident complement allowing the program to offer four resident positions each year.
The department also provides education for medical students, graduate students, and other health-care providers. It offers a Master of Science in Biomedical Sciences (M.S.B.S.) program with a Bone Biology and Orthopaedic Sciences track.
Internationally recognized faculty mentors in these areas are well-funded by extramural grant agencies including both federal and industrial. Modern research laboratories in the Bone Biology and Orthopaedic Sciences are well-equipped to apply state-of-the-art technologies in bone biology, bone tissue engineering, and biomechanics.  

Research strengths include traumatic injury and fixation, sports medicine and spine. Excellent opportunities exist for collaboration with rehabilitation, mechanical engineering, biomaterials, and other basic science departments at the University of Toledo.

Nabil Ebraheim, M.D.
Professor & Chairman