UT-Salford Exchange Program
Criteria for Selection of Program Participants: Biology Option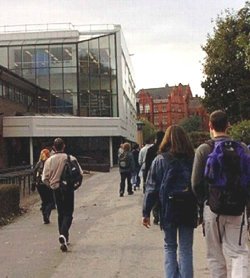 Students walking by the Salford library
to get to the Peel building
(in the background) 
A student must have a minimum GPA of 3.200 overall, as well as a 3.200 in major/ related courses combined.  Students will not be ranked on the basis of GPA.  A student's GPA is only one of the many things that enter into the evaluation of her/his potential for acceptance into, and success in, the Salford exchange program.
A student must have completed the Biology introductory sequence (BIOL2150/2160 and 2170/2180, organic chemistry (CHEM2410/2460 and CHEM2420), and mathematics (MATH1750/1760 or above such as MATH1850/1860).  Students who plan to take the MCAT in England during their exchange year, or in August upon their return, should also complete their physics requirement (PHYS2070/2080 or PHYS2130/2140) before going abroad.
Applicants should provide the Director of UT-Salford exchange program with a transcript, at least two letters of reference (one must be from his/her advisor, and at least one other one should be from a member of the natural science faculty), as well as a statement of why the Salford Exchange  Program will be of value to her/his future.  This application will be evaluated to determine the potential benefit to the student's career in the life sciences.
Applicants must arrange an interview with the Program Director (Dr. Brian Ashburner).
Selection of the program participants should be considered final.
Honors students should plan for their senior thesis project before going to Salford.
If you are interested in applying for the Salford program, you should meet with your academic advisor early in your sophomore year to discuss this possibility.  It is recommended that you do not take any Biology courses above the introductory series.
The course equivalents between UT courses and Salford courses have been established (see course info page).  Students will earn 15 hours in the fall semester, and 16 hours in the spring semester, for a a total of 31 credit hours, which will be transferred back to UT during the summer following the exchange year.  As in the past, these courses will satisfy all required and elective courses in Biology above the 2000-level, with the exception of BIOL4700, which is usually during the senior year.
If you are in a major outside of the Department of Biological Sciences (e.g. - Chemistry/Biochemistry, Environmental Sciences/Studies, Biology-Ecology and Organismal Biology, or Physics) and wish to participate in this exchange program you should arrange to speak with the Program Director, Dr. Brian Ashburner and your academic adviser in you academic program.