Department of Marketing and International Business
The Department of Marketing and International Business offers four unique and exciting programs.  Join the more than 800 students to find out why Marketing, Professional Sales, International Business, and E-Business are their programs of choice...attractive jobs, valuable internships, industry and global networking, travel and study abroad, research-productive and student-centered faculty, and three very active student organizations are some of the compelling reasons!  
A very productive year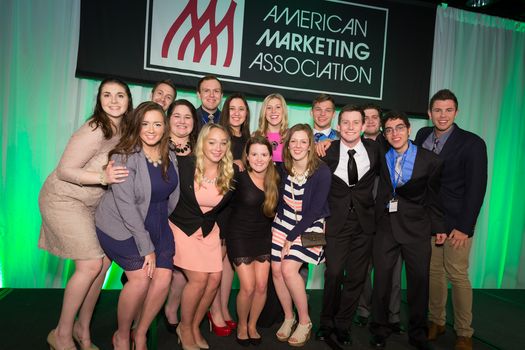 A very busy and productive year for our student organizations has been capped off by tremendous accolades for the UT American Marketing Association (AMA) student organization and Pi Sigma Epsilon Professional Business Fraternity (PSE) student organization. The AMA chapter has seen the year wrapped up with a great accomplishment - the group was recently recognized as a Top 25 chapter in the world. With over 350 AMA chapters reporting, it is a tremendous accomplishment for the students to be recognized with this accolade.
From March 17-19, a group of 15 AMA members attended the 38th Annual AMA International Collegiate Conference in New Orleans where they were judged on everything that they had accomplished during the past year. In order to gain this accomplishment the chapter had to excel in six areas: professional development, community and social impact, fundraising, membership, internal/external communications and chapter operations.
In addition, on March 21-25, a group of 15 members of PSE traveled to Milwaukee for the Annual National Convention. Before the week was over, the chapter had collected a number of national awards. The chapter won a Chapter Sustained Excellence Award (one of six chapters in the nation to do so). This award is given to chapters who maintain Gold Status for three or more years in a row. 
UT's Schmidt School garnered another national sales competition award at the convention, winning the National Pro-Am Sell-A-Thon and Top Salesperson of the Day. Several team accomplishments were also recorded: second place in Top Management Team, third place in the case competition, fourth place for the chapter's recruiting efforts and finalists in the Marketing Research Challenge.
Ut is the place to be!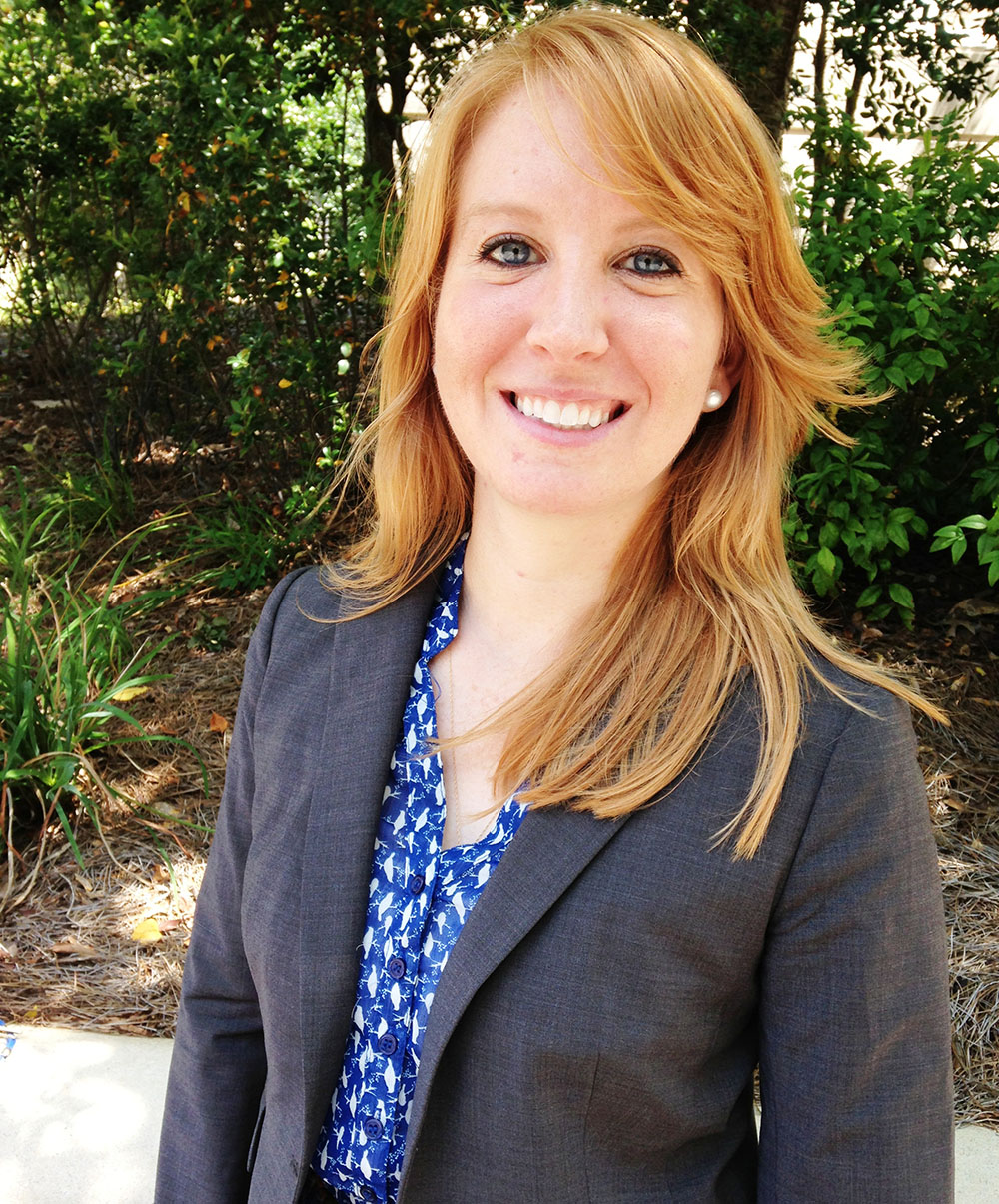 There is a NEW COBI sales faculty member at the University of Toledo.
Dr. Catherine Johnson, Assistant Professor in the Marketing and International Business Department, likes teaching, students, her previous career in banking, her new coworkers in COBI, travel, writing, reading mysteries and uncharted experiences with people around the world.
"I like students, they are fun to hang around," she added. "Because teaching sales is very interactive, with role plays and more, people need to engage. If you're going to teach sales, this is where you want to do it. But it's not enough to have a good program; it is also important that the faculty is warm and welcoming."
Being born in Minnesota qualifies her as a Midwesterner, but she grew up in Louisville and attended the University of Kentucky, where she majored in German and history, spending a year in Germany through an exchange program.
 "Southerners are known for being friendly, and southern hospitality is true, but I found the people here to also be nice, supporting and friendly, as well as fun. UT seems to be really exciting right now. This is a great place to be."
She returned to Minnesota to obtain her master's degree, after which she worked in banking.  "I was the branch manager. It was a lot of fun and great for a sales experience. The financial service industry is interesting. At smaller banks, you have to do everything: you have to care about your customers.  You are the interface between the bank and the customer, and you have to cross-sell, upsell, and more."
Dr. Johnson obtained her Ph.D, at the University of Alabama, where she studied sales and consumer behavior and also taught for two years.
Her research revolves around emotional intelligence in sales outcomes, sales strategy and consumer behavior. In 2014 she received the best paper award at the American Marketing Association Winter Marketing Education Conference, and also received an award from the Sheth Foundation Doctoral Consortium.  She recently had a paper about corporate social responsibility accepted by the Journal of Business Research. "It will be my first paper which will reflect my position at The University of Toledo."
Dr. Johnson said she went into teaching because "I've always liked working with students; plus the academic life appealed to me because it involves both reading and writing about what you want. Furthermore, both my father and grandfather were professors, so I've always lived in a college town, such as East Lansing and Tuscaloosa. "
"The best part of teaching is getting students excited about what you are excited about, to transfer your enthusiasm to others, especially in entry level classes," she explained.  "When they 'get it' and students make that connection, that's neat.   I also like it when I've made a lasting impact with students, when a student comes back to see you, or asks for advice, or when students feel that I am approachable and will actually come up and introduce you to their parents."
"It's about making a difference in a student's life, making an impact.  You are there to help them; it is not just about one class."
Courses that Dr. Johnson is currently teaching include Professional Sales, which teaches the students about the processes of selling fro prospecting to closing the deal.  The students' role play demonstrating selling skills to the class.  Advanced Sales consists of a more-in-depth look into sales concepts using case studies with realistic, complex situations that students have to evaluate and solve.
"The field of sales is really great, and the proof that the program is working is when students come out prepared to sell. That shows that we place the focus on the students and learning outcomes," Dr. Johnson said.   "Here at UT the sales school places students in front of recruiters all the time, and they can tell that our students are now professionals."
COBI students study business and culture during trip to London and berlin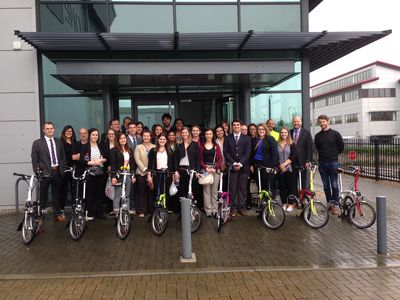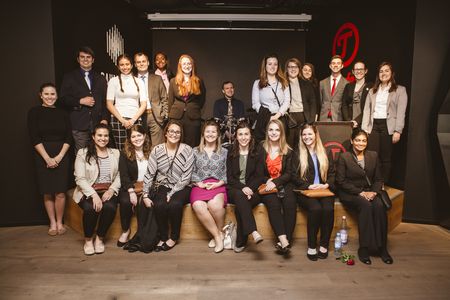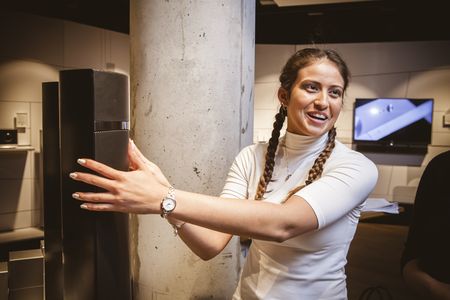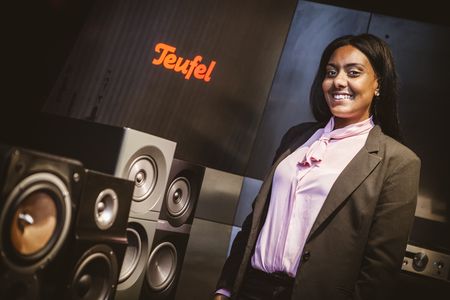 Twenty-one University of Toledo College of Business and Innovation students from a variety of majors travelled with COBI Dean Gary Insch and Dr. Stanford Westjohn at the end of the 2016 spring semester to London and Berlin as part of their semester-long course IBUS 4100/6100 (Study Abroad Program).  The students attended presentations about each country's economy and visited local businesses, and also had time to explore the cities on their own.
"Students had an opportunity to experience life in a foreign culture and learn how businesses in other countries operate," noted Dr. Stanford Westjohn, COBI Associate Professor, Department of Marketing and International Business. "The course looks great on a student's resume and is an excellent opportunity for students to develop a global mindset."
"Our students would typically get a tour and then company managers would give a presentation about their strategies and international competitiveness," Dr. Westjohn said in describing typical corporate visit.  "At Ritter Sport, our students ate chocolate; at Brompton they rode collapsible bikes, and we were on the studio floor during a show at QVC. Our visits were the result of each company's generosity"
Among the companies which students had the chance to explore this spring were:
QVC-UK
Brompton Bikes
Bank of England
Teufel Raumfeld
Ritter Sport
"We always remember that business functions internationally, existing in a global environment… as does COBI," noted COBI Dean Gary Insch.  "Students gain real world insight into what international business is by visiting several, diverse international enterprises located in these centers of international commerce. It's a fantastic learning experience."
"All of this is very exciting and reflects the interconnectivity of today's global economy," Dean Insch added. "Our faculty and staff take great pride in knowing our graduates are ready to take their place upon the global business stage."
"Without question," Dr. Westjohn said, "the students made memories that will last a lifetime, and this trip opened their eyes to new international opportunities. For some, this could be the only international trip they ever take."
The course is open to all COBI majors. For more information about the course and the trip scheduled for spring, 2017, contact Dr. Thomas Sharkey, Chair, COBI Department of Marketing and International Business at Thomas.Sharkey@utoledo.edu.
INTERNSHIPS in MKTG, PSLS, and IBUS:  Guidelines

Internship supervisors:
     MKTG 4940 Marketing:  Dr. Thomas Sharkey
     PSLS 4940 Sales:  Dr. Ellen Pullins
     IBUS 4940 International Business:  Dr. Thomas Sharkey