Department of Marketing and International Business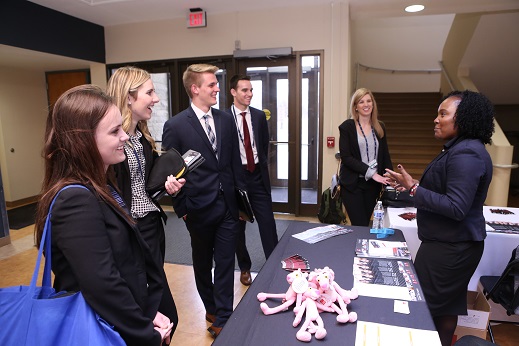 The Department of Marketing and International Business offers four unique and exciting programs.  Join the more than 800 students to find out why Marketing, Professional Sales, International Business, and E-Business are their programs of choice...attractive jobs, valuable internships, industry and global networking, travel and study abroad, research-productive and student-centered faculty, and three very active student organizations are some of the compelling reasons!  
COBI Members win recognition at International AMA Conference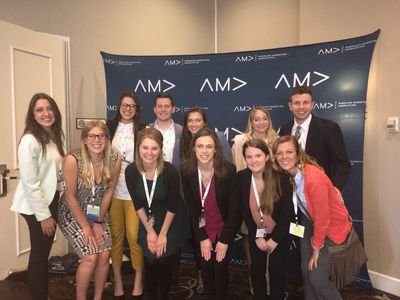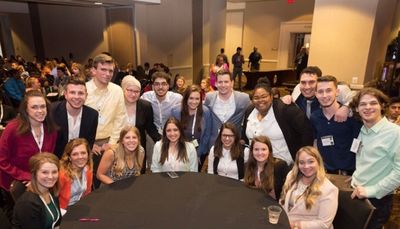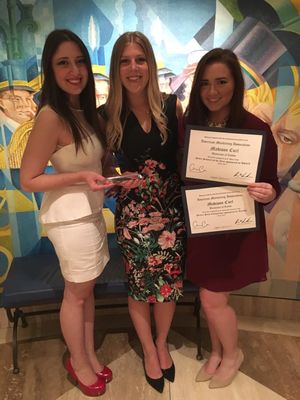 The UT COBI Department of Marketing was well represented at the 37th annual American Marketing Association International Collegiate Conference in New Orleans in March, with 18 students attending. When they returned home from the AMA conference, they brought additional significant recognition with them.
"First, we were again recognized for our Exemplary Collegiate Chapter Performance," explained Dr. Mark Gleim, faculty advisor to the COBI AMA team. "We were evaluated on our performance for the entire year, and with more than 370 AMA chapters submitting their reports, this is a tremendous accomplishment for our students to be recognized with this accolade."
"Other firsts for our Chapter at this year's competitions at the conference include the duo of Riley Shull and Dina Teeti competing in the Marketing Strategy competition, taking 5th place out of 98 teams," Dr. Gleim said. "Furthermore, Jack Nachtrab and Madison Curl competed individually in the Perfect Pitch sales competition, were one of the top 30 out of 200 competitors and each made it to the finals. "Madison took Honorable Mention, placing her as one of the top 7.  These are tremendous accomplishments for our chapter and something that we have never earned before."
"Additionally," Dr. Gleim said, "we nominated Madison for the AMA/USCA Sales Student of the Year award and she came in second place out of all the elite AMA members who were up for the award! Because Madison is only a junior this year, it makes the accomplishment even more impressive." 
Marketing department professor tries to infuse her love of international travel in her students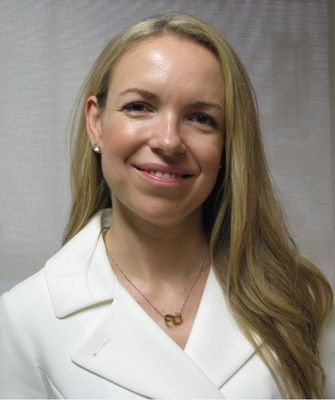 Recognizing that business functions in a global economy, it clearly benefits UT COBI students that Melanie Lorenz, one of the newest Assistant Professors of International Business in the Department of Marketing, has both lived international business and loves international travel. 
"Since I was an undergraduate student obtaining my Diplom Betriebswirt in European Business Management, University of Applied Sciences, Worms, Germany, I've been interested in international business. During my studies I also worked on internationally-oriented consulting projects with SMEs and studied abroad in the U.S. and Mexico, and that gave me a solid foundation for my career."
Beyond the appeal of international business, Dr. Lorenz also just loves to travel and interact with people from different cultures.
"One major foreign experience I had was living with a Mexican family for six weeks," she recalled.  "I was not a tourist; I was part of a family, and was forced to adjust."
Also she has been to many different countries, one of her favorite places to travel being Switzerland.  "I love Switzerland because of the cultural differences you can encounter in four hours going across one country."
Prior to joining UT, she worked in consulting, banking, and as a subject matter expert for McGraw-Hill, both in the United States and Germany.
"This is a perfect field for me, the combination of researching and teaching," Dr. Lorenz said. Her research is focused on micro- and macro-level issues in the international, primarily in the emerging market context. Her interests include global marketing, innovation, and global work in MNEs, in general, and the concept of Cultural Intelligence, specifically.
Dr. Lorenz's research has been published in peer reviewed journals such as the Journal of World Business, International Journal of Research in Marketing, and Academy of Management Learning & Education. She has had papers accepted at multiple national and international conferences.
She also has a great fondness for the University of Toledo. "I love the campus, it's a really beautiful campus. Love the architecture, the mall area and the façade of the buildings. Also, everybody is really nice and helpful!"
Dr. Lorenz endeavors to share her enthusiasm for the world of international business with her students.
"I'm direct with the students that my major goal is to understand the global environment, the challenges and opportunities, and to inspire them to go abroad. You have to be open to different cultures. Just try to explore how people are, what the locals do. Many students have not left this country, and I know it will change their lives."
"If I could do anything, I would travel and educate people to be more culturally sensitive. The more people understand they need to understand others, the more you can see people in other cultures do things, the better we all will be."
"I like to research cultural intelligence and teach it to students," Dr. Lorenz said. "I think it is really important to teach cultural intelligence and learn how it affects us. I believe I can change things if I teach students to explore, to pay attention to what is going on around them to recognize opportunities, and see things differently."  
Study Abroad trip broadens business horizons for COBI students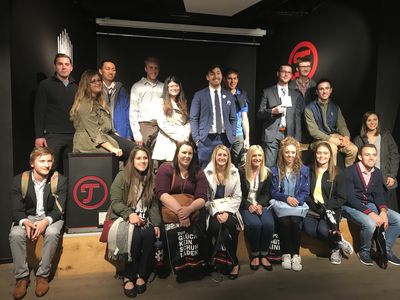 As soon as UT's Spring, 2017 semester ended and the last graduates walked off the stage with their cherished diplomas, dozens of COBI students embarked on an engaging study abroad program to London and Berlin.
All College of Business and Innovation students - all majors - are strongly encouraged to study abroad during their undergraduate degree program. Study abroad programs can assist students in the development of academic, intellectual, personal, professional and cross-cultural skills.
These two-to-three week study abroad programs are led by College of Business faculty members, with Carol Sullinger and COBI Dean Gary Insch leading this May's trip.  Examples of College of Business faculty trips include eastern Europe, western Europe, and Asia. Opportunities vary from year to year.
"I teach both marketing and international business classes and have experience in industry international business," Sullinger said.  "The trip is designed to be an 'emersion' into the business culture, which includes the economic, political and cultural environments of a country.  Those are the foundations of the business environment and the trip is an experiential way to learn.  The idea is to experience both the differences and the similarities of the different countries."
"My role was co-teaching the class with the Dean throughout the semester in preparation for the trip as well as planning the company, educational and cultural visits, everything from picking the hotels and assigning roommates to coordinating travel plans and the itinerary throughout the trip," she added.  "I think one of the really special parts of the trip was for the students to spend ten days with the Dean of the College of Business and Innovation.  It was a privilege for all of us to learn from his knowledge and experience."  
"I went on this trip because I thought it was a great opportunity to squeeze in an extra class in while being able to travel abroad and immerse myself into new cultures," said Alex Odenweller, who majors in finance and accounting. "The biggest thing I learned was that the cultural and language barriers in European countries were more apparent than I thought they were. These barriers sometimes made it difficult to travel around the cities and immerse into the cultures."
"I would definitely recommend this class to everyone," observed Natalie Zerucha.  "I believe everyone should experience a culture change to make us as Americans realize how fortunate that we are, as well as to show them that companies overall operate the same as we do and that it would be interesting to work with a business overseas."
"All businesses have the same sort of cycle no matter where you are in the world," Zerucha added. "They might operate differently but they get their products from somewhere and someone else packages those products, so that is supply chain. Someone deals with their numbers. They market. I learned if you have an idea, run with it and see where it takes you, like Passle for example; they failed a few times but they got back up and readjusted how they wanted to do things and be an asset to the business world. I also learned that you have to go with the trends to stay in the market, like QVC. "
Odenweller said, "The best experience for me was becoming very good friends with some of the people on the trip. I didn't know anyone before going on the trip, and when I left I had made a whole new group of friends. Being able to experience everything London and Berlin had to offer with a group of friends made the trip an even greater experience. I would say that this trip was one of the best experiences I have ever had, and I would go on it again in a heartbeat."
"My favorite part of the trip was watching each student grow," Sullinger said.  "We had a wide variety of travel experience in the group; one student had never been on a plane and another was a graduate student who did international medical device sales for his career.  The group bonded in so many ways.  One of the students who had never run a 10K in his life decided to enter and complete in one in London.  His roommate on the trip went with him to cheer him on. The whole group, after learning of his accomplishment, congratulated him for days.  I have many more of those stories, and each one was really rewarding to see.  Watching each student grow is what I love about teaching."
The location of next year's trip will be determined before the fall semester starts.  Anyone interested can contact Ms. Sullinger at carol.sullinger@utoledo.edu. 
"The Dean and I are looking forward to another great trip with up to 20 students in May, 2018," she said
COBI team wins national invitational sales competition it hosted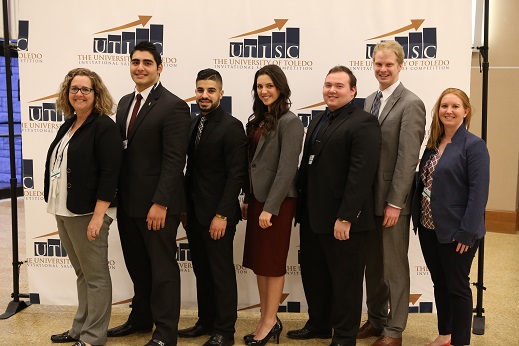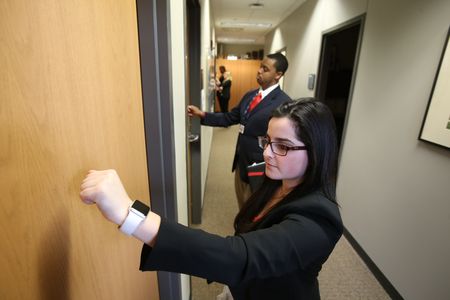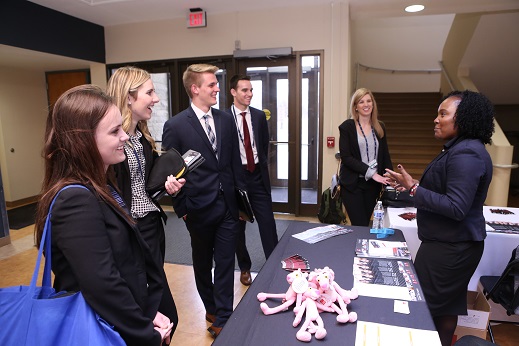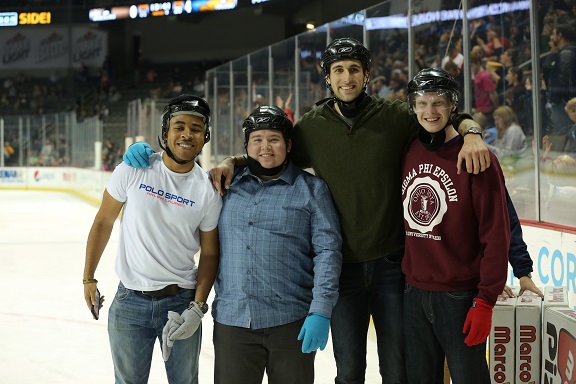 Professional sales students from 30 universities across the United States came to the University of Toledo College of Business and Innovation on February 24 & 25 to compete in the second annual University of Toledo Invitational Sales Competition (UTISC).
When the competition was over and all scoring sheets tallied, the team from the COBI Edward H. Schmidt School of Professional Sales (ESSPS) - - which presented the event - - won the competition!
 "Last year at the UTISC, our University of Toledo team did really great job; we were in the top ten, both of our students made it to the semifinals, and that was really exciting," explained Deirdre Jones, ESSPS Director.  "Our team this year did a great job helping each other to prepare. It was truly a team-based effort.  We had great faculty coaches, and this year we won! It was fantastic, a great moment. The results between first, second and third we all very tight, but not only did our team of Taylor Busse and Jovan Sanson win, but Busse took first place in tjunior division, and Sanson finished 4th in the sophomore/freshman division.  Really proud of their efforts and how they represented the University of Toledo."
"It's really rewarding to win the UTISC," said team coach Dr. Ellen Pullins, Schmidt Research Professor of Sales & Sales Management and COBI Professor of Marketing. "We've got a long history of wins and top 10 finishes at other national competitions over a decade, so we really wanted to bring everything we have to our own venue, and we did! It is even more exciting to win when the team is surrounded by colleagues and friends! I really think they were the 12th man."
"We started preparing for the competition about a month ahead of time. We've seen in our success at other competitions that the real key is to coach students in an adaptive sales process that will work regardless of what situations they encounter. This is really the heart of the ESSPS curriculum that makes us so successful with recruiters as well as at a variety of different national competitions," Pullins added.
Jones explained that ""We are the nation's first and only national sales competition to focus exclusively on the non-senior. All of our competitors are freshmen, sophomores and juniors."
"I kept getting phone calls from organizations asking me about who our top seniors were and if they could talk to them, and I had to keep telling them that they were already placed. I want to make sure that we can continue to be in a position to help the business community and also help universities across the country grow sales program enrollments, because we all need to grow to keep up with corporate demand."
Jones added, "These younger students go back and have a year or more before graduation, they tell their peers about how much fun it was, what they learned and the great companies they met. It's great for the companies because one hundred percent of all the students they meet at the national sales competition are hirable. If they are spending their time, talent and treasure to come out, we want to make sure they get a return on that."
Sponsors included 3M, Owens Corning, Quicken Loans, Schindler Elevator Corporation, Goodyear Tire and Rubber, Hilti and Proctor and Gamble.
Jones said, "The best part of the UTISCF for universities is just knowing how absolutely bright the future is for sales talent.   It's really rewarding to see the students perform well. I and my colleagues love what we do, we're really passionate about it, knowing that we are impacting things now and decades from now, because these are the sales professionals of the future. Our vision is developing the world's future sales leaders, one student at a time, and I can't think of a better way that we can accomplish this than with the UTISC."
Participating universities included Baylor, Florida State University, Ball State, Oregon State, Temple and Indiana.
"I think what encourages the undergraduate sales students is that they are finally getting a taste of the real world," Jones said. "For them to see buyers who are real world professionals to come in and role play with the students. They are able to build competence and confidence in what they are doing, and I think that is very addicting and reassuring for a lot of them that this is something that they enjoy doing and something they are going to be good at doing."
Growth is on the horizon for this invitational event.  "We've had a wait list every single year we have done the competition, and next year we are going to expand to 36 universities," Jones said. 
INTERNSHIPS in MKTG, PSLS, and IBUS:  Guidelines

Internship supervisors:
     MKTG 4940 Marketing:  Dr. Thomas Sharkey
     PSLS 4940 Sales:  Dr. Ellen Pullins
     IBUS 4940 International Business:  Dr. Thomas Sharkey