COBI senior Nathan Boothe eyes careers in sports and business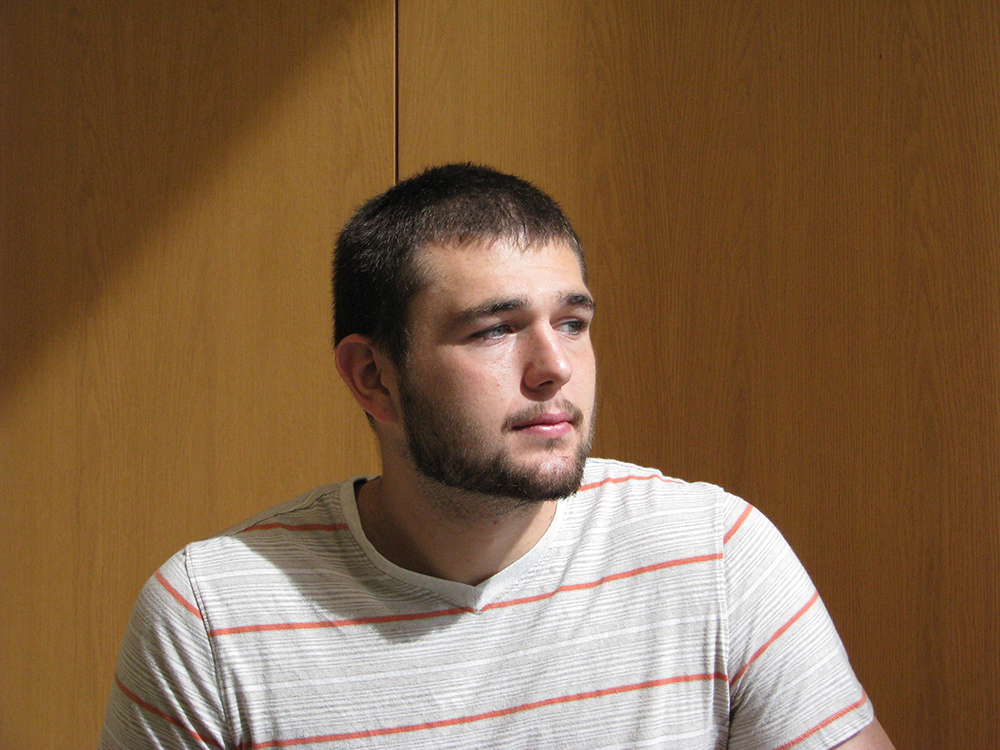 Love of sports runs deep through the veins of Nathan Boothe, a marketing and sales major in the College of Business and Innovation and the only senior on The University of Toledo men's basketball team.
"Our family has a tradition of playing sports. I had uncles who played college football, an uncle who played professional baseball for the San Francisco Giants organization, and a sister who played professional basketball for a team in Poland and now plays for a team in Russia."
Nathan started playing basketball in the 6th grade, and also got into golf in high school, but it was his basketball skills - - where he helped his Warren Township Blue Devils post a 31-4 win-loss record - - that attracted a visit from an assistant coach from the University of Toledo, who traveled to Boothe's hometown of Gurnee, Illinois to observe him.
"I had a good relationship with an assistant coach, I got on UT's campus, and I loved it.  It was a good fit from the start for me with a good group of people," Boothe recalled. "The deal was done once they had my Mom happy with how serious they are, not just with basketball, but with academics and becoming a better person.  Coach K (Tod Kowalczyk, the men's head basketball coach) really cares about us developing into a better person."
Boothe said he enjoys team activities such as visiting a children's hospital and helping with youth basketball camps. "People would be surprised to know that I love hanging out with little kids. I think people by looking at me would think that I would not be good with kids, but I love doing the camps."
But it's all business when it comes to being a UT Rocket basketball player, and Boothe clearly recognizes his added responsibilities on the court this year. As the only senior on the team, the 6'9" power forward center knows he must assume a position of leadership.
"I have the responsibility to get the team together," he said.  "I have to step forward. The team is young this year, but we should be good."
Boothe also feels the added pressure when a game is being televised, but only at the start. "Once I'm on the court, I don't think about it. It's just really enjoyable, and I'm blessed to be able to do it."  
As for the future, Boothe admits that he would love to play basketball professionally, if not in the NBA then maybe in Europe, as his sister now does. (Boothe also admits that, even today, backyard basketball with his siblings is still "competitive.") And he recalls that it was a "thrill to have met one of the all-time greats, Michael Jordan" once at a tournament where Jordan's son was playing.
However, Boothe is also excited about the opportunities of a career in business.
"My dad is in sales, he travels and enjoys it," Boothe said.  "I don't want to be in an office.  I really liked Professor Pullins sales classes, and COBI advisor Darlene Stevens talked me into a double major of marketing and sales. I would like to use my business degree and do marketing for a sports product." 
This summer he worked in ticket sales for UT athletics, and said "I once visited the headquarters of Nike, and it would be the perfect job to do marketing for Nike."
Yes, the blood that runs deep through Boothe's body is saturated with sports, which is why, even when naming his favorite movies - - which he enjoys watching with his friends - -  his second favorite film is Miracle, about the 1980 Olympic gold-medal winning United States hockey team.
But both his basketball and business opponents should know that the favorite movie of this personable, children-loving, imposing young man is Gladiator.