Peter Davis becomes new president of COBI Alumni Affiliate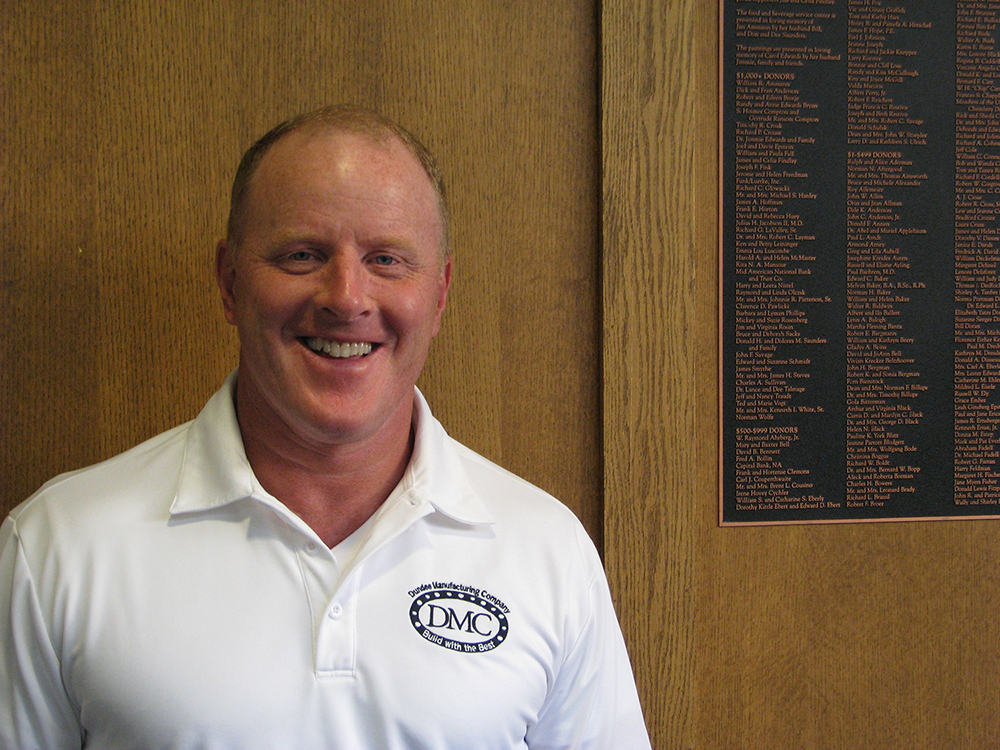 Peter Davis is a man on a mission.  In fact, several missions, including helping COBI students and alumni, expanding his own business, and making a meaningful impact on the world.
Talking with him leaves little doubt that he will accomplish all of them, and much more.
Davis is the new president of The University of Toledo College of Business and Innovation Alumni Affiliate, having served as vice president of the Affiliate since 2013. He succeeds his friend Blaine Stout, who just completed his term as president.
"I met Blaine when we were both in the COBI Executive MBA program, and he asked me to come to a meeting of the group," Davis said. "I was not too familiar with the alumni board or its outreach to the community, but I liked its purpose and agreed to serve as vice president."
Davis said his term as vice president was a learning experience about what the Alumni Association does as he sets his personal goals for the next two years. "We're trying to engage the alumni of the college and raise money for the students' education and careers. We want to do more outreach, add more value to alumni, and, following UT President Dr. Sharon Gaber's lead, we want to conduct larger events that will draw in more members of the business community." 
He said that he wants to align the Board with the mission statement and establish "project based" committees which will focus on action items and best use everybody's time.  He added that he also wants to bring a nationally recognized business speaker for a college event next spring.
"It's all about getting the COBI Alumni Affiliate active in the community," Davis said.
"The value of being active in the Alumni Association is that it provides proximity to business leaders. It's the power of networking. My whole career is all about relationships, plus it's a good cause, helping younger people stay in college so that they can one day give back. The benefits are not short-lived. It could lead to a job opportunity, career advancement…you don't know where it will go.  Students and recent grads are educated, but they need opportunity." 
"Students and graduates might be friends with hundreds of people on Facebook," Davis said, "so they have quantity of contacts, but it's the quality that counts. You have to have human touch, and you have to grow that connection. The disadvantage of social media is that it does not advance their social skills."
Originally from Temperance, Michigan, Davis came to UT while selecting a college and "fell in love with it." He is equally proud that he obtained his bachelor's degree from COBI with a major in finance and also became a certified die maker. "My father and uncle were die makers, and I've always liked the trade. In 2004 my brother/business partner and I bought our father's business, Dundee Manufacturing Company, but I figured I had to get the business and finance knowledge to best run the business, and that has become a staple of my success."
"When the recession hit, we did what we had to do to survive, but in 2009 I decided I had to recreate myself and obtain my EMBA degree from the University of Toledo, to advance the companies growth.
The business not only survived but thrived, and construction will soon start on a new facility in Temperance, Michigan, which should be operational next year….a move which also brings with it his commitment to create more jobs.
But Davis is also working on more than attracting people to be involved with the COBI Alumni Affiliate and expanding his business.
"I'm a cancer survivor. In my heart of hearts I feel that God gave me a second chance, and that there must be a purpose in what you're doing. "
He has participated in mission trips to Haiti, including a recent trip to assist in an eye care clinic.
"These trips have made me realize the need for safe drinking water there. This is such a basic need, but they can't get it.  So I just started a non-profit organization called Hope2O to help make this happen," Davis said. "I originally was trying to develop the technology to bring safe water to where it is needed, but I've learned that the technology already exists, so through my non-profit I want to raise the money to get this done."
"You have to do something."