Welcome
/
Contact Us
Health Science Campus
Center for Creative Education
First Floor, Room # 1103
Phone: 419.383.5327
Fax: 419.383.6322
webmaster@utoledo.edu
About the Center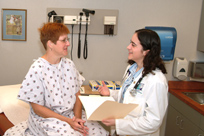 The Ruth M. Hillebrand Clinical Skills Center is located in the newly built Center for Creative Education building, a $10 million, 42,000 square-foot building located on UT's Health Science campus.  

The Center began as the Standardized Patient Program in 1991 in response to a need for medical, nursing, and allied health students to have more experience in patient interaction. The Standardized Patient Program was renamed the Clinical Skills Center in 2002, and then rededicated the Ruth M. Hillebrand Clinical Skills Center in 2005.

The Center provides a facility for the training and assessment of students across a variety of health care disciplines including; medical students, pharmacy students, physical therapy students, physician assistant students, nurse practitioners and residents. Other institutions such as Flower Hospital, Toledo Hospital, Mercy Hospital and the University of Findlay have also utilized our services.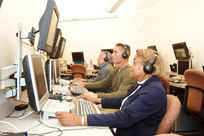 Beyond the opportunity to interact and diagnose standardized patients, the Center also works in collaboration with the Interprofessional Immersive Simulation Center (IISC) providing the human component to the hybrid simulation (the use of SPs with non-human simulators).  Both programs are able to offer a complimentary and synergistic approach towards the best educational opportunities.