Welcome
/
Contact Us
Health Science Campus
Center for Creative Education
First Floor, Room # 1103
Phone: 419.383.5327
Fax: 419.383.6322
webmaster@utoledo.edu
Standardized Patients
What is a standardized patient?
A Standardized Patient (SP) is a member of our surrounding community who is hired by the Hillebrand Clinical Skills Center to teach, train or evaluate health care professionals. This person is taught a step-by-step procedure of how to simulate an illness and evaluate a patient encounter. Standardized Patients are used to teach or test health care professionals.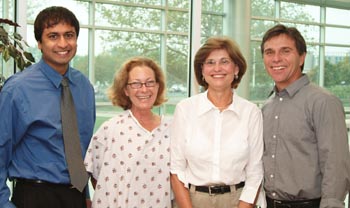 The Hillebrand Clinical Skills Center hires a diverse and comprehensive group of Standardized Patients, encompassing all ages, races, ethnic groups, religions and genders. It is essential that Standardized Patients have a desire to participate in health care education, be a nonpartisan communicator, as well as consistent and dependable. Pay ranges from $12 to $30 per hour depending on the assignment. Work is part-time and according to program requirements.
How do I get involved?
Complete our
application
and mail it back to us. After receiving your completed application, we will contact you and schedule a new SP orientation. At this time, we will go over all aspects of the program and answer any questions you may have and determine if our program will be mutually beneficial.