Facilities
The Radiation Oncology and Radiology Medical Physics Divisions have access to a variety of computer systems for Radiation Oncology treatment planning, programming, and image analysis. A wide range of radiation measuring equipment is available, including a full range of dosimetry and quality control test equipment, Wellhoffer computerized beam scanning system, an array of ionization chambers, packages for film dosimetry and analysis, oscilloscopes, and test phantoms. Also available are multichannel analyzer scintillation detectors, autogamma, and liquid scintillation counters, diode, thermoluminescent dosimetry systems, and scanner for chromic film dosimetry system. 
---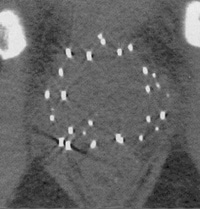 Good access is available to clinical equipment. Radiation Oncology equipment includes two fully equipped SL25 linear accelerators of the precise series, used for external electron and x-ray beam Radiation Oncology, a superficial x-ray therapy unit, a Ximatron x-ray simulator, low and high dose rate brachytherapy (LDR & HDR), hyperthermia. For brachytherapy procedures, UT offers a range of modalities such as prostate seed implant, other sealed radioactive source implants as well as radiopharmaceutical therapy procedures. Besides being a leader in intra-operative Radiation Oncology, UT provides IMRT, and IGRT treatment planning, conventional 3D conformal external beam radiotherapy, and stereotactic neurologic radiosurgery capabilities with inverse planning arc modulation technology.
---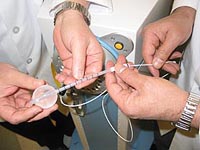 Diagnostic imaging equipment includes three computed tomography (CT) scanners, a Toshiba 64 slice, a Toshiba 16 slice, and a GE high speed CT scanner located in the radiation oncology area. There are also two magnetic resonance imaging (MRI) systems with fast scanning, vascular imaging and functional imaging capabilities, one 3T and the other 1.5 T unit. Several single photon emission computed tomography (SPECT) systems, including one with Coincidence Detection (CoDe) capability for Fluorine-18 FDG positron emission tomography (PET) imaging, two mammography units and one dedicated mammography biopsy system, two biplane cardiovascular suites and an angiography room, a Vortec film digitizing and image communication system, computed radiography (CR) system, an R/F x-ray room dedicated to animal studies, and several digital clinical R/F systems.