/nsm/chemistry/
Chemistry Menu
/nsm/chemistry/
Resources
Contact Us
Main Campus
Bowman-Oddy Laboratories
Room: BO 2022
Mail Stop: 602
Phone: 419.530.2100
Fax: 419.530.4033
utchem@utoledo.edu
Faculty
Faculty
Terry Bigioni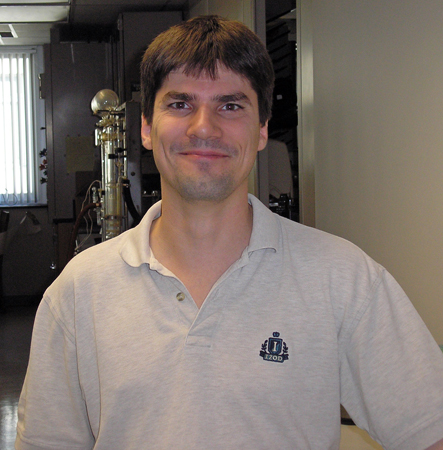 Associate Professor
Email: Terry.Bigioni@utoledo.edu
Office: WO 2272
Phone: (419) 530-4095
Fax: (419) 530-4033
Professional Background:
B.Sc. Chemical Physics, The University of Toronto 1993
M.Sc. Physical Chemistry, The University of Toronto 1994
Ph.D. Physical Chemistry, Georgia Institute of Technology 2000
Postdoctoral Associate 2002-2005 The University of Chicago
Postdoctoral Associate 2005-2006 NASA Center for Nanotechnology 
Publications
Group Page
CHEM1230
Research Synopsis: Colloidal nanocrystals have been watershed materials in nanoscience and nanotechnology research, demonstrating in the early 1980s that small is indeed different. Nanocrystals continue to be very important as model systems for testing fundamental ideas in condensed matter physics and as unique building blocks for designing new nanocomposite materials.
Colloidal nanocrystals are fascinating materials because of their extraordinary flexibility and their remarkable diversity of properties. They are unique hybrid materials consisting of a solid core protected by a soft outer shell of organic molecules. Traditionally, our building blocks have been limited to the known elements, with each element's properties determined by the number of electrons. In contrast, we can adjust the properties of nanocrystals by changing almost trivial properties such as core size or type of capping molecules. In this way, the colloids act like artificial atoms and transcend the periodic table. Such flexibility promises highly-optimized designer materials for applications as diverse as catalysts, sensors, magnetic storage media, solar cells, lasers, medical probes and therapeutics.
Myresearch is aimed at learning three things: (i) new ways of assembling colloidal nanoparticles into complex structures; (ii) how particle interactions affect the structure and physical properties in these unique materials; (iii) if it is possible to synthesize structurally perfect nanocrystals. To answer these questions, I work with nanometer-sized inorganic particles, including gold as a model system. These nanocrystals are protected by a monolayer of organic molecules, such as dodecanethiol for gold, which keeps them from sintering. This research spans many diverse fields, including physical, inorganic, and organic chemistry, hard and soft condensed matter physics, and materials, chemical and mechanical engineering.