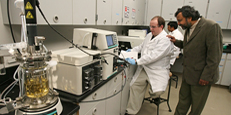 Research Opportunities
Research opportunities include development of renewable feedstocks, atom economical syntheses,  catalysis, applications of benign solvents, improved analytical techniques, and process design.  Learn more


NEW! Faculty Position in Green Chemistry
The Department of Chemistry and Biochemistry invites applications for a tenure-track faculty position in green chemistry. The position is expected to be at the assistant professor level, but senior appointments will be considered. Review of applicants will begin on February 1, 2016.  Learn more
News and Events
September 2015
Paul Anastas and John Warner participate in the Department of Chemistry and Biochemistry's centennial celebration. 
September 2015
The UT Professional Science Masters Degree in Green Chemistry and Engineering receives affiliation approval from the NPSMA. 
August 2015
The SGCE hosts the first meeting of its advisory board.  
August 2015
UT hires three new faculty members with interests in green chemistry and green engineering.
Publications
Recent publications that cite the UT SGCE affiliation are available at this site. These publications include the results of faculty and student research on topics related to green chemistry and green engineering.  Learn more
Research Opportunities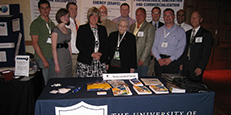 What are Green Chemistry, Green Engineering, and the Triple Bottom Line?
Green Chemistry is the use of a set of principles that reduces or eliminates the use or generation of hazardous substances in the design, manufacture, and application of chemical products.  Learn more.
Green Engineering is the development and commercialization of industrial processes that are economically feasible and reduce the risk to human health and the environment. Learn more
The Triple Bottom Line (TBL) relates the long-term sustainability of an organization to it's social, environmental, and financial impacts.  This is also referred to as the 3Ps: people, planet, and profit. Learn more