Academic Honors Committee
The Academic Honors Committee recommends candidates to the Provost
for Honorary Degrees and for the Distinguished University Professorships.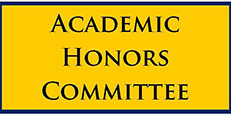 Learn about the role of the Academic Honors Committee, members and appointment process.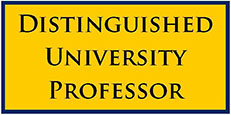 See a list of current Distinguished University Professors and guidelines and nomination process.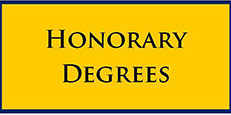 See a list of past honorary degree recipients and process for guidelines and nomination.
Deadlines
DUP Application Timeline
March 27, 2018: Call for Nominations

September 28, 2018: Deadline for submissions, excluding external support materials.

December 2018: Committee recommendations submitted to the Provost
upcoming events
"Chemical Sensing: Finding a Needle in a Haystack"
Distinguished University Professor, Jon R. Kirchhoff, Ph.D.
Thursday, February 22, 2018 | 4:00-5:00 p.m. | Doermann Theater, University Hall, Main Campus
Future DUP Lecturer:
Dr. Sarit Bhaduri, DUP, Tuesday, March 20, 2018, Memorial Field House, Room 2100
Lectures are scheduled from 4-5pm with a reception afterwards to allow the faculty and students to meet and talk with the lecturer.
Past DUP lectures:
"The Internet, a Toll Road on the Final Frontier: The End of Net Neutrality"
Distinguished University Professor, Mr. Llewellyn Gibbons
Wednesday, January 31, 2018 | 4:00 p.m. | McQuade Auditorium, College of Law
Precision Genomic Medicine for hypertension, heart and kidney disease?
- A journey through 40 years of research at the University of Toledo
Distinguished University Professor, Dr. Bina Joe 
Monday, November 13, 2017 | 4:00 p.m.  | Health Science Campus | COB | 1000A