Student Media
At the University of Toledo, we offer many ways for students to get hands-on experience. Whether it's radio, television broadcasting, or journalism, we have something for you.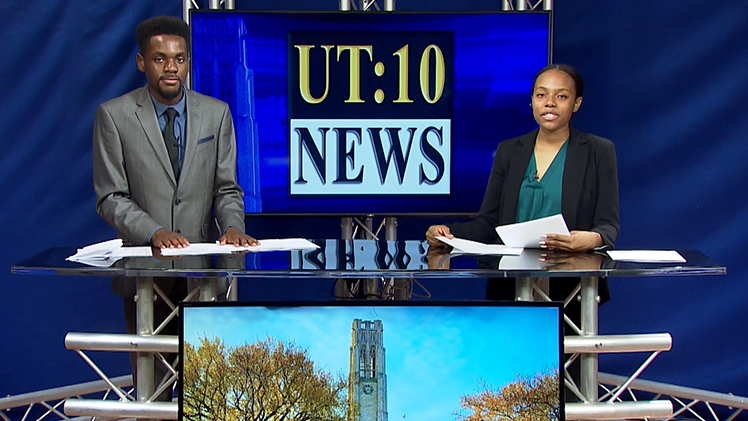 UT:10 News is a student-produced, 10-minute, weekly newscast. Our students work together with faculty and two full-time professionals to create a new show every week. The newscast now also airs on local public television station, WGTE-TV 30. This new home for UT:10 News is an addition to the University's partnership with WGTE, which provides internship experiences for Department of Communication students.
"This partnership with WGTE will enhance UToledo's connection with the community," said Dr. Ben Myers, department chair. "Students will be able to showcase their talents, both behind the scenes and in front of the camera, to homes all throughout Northwest Ohio." 
Tiara Medley, a junior studying media communication, said she is enjoying the opportunity to strengthen her broadcasting skills. "When news stations review our resume and see this experience, they'll be impressed because our work is already out there and has been viewed," Medley said.
Caleb Gill, a senior studying media communication, is only in his second semester at UT:10 News but already is building his confidence in front of the camera with every newscast. As a sports reporter, anchor and producer, Gill said he is eager to expand his journalism and public speaking skills.
"I never wanted to be 'one-dimensional'," Gill said. "For my future, all these skills I have learned here at the University of Toledo will help me be able to work in a wide range of different areas within communication."
Through this intensive class, students gain practical, hands-on experience and learn about life in the world of news and media. Students research and write stories, shoot and edit video, and report and anchor.
The class covers local, national, and international events from the UT perspective. UT:10 News evolves each semester as it strives to meet new industry standards.
Make sure to visit the facilities page to check out the equipment you could be using. Learn more about UT:10 on their website.
WXUT 88.3

WXUT is the student-run radio station. The student staff work with experienced professionals and enjoy a state-of-the-art studio located in the Student Union. Students can host a radio show or work behind the scenes in production and promotion. Visit their website or call 419-530-4172 to see how you can get on the air.