Music Performance Degrees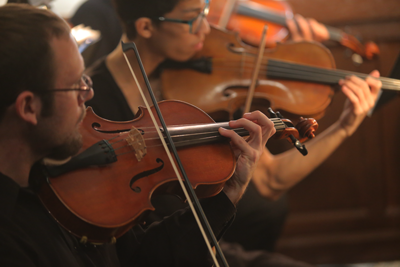 To be accepted into the undergraduate degree program in music performance, you must complete an audition and a music theory placement examination. All Bachelor of Music B.M. students must complete core music courses in music theory, music history, and literature, private music lessons and conducting. In addition, you must enroll in courses specific to your individual major.
BACHELOR OF MUSIC IN PERFORMANCE OPTIONS
The Bachelor of Music in Performance degree is ideal for students who plan to work in performance fields as professional singers, in symphony orchestras and other professional ensembles, in music theatre, or in jazz performance; as college or private voice instructors, or those who intend to pursue advanced degrees in performance or pedagogy.
Performance Degree Areas
Click the area for ensemble/performance opportunities
STUDENT LEARNING OUTCOMES for the BACHELOR OF MUSIC
1. Student will demonstrate the competencies delineated in the Music Core Outcomes.
2. Students will demonstrate a high quality of performing competence in their major area of study.
3. Students will demonstrate the skills and knowledge necessary to prepare for performance independent of outside teaching and assistance.
4. Students will be able to articulate knowledge of applicable performance and teaching literature.
5. Students will have knowledge of, and be able to demonstrate, the fundamentals of effective music pedagogy.