Percussion at UToledo
Percussion Studies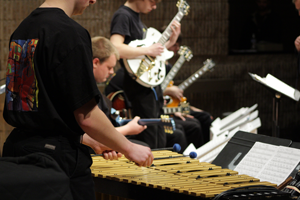 The goal of the percussion curriculum at The University of Toledo is to equip students with a broad survey of musical skills in orderto better prepare them for a demanding marketplace in which jobs are becoming increasingly competitive. Although there are certainly notable exceptions among 21st century musicians, there are very few percussion professionals who make their living exclusively from one discipline (just performing or just composing or just teaching, for example.)
Many successful professionals often make their mark in one of those areas, but often find themselves deriving success and, more importantly, income from a number of areas in combination, such as performing, teaching, arranging, composing, recording, authoring, etc. Taking a multi-disciplinary approach to one's college music education and career planning can often lead to a successful, lucrative and enjoyable living as a professional musician in the 21st century. 
The University of Toledo Percussion Studies program strives to offer students a world-class percussion education focused on an individualized course of study designed to assist each percussion student in becoming well-rounded, musically-diverse musicians. The program offers all percussion majors opportunities for instruction in the areas of both concert/symphonic percussion as well as jazz studies. Although there is a rigorous overall curriculum, great care is made to personalize each student's experience by tailoring the curriculum to serve each student's individual musical interests.
The UT percussion program offers comprehensive instruction in classical/western percussion instruments and literature for keyboard percussion instruments (marimba, vibraphone, etc.), snare drum, timpani, and auxiliary percussion. The classical focus is on ensemble performance, solo literature, and orchestral excerpts.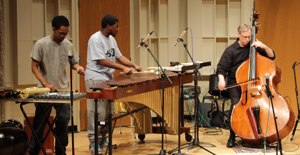 The percussion program also offers comprehensive coverage in jazz, ethnic, and contemporary popular music applications for percussion study. This area includes drumset instruction, hand drumming, jazz vibraphone, and marimba playing.  Jazz percussionists at UT are also exposed to cutting edge applications of electronic percussion programming and performance.
UT offers both Bachelor's and Master's degrees in Music Performance and Music Education. To study percussion at the University of Toledo, you must audition for acceptance into the program. Scholarships are also available. For details visit the department audition page.
Guest Artists
Guest artists are an also an important part of exposing students to successful professionals in the field and can provide a significant supplement to the normal curriculum. We are fortunate to have had hosted some wonderful guests artists including: Nebosja Jovan Zivkovic (world-renown percussion soloist/composer), Terreon Gully (drummer - Stefon Harris, Christian McBride) Ian Ding (percussionist - Detroit Symphony Orchestra), Jamey Haddad (world percussionist – Paul Simon, ), Gifford Howarth (marimba soloist/ author), Jim Feist (tabla soloist), Steve Hobbs (vibes). In addition, the annual Jazz Masters Series, Dorothy MacKenzie Price Piano Series, as well as the Spring Festival of New Music annually host guest artists in both performance and master class settings available to all students.          
Performance Opportunities
Performance opportunities abound for the percussionist. Within the UT Department of Music are a number of ensembles. Classical ensembles include the UT Symphony Orchestra, the University Wind Ensemble and Symphonic Band. The "corps" style marching drum line performs with the UT Rocket Marching Band at home games and in special performances. In the Jazz area there are big bands, combos, Jazz Vocalstra, and the guitar ensemble, GuitArkestra. The Percussion Ensemble performs a diverse repertoire ranging from jazz and ethnic influenced pieces to more traditional classical compositions. Students interested in Percussion Ensemble should contact Dr. Olman E. Piedra by phone or email in order to set up an audition. Students are encouraged to participate in multiple ensembles. To join other ensembles, visit their web sites and contact their directors, or call the Music Department office at 419.530.2448.
Dr. Olman E. Piedra (bio)
Phone:419.530.2215
Fax: 419.530.8483
Email: Olman.Piedra@utoledo.edu 
ADDITIONAL OPPORTUNITIES
Whether it's playing bebop or rock with some of Toledo and Detroit's legendary musicians, teaching and arranging for high school drumlines, freelancing with local bands, church services, with local orchestras, or even starting your own private lesson studio, in addition to all of the on-campus opportunities in the Department of Music, Toledo and the surrounding areas offer numerous musical opportunities for percussion students to take advantage of and hone their craft in real-world applications.
In addition, Toledo's proximity to Ann Arbor (45min), Detroit (1hr), Cleveland (2hrs), Cincinnati (3hrs) and even Chicago (4hrs) also offers UT percussion students numerous venues to see world-class musical artists within a few minutes to a few hours drive. One of the country's largest arts promotion organizations, the University Musical Society, brings world-class jazz artists, orchestras, vocal ensembles, chamber groups and internationally-acclaimed soloists to the Ann Arbor/Detroit area every year. Recent concerts have featured the San Francisco Symphony, Berlin Philharmonic, New York Philharmonic, St. Petersburg Philharmonic, the KODO drummers of Japan, Chanticleer, Estonian Chamber Choir, as well as jazz artists Chick Corea, Bela Fleck, Danilo Perez, Sonny Rollins, The Bad Plus, SF Jazz Collective and Wynton Marsalis / Lincoln Center Jazz Orchestra to name a few.