Spring Symposium

We All Have Stories To Tell…and Everyone's Story is Worth Telling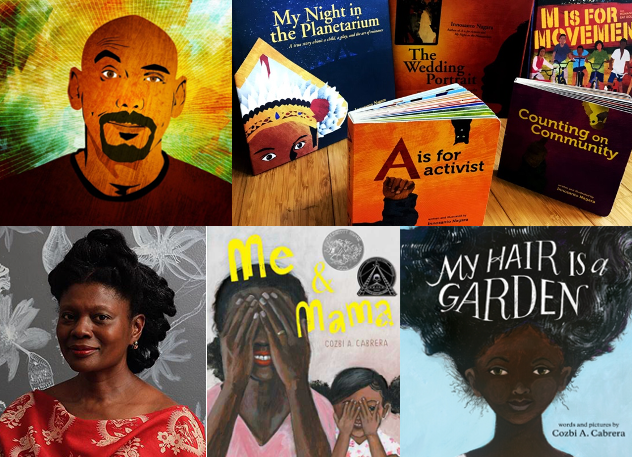 The images and words of children's and young adult literature help us tell our stories, to communicate who we are. The illustrations and language of this literature underscore the idea that we can take control of how we want to represent ourselves. More than ever, we need conversations about social justice, inclusion and diversity. These conversations are not always easy ones to have and at the same time we want to have them, we must have them. One place we can look to for some grounding, for ways to open up those conversations, is children's and young adult literature.

Join in a celebration and examination of how children's and young adult's literature allows us to  appreciate one another's stories at the University of Toledo's 2021 Judith Herb College of Education Spring Symposium "STORIES MATTER" featuring author/illustrators Innosanto Nagara and Cozbi A. Cabrera.
When:  April 15, 2021
Where:  Online - virtual 4-part symposium with interactive workshops with local school children and public presentations and panel discussions.
Who: 
Cozbi A. Cabrera, most recently the author and illustrator of Me & Mama that was awarded a Coretta Scott King Honor and a Caldecott Honor for Illustration.
Innosanto Nagara, most recently the author, illustrator and activist designer of Oh, The Things We're For!, a rhyming text offering "a vision of where we could go–and a future worth fighting for" that builds upon the tremendous positive response to his first book A is for Activist, written initially for his children, that became a best-seller.
Benjamin E. Sapp, Director of the Mazza Museum at the University of Findlay,
Heidi M. Appel, Dean of the Jesup Scott Honors College at the University of Toledo
Michael Deetsch, Emma Leah Bippus Director of Education and Engagement at the Toledo Museum of Art
Raymond Witte, Dean of the Judith Herb College of Education,  Jenny Denyer & Susanna Hapgood, Faculty in the Teacher Education Department at the Judith Herb College of Education at the University of Toledo
Thursday, April 15th STORIES MATTER! Schedule

10:00 – 10:45am
Cozbi Cabrera speaks with kindergarteners; featuring her Caldecott Honor book Me & Mama
11:00 – 11:45am
Cozbi Cabrera speaks with second graders; featuring her book My Hair is a Garden
12:00 – 12:45pm
Innosanto Nagara speaks with third graders; featuring his book My Night in the Planetarium
1:00 – 1:45pm
Innosanto Nagara speaks with fifth graders; featuring his book M is for Movement
2:00 – 3:00pm
Ben Sapp, Director of the Mazza Museum

BREAK

4:00 – 5:30pm
Panel Discussion: Increasing Inclusion and Attention to Issues of Social Justice in Children's and Young Adult Literature 
 
Panelists: Dr. Heidi Appel, Cozbi A. Cabrera, Mike Deetsch, Innosanto Nagara, and Benjamin Sapp  
Author/Illustrators' Websites:
Cozbi A Cabrera: http://www.cozbi.com
Innosanto Nagara: https://aisforactivist.org/