2006 Winners
Dr. Mohamed Samir Hefzy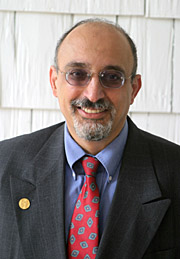 Dr. Mohamed Samir Hefzy has received the 2006 Edith Rathbun Outreach and Engagement Excellence Award for his work with the Senior Design Clinic in the College of Engineering.

Hefzy, UT professor of mechanical, industrial and manufacturing engineering and associate dean for graduate studies in the College of Engineering, is co-director of the clinic, which has received continuous funding from the National Science Foundation since 1993. He joined the University in 1987.

"As part of their training and education, senior mechanical engineering students are required to complete a capstone design course," wrote one nominator. "During this one-semester course, students design, construct and test an original or custom-modified device to meet objectives specified by a customer.

"The goal of these projects is to assist individuals with disabilities enjoy life and to reach toward their maximum potential."

Hefzy and the students receive ideas for projects from the Medical University of Ohio, the Ability Center of Greater Toledo, St. Vincent Mercy Medical Center, UToledo Office of Accessibility and Disability Resources and Metro Health Center of Cleveland. They have completed 81 projects.

"If it wasn't for Dr. Hefzy, hundreds of people couldn't get into their own home, or race on a wheelchair track or field teams, get a drink of water, get into a pool at UT, ride an adapted bike in the park, or play in an adapted playground," wrote one nominator.

Hefzy received $750 and a plaque Friday night at the academic awards dinner.