Annual Conference for Aspiring Minority Youth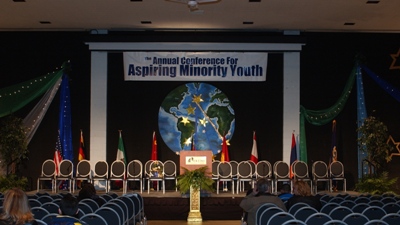 Stimulated by encouragement from various community groups as early as 1983, the First Annual Conference for Aspiring Minority Youth was held on January 19, 1984. Initiative for this event derived from the leadership of Helen C. Cooks at The University of Toledo, Edrene B. Cole of Alpha Kappa Alpha Sorority, Inc., and Toledo Public Schools. Mrs. Cole was able to enlist the cooperation of Toledo Public Schools and ten community groups to supplement funds generated by Dr. Cooks within the University. The conference quickly established itself as an important event. The first conference attracted 210 students and parents. By the fourth conference in 1988, attendance had grown to 1,647. 
The planning group for the first conference formally became the University's Joint Committee on April 29, 1985. Totaling 38 persons, it included the University Vice Presidents and Deans, public and parochial school administrators and other interested persons from various community groups. Because of the success of the conference, it appeared that the University would need to create some specific follow-up programs to attract the students who attended the event. In September 1987, with support from the Joint Committee, Dr. Cooks wrote the first EXCEL draft proposal and Dr. Jon Patton assisted in preparing the final proposal. Dr. William Free and Dr. Lancelot Thompson delivered it to former University of Toledo President James McComas and the first group of EXCEL students was selected the summer of 1989.
Past conference speakers include last year's keynote speaker, social activist and criminal justice reform advocate, Dr. Yusef Salaam; member of the Central Park Five, now known as the Exonerated Five, Mr. Jeff Johnson; author, business leader, and youth advocate, Mr. Wes Moore; social activist and philanthropist, Mrs. Malaak Compton Rock; speaker, scholar, author, activist, and actor Mr. Hill Harper; CBS News correspondent, Mr. Byron Pitts; educator and author, Ms. Sharon Draper, and others such as coach Herman Boone, the educator and coach portrayed in Disney's movie, "Remember the Titans"; South African TV News (SABC) Executive, Mr. Phillip Molefe; Professor Pedro Noguera from New York University; geneticist Joseph Graves, as well as the late attorney Johnnie Cochran, and Martin Luther King, III, SCLC President and son of the late Dr. Martin Luther King, Jr.