COBI students join international honor society Beta Gamma Sigma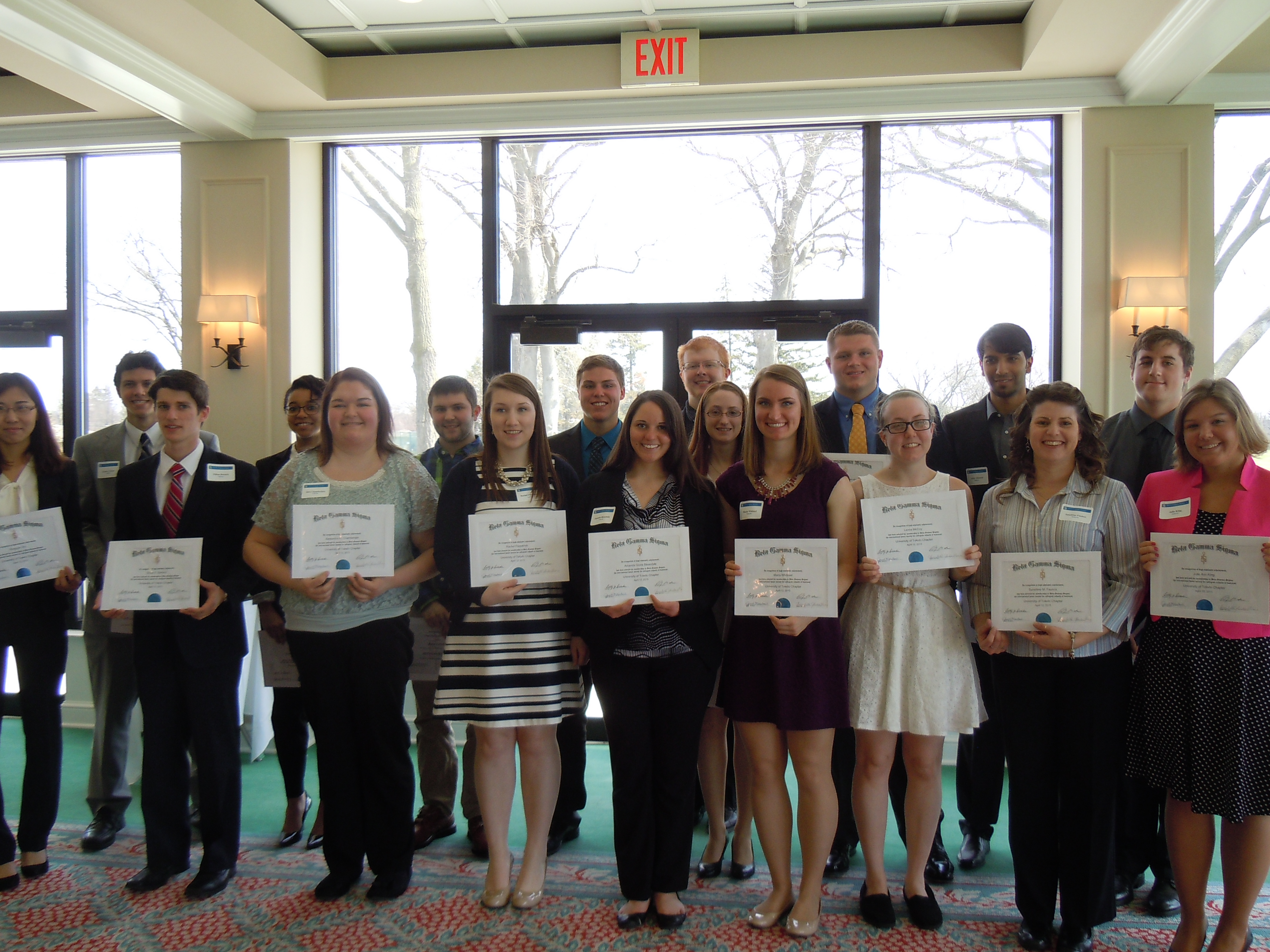 Forty-six students and one faculty member in The University of Toledo College of Business and Innovation were inducted into the Beta Gamma Sigma (BGS) international honor society at the Inverness Club in Toledo on April 12.
"A lifetime membership in Beta Gamma Sigma is truly an international honor," noted Janet Mosebach, Ph.D., associate professor in accounting and BGS faculty advisor.   "With the expansion of accreditation by the Association to Advance Collegiate Schools of Business, membership is no longer limited to those who have studied in the U.S. or Canada, resulting in Beta Gamma Sigma installing collegiate chapters and inducting students on six continents. The most outstanding University of Toledo College of Business and Innovation students are eligible for the highest recognition a business student anywhere in the world can receive in an undergraduate or master's program at a school accredited by AACSB International."   
Beta Gamma Sigma was founded as a national organization in 1913. Students ranking in the top 10 percent of the baccalaureate and top 20 percent of graduate programs at schools accredited by AACSB International are eligible for this invitation. 
This year's UT COBI inductees were recognized and celebrated by their family, friends, and faculty. They join an expanding worldwide network of more than 625,000 outstanding business professionals who have earned recognition through lifetime membership in Beta Gamma Sigma.
This year's UT COBI inductees are:
Master's Students
Mohammed Almotawa
Sarah Booth
Gretchen Buskirk
Marci Cancic
Darrell Crosgrove
Dharshini Dhanaraj
Michael Herstek
Justin Hughes
Robert Limas
Robert Lisowski
John Mulka
Erin Shi
Terri Thompson
Mark Zuchowski
Seniors
Jafar Altaweel
Ethan Barteck
Amanda Bleasdale
Julija Davydov
Laura Dulaney
Sunshine Faunce
Rachel Fitzpatrick
Sergejs Gusevs
Brian Hahn
Linda Mattison
Taylor Pendleton
Melissa Pniewski
Gabriel Stuck
Zachary Zavela
Laura Zielinski
Juniors
Joanna Baker
Scott Ballard
Alex Chamberlain
Mary Beth DeLaTorre
Heather Dietrick
James Gagle
Sarah Hildebrandt
Julie King
Ryan Lessing
Elise Lohmann
Lenna McCoy
Patrick Northcraft
Brittany Polen
Rebecca Rash
Travis Reamsnyder
Richard Scott
Maria Whitesel
Faculty
Marcelo Alvarado-Vargas