COBI ESSPS student wins Quicken Loans Sales Competition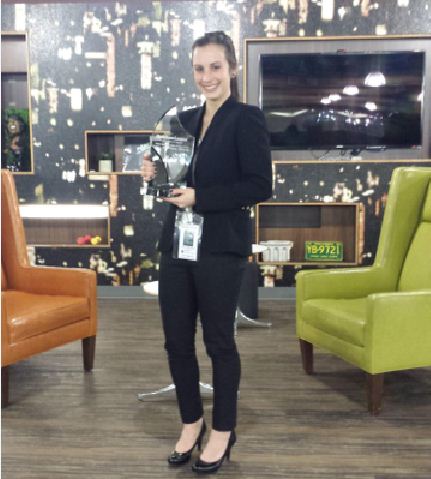 UT COBI professional sales and marketing double major Alysa A. Malcolm won the Quicken Loans Sales Competition in February.
There were 150 students from 12 universities invited to Quicken Loans, but only 25 were selected to participate in the competition, which consisted of individual rounds where each student received immediate feedback from regional vice presidents in sales and banking.
"When you first arrived, you received a notebook containing all of the information you needed for each role play," Malcolm said.  "There were three rounds with three different scenarios.  Everyone participated in the first two role plays (or first two rounds) in which it was just you, your buyer, and one other judge who scored your overall performance. After those two role plays were finished, all of the judges gathered together and scored your two role plays.  Only the top four contestants with the highest scores got to partake in the third and final round."
"This round was definitely more nerve racking than the others.  In the final round, each of the top four participants did a role play on a stage in front of an audience (including Quicken Loans employees and the rest of the contestants), with judges sitting behind you on stage.  When you were finished the judges gave generous feedback while you were still on stage.  I was the first to go out of the other three top contestants.  Throughout the day, you also received feedback from multiple regional directors."
Malcolm said, "I was shocked when I learned I was the winner!  I wanted to participate to ultimately gain some experience, learn, and build up more confidence as a sales student. I could not have done it without the help of Dr. Ellen Pullins and her sales class, along with the confidence and support from the organizations with which I am involved, such as Alpha Kappa Psi, the co-ed business fraternity. "
"I honestly would not have had the confidence to participate in the sales competition if it wasn't for my friends and family.  I truly want to thank them for their encouragement and continual support.  Some great advice I was given my first year at UT was to get involved and to take advantage of the  opportunities that are in front of you.  I can confidently say, when it comes to the College of Business and Innovation, getting involved in Alpha Kappa Psi has helped mold my experience here at UT. I have learned much about myself as a business student, and gained many great friends along the way."
"The QL 1st Annual Sales Competition was the first competition I ever participated in, and I look forward to participating in many more sales competitions with the rest of my time here at UT!" Malcolm said. "Go Rockets!"
"Alysa doesn't even graduate until May, 2016, and I know we are all confident that she has a strong career ahead of her," noted Deirdre Jones, Director, Edward H. Schmidt School of Professional Sales. "And yes, she is competing in the ESSPS Internal Sales Competition on March 20."