COBI professor writes new book to help HR professionals solve business problems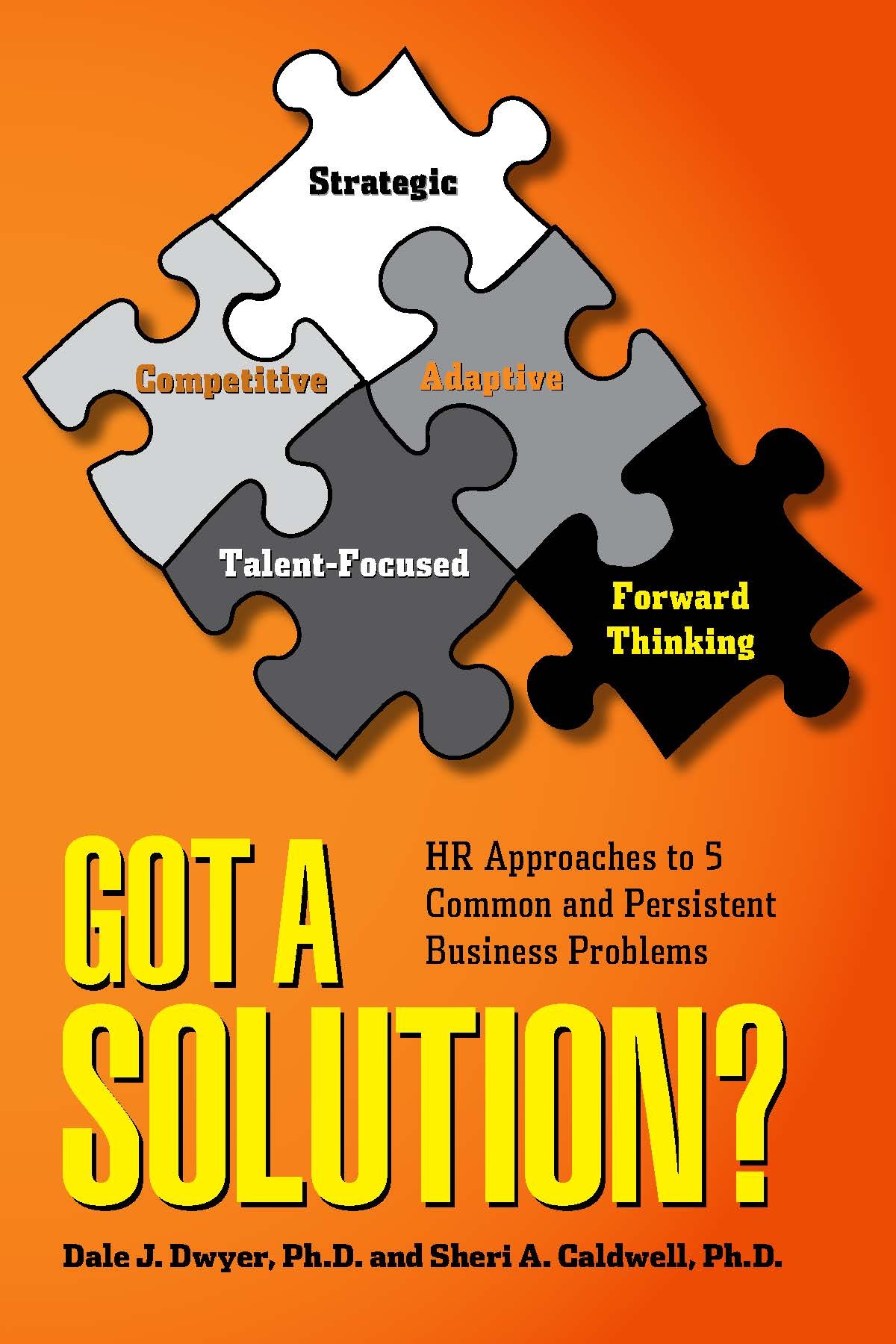 There are more than 100,000 human resources managers in the United States, and they deal with issues emerging from America's 154.4 million workers.  But they are less likely to be a part of solving problems that occur at the top of the organization—problems like strategic focus, market competitiveness, and regulatory compliance.
Now available to help these professionals is a new book, Got a Solution? HR Approaches to 5 Common and Persistent Business Problems, by Dale J. Dwyer, Ph.D., professor of management at The University of Toledo College of Business and Innovation, and Sheri A. Caldwell, Ph.D., SPHR, HR director in the Grain Group at The Andersons.
"We determined what the common problems were by surveying CEOs, other senior managers, and HR practitioners from not-for-profit, for-profit, and government organizations. Each was asked, 'What are the top three (3) general business/organizational problems, issues, or concerns that keep you or your executives up at night?'  We also accessed social media posts on professional sites (e.g., LinkedIn).  The answers they gave were very similar.  From there, we got our five 'universal' problems," Dr. Dwyer said.
Among the specific issues addressed in various chapters are:
-          Playing to Win or Playing Not to Lose: How Do We Become More Competitive in Our Marketplace?
-          How Do We Deal with All the Changing Laws and Regulations?
-          How Do We Attract and Retain the Most Competent Talent?
"Our premise in the book is that people want to do a good job and help their organizations," Dr. Dwyer continued, "but they are rarely asked for their help.  In fact, it is often the case that managers themselves, the systems they put in place, and the rewards/punishments meted out by the managers discourage employees' creativity and helpfulness."
"After reading Got A Solution?, business leaders, managers, and HR professionals will be better equipped to come up with workable and innovative solutions to the very problems that plague most organizations," he said.  "The benefit for HR folks in particular is that they will be in a strengthened position to help the organization reach its goals; in other words, they will be seen as a revenue-generator, rather than as a cost center, as they have often been perceived."
"This book was a joy to write," Dr. Dwyer said, "primarily because it addresses what HR gurus have been calling upon HR professionals to do for the last ten years:  get a seat at the table where decisions are being made.  However, nobody has ever described to them how to do that.  In convincing senior managers that they deserve that seat, HR has to demonstrate actual results that move the organization forward.  The sooner managers realize that their employees can help them if they'd only let them, the sooner organizations can begin to solve some of their most pressing and recurring problems."
Dr. Dwyer's recent book Got a Minute? The 9 Lessons Every HR Professional Must Learn to Be Successful, also co-authored by Dr. Caldwell, was recently the best-selling book sold by the Society for Human Resource Management, the world's largest organization for human resource management professionals.
"We hope Got A Solution?  helps HR folks learn how to move an organization forward by using the people there to help them," Dr. Dwyer said.
Got A Solution? can be ordered at shrmstore.shrm.org.