Faculty Resources
Contact Us
Main Campus
Memorial Field House
Mail Stop 129
Phone: 419.530.8835
Fax: 419.530.8836
utlv@utoledo.edu
Does Quality Matter?
Many factors can affect the quality of an online or blended course. These factors include course design, course delivery, the learning management system, faculty readiness, student readiness, infrastructures, etc. Course design is critical to the quality control process as it affects the course delivery and overall success of online and blended learning programs.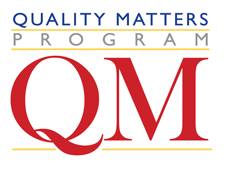 Quality Matters (QM) is a process and a tool to help institutions continuously improve online and blended learning course quality (Shattuck, 2012). The Quality Matters Rubric is a set of 8 general standards and 41 specific standards used to evaluate the design of online and blended courses.  The Rubric is complete with annotations that explain the application of the standards and the relationship among them.  A scoring system and set of online tools facilitate the evaluation by a team of reviewers.
All UT Online online courses should meet Quality Matters standards. Instructional designers, who are also certified Quality Matters Peer Reviewers, work with faculty and teaching assistants to apply QM standards in online and blended learning course design.             

QM professional development opportunities are offered periodically throughout the year. Check out this page for the benefits of Quality Matters training from an instructor's perspective. To learn more, contact:   
Peter You, Ph.D.                
Director of Instructional Design and Development                
Peter.You@utoledo.edu
419-530-4016