Does Quality Matter?
Many factors can affect the quality of an online or blended course. These factors include course design, course delivery, the learning management system,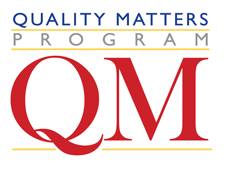 faculty readiness, student readiness, infrastructures, etc. Course design is critical to the quality control process as it affects the course delivery and overall success of online and blended learning programs.
Quality Matters (QM) is a process and a tool to help institutions continuously improve online and blended learning course quality (Shattuck, 2012). The Quality Matters Rubric is a set of 8 general standards and 43 specific standards used to evaluate the design of online and blended courses.  The Rubric is complete with annotations that explain the application of the standards and the relationship among them.  A scoring system and set of online tools facilitate the evaluation by a team of reviewers.
All UT online courses should meet Quality Matters standards. Instructional designers, who are also certified Quality Matters Peer Reviewers, work with faculty and teaching assistants to apply QM standards in online and blended learning course design.    
QM Rubric Standards       
The Fifth Edition (2014) of the rubric standards consists of 8 general standards with 43 specific standards. These standards were developed and revised based on research and established standards in the fields of instructional design and online learning. The standards can be used to evaluate the design aspect of online and blended courses. They also can be used to guide the design of online and blended courses.
QM Professional Development
UT Online works with QM and the Ohio QM Consortium to offer professional development workshops. These workshops include, but not limited to Introduction to Quality Matters, Applying Quality Matters Rubrics. Throughout each academic year, UT Online also awards a $200 professional development grant for experienced online instructors to complete a certificate course so that they can serve on Quality Matters review teams. This certificate course provides substantial knowledge and experience for participants to learn Quality Matters standards and review process to equip faculty to review their own courses and certify them to become peer reviewers for QM official review. For more information please visit our training schedule.
Benefits of Adopting QM in Course Design
For instructors the QM rubric can be used to evaluate their online and blended courses. It can also be used as a guide to design and revise their online and blended learning courses. Peer recommendations from unofficial and official reviews can provide helpful insights for continuous course improvement to ensure course quality. Courses that meet QM standards in official review will be recognized on QM website. Check out the benefits of Quality Matters training from an instructor's perspective.
QM Self-Review
The University of Toledo is a subscriber to QM and faculty can benefit by using Quality Matter's self-review system to conduct self-reviews of their own courses. The system contains QM standards and annotations for you to refer to when conducting self-reviews. Once completed, the results can be emailed to you or viewed in the system. You can conduct as many self-reviews as you want. Refer to this short video for a tutorial of the system.
Subscriber-Managed QM Official Review
Faculty are encouraged to submit their online courses for official review. Priority will be given to courses that 1). are recognized as general education courses, 2). large enrollment courses, 3). master courses, 4). required courses of fully online programs, and 5). faculty who have completed QM training. If you are interested in having your course reviewed, please contact your instructional designer.
Watch the video below to learn more about the official Quality Matters Peer Review process from UT faculty who have had their courses reviewed and recognized by QM.
Quality Matters Resources
Disclaimer:
Meeting QM's accessibility Standards does not guarantee or imply that specific country/federal/state/local accessibility regulations are met. Please consult with an accessibility specialist to ensure that accessibility regulations are met.