General Information
The University has three official graduations, May, August and December.  However, it holds two (2) commencement ceremonies per year, one in May (College of Medicine Programs hold their spring ceremony in June on the HSC), the other in December.  Those students anticipating the August graduation will have the opportunity to participate in either the December or May commencement ceremony.  Students graduating in summer but participating in the spring ceremony must apply for graduation by the fifth week of the previous spring semester to ensure their name appears in the commencement book.  
 
Students expecting to graduate in May, August or December need to file a formal "Application for Graduation" which can now also be completed on-line through the myUT portal,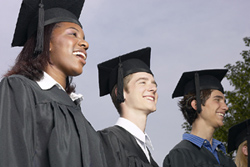 by the posted deadline for the term. The filing deadline is the 4th week of the semester in which the student wishes to graduate.  Information regarding the ceremonies will be mailed to you during the semester.  Students who fail to graduate in the semester for which they have applied must submit a new application. There is a one-time (per graduate degree program) Graduation Services fee of $100 assessed prior to degree conferral.  This is assessed the first time you apply for graduation from a graduate degree program.  Once your application has been processed, the fee will not be refunded.  If you do find it necessary to withdraw your application and apply for a future term, you will not be assessed the fee again.
Please note that attendance at the ceremony does not mean that you have graduated, but simply that you have participated in the ceremony, with actual graduation contingent upon completion of all degree requirements.  Degrees will be posted within three weeks after the commencement date providing all requirements have been met by the required deadlines and the College of Graduate Studies has academically cleared the student.  Graduate students completing all degree requirements will receive their diplomas approximately six weeks after the ceremony.  The diploma will be mailed to students using the commencement address as given on the Application for Graduation.  It is imperative that all deadlines are met, as graduation deadlines cannot be extended.
 
Academic and Financial Deficiencies
All matters concerning incomplete or in progress grades (PR's), prior degrees, plans of study (majors), dissertations, thesis work, proper admissions to the College of Graduate Studies, and any other requirements needed to complete the degree program must be completed and processed through the College of Graduate Studies and/or the Registrar's Office. Students will be notified by regular mail of any deficiencies after applying for graduation. Please contact the College of Graduate Studies for specific deadlines.
 
Computer Accounts
Information Technology will delete any student account and data from university servers when you graduate and/or leave the University.  Please make sure to copy all data from your H:\drive by your last official day as a student.  For email, you will receive an email from Information Technology two weeks prior to deleting your email box. At that point you will need to supply Information Technology with an email address that you would like all of your first.last@utoledo.edu email forwarded to.
 
Directory Release of Information 
If your student records have been coded as "No Release" for directory information,  your name will NOT be published in any area newspapers for graduation. If you wish to verify or change your directory release information, you must contact Graduation Processing in Student Records at 419.530.4829 no later than one month before graduation.  Release of information to area media cannot be guaranteed after that date.
 
IT IS THE STUDENT'S RESPONSIBILITY TO MEET ALL REQUIREMENTS FOR GRADUATION.  TO ENSURE THAT YOUR GRADUATION PROCEEDS AS PLANNED, IT IS IMPORTANT TO MEET WITH YOUR ADVISOR EARLY IN THE SEMESTER OF INTENDED GRADUATION.