Youth Nations 2016
Global Leadership Experience!
The University of Toledo is excited to host the 2nd Annual Youth Nations 2015: Global Leadership Experience! 
Join hundreds of students in learning how to be global leaders!
FREQUENTLY ASKED QUESTIONS           WHAT TO BRING

2015 Youth Nations Video Highlights 

2014 Youth Nations Highlight Video
When
:
  July 17-22, 2016 
Youth Nations Tuition: 
Early Bird (register before May 1, 2016): $150
Standard Tuition Starting May 1, 2016: $225
Registration: Register by clicking here.
What is Youth Nations?
Youth Nations is a week-long interactive global leadership experience where high school students experience college life while participating in a persuasive presentation competition for University of Toledo scholarships.
The week focuses on creating opportunities for students to learn from our skilled faculty about issues that face our world. Participants will then have the opportunity to work in a team of several students to present a plan to change the world. Each team will compete for the chance to win a UT scholarship.
Students will have a real college experience, including staying on campus in our residence halls, spending time with expert faculty, and using our Student Recreation Center. Students can share a room with a friend or meet someone new.
The event fee includes housing, meals and program activities for one person.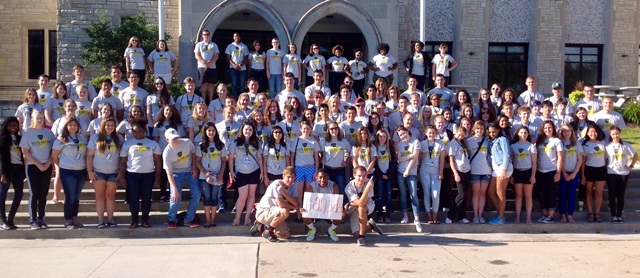 Who should attend?
This leadership experience is geared toward highly motivated high school students who are between their junior and senior year who have an interest to take their passion for learning and making a difference in global issues to the next step.

Global Issues
Participants will hear from global leaders and United Nations representatives about their experiences in leading global change. These representatives will speak about the following issues:
Power and Fuel Sustainability

Human Trafficking

Cyber Security

Public Health

Water
Experiential Learning Opportunities
Students will also participate in one of 5 experiential learning opportunities. Students can choose a field location based on their personal interests or their future academic endeavors. This year's field locations include:
2015 Youth Nation Speakers are as follows, learn more about them here: 
Dr. Clinton O. Longenecker is an award-winning educator, and UT's Stranahan Professor of Leadership and Organizational Excellence
Doc Hendley started the organization and label Wine To Water to help the more than 1 billion people who go without clean drinking water
Dr. Lakeesha Ransom, dean of UT's Jesup Scott Honors College
Extracurricular Activities
Students will also get to participate in extracurricular activities based on the clubs and sports we have to offer. Some of the student's choices will be as follows:
Art
Basketball
Choir
High Ropes/Rock Climbing
Soccer
Volleyball 
What will participants gain from this Youth Nations experience?
confidence in persuasive presentation and leadership
meet new people that share similar concerns and interest for global issues
first-hand experience on what life would be like on a college campus; familiarization of The University of Toledo campus
Questions? Email: Paulette.Bongratz@utoledo.edu