/honors/
Jesup Scott Honors College
Prospective Students
Current Students
/honors/
Get connected
Contact Us
Main Campus
MacKinnon Hall 2000
Mail Stop 504
Phone: 419.530.6030
Fax: 419.530.6032
honors@utoledo.edu
Youth Nations 2015
Global Leadership Experience!
The University of Toledo is excited to host the inaugural Youth Nations 2015: Global Leadership Experience!
Join hundreds of students in learning how to be global leaders!
When: July 19-24, 2015      
What is Youth Nations?
Youth Nations is a week-long interactive global leadership experience where high school students experience college life while competing in a persuasive presentation competition for University of Toledo scholarships.
The week focuses on creating an opportunity for students to learn from our skilled faculty about issues that face our world and develop a plan to solve world problems. Participants will have the opportunity to work with a team to present a plan to change the world and compete for the chance to win a UT scholarship.
Students will have a real college experience. Students will stay on campus in our residence halls, spend time with expert faculty, and use our Student Recreation Center. You can share a room with a friend or meet someone new.
Event fee is $125 per person, includes housing, meals and program activities.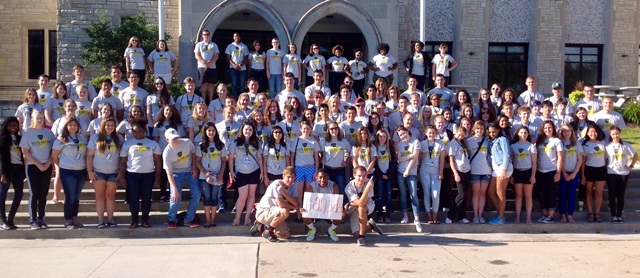 Who should attend?
This leadership experience is geared toward high school students who are between their junior and senior year.
Highly-motivated students who are interested in attending the program because they have a passion for learning and global issues are encourage to attend.
Registration will begin after the first of the year, so be sure to check back!
If interested in receiving Youth Nation information when available email: Paulette.Bongratz@utoledo.edu
Global Issues
Participants will here from global leaders and United Nations representatives about their experiences in leading global change.
Global Issues that will be discussed at the 2015 Youth Nations are yet to be announced.
2014 Youth Nations topics were as follows:
Human Trafficking

Global Health and Wellbeing

International Cyber Security

Power and Fuel Sustainability

Agriculture and Food Security

Global Economy and Currency Sustainability
Speakers
Speakers for the 2015 Youth Nations are yet to be announced.
2014 Youth Nation Speakers were as follows: 
Dr. Clinton O. Longenecker is an award-winning educator, and UT's Stranahan Professor of Leadership and Organizational Excellence
Van Jones is the co-host of CNN's Crossfire reboot and president and co-founder of Rebuild the Dream
Andrew Jenks, often dubbed "the voice of his generation," an award-winning filmmaker
Dr. Lakeesha Ransom, dean of UT's Jesup Scott Honors College
Extracurricular Activities
Students will also get to participate in extracurricular activities based on the clubs and sports we have to offer.
Some of your choices will be:
Soccer
Basketball
Ultimate Frisbee
Volleyball
Kickball
High/low Ropes and Rock Climbing
Choir
Band (must bring your own instrument exception tuba, and percussion)
BASH
What will participants gain from this Youth Nations experience?
confidence in persuasive presentation and leadership

meet new people that share similar concerns and interest for global issues

first hand experience on what life would be like on a college campus; familiarization of The University of Toledo campus