Welcome to the LEC
Visitor Resources
The Lake Erie Center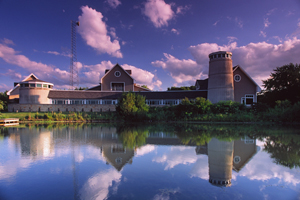 The LEC is open to the public
Mon - Fri, 9am - 4:30pm; tours offered Wed at 10am
Map to the LEC

---

Support research and education at the LEC by becoming a "Friend of the Lake Erie Center" for 2015!

---
---
Quail Reintroduction Survey
University of Toledo researchers are conducting an online survey, "Quail Reintroduction Survey," concerning the reintroduction of Quail in a local park. Please consider completing the survey by clicking on the following: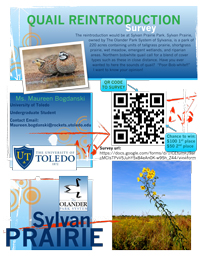 It is important that we hear from everyone possible to get a fair representation of all views. As an incentive to you, two respondents will receive $100 and $50 from a lottery drawing.
The University of Toledo's Lake Erie Center is an interdisciplinary research and education center dedicated to solving environmental problems at the land-water interface and bay-lake exchanges in the Great Lakes - the world's largest freshwater ecosystem. The Lake Erie Center is an integral environmental resource at The University of Toledo and is located in the northwestern corner of Ohio's Maumee Bay State Park. Research at the Lake Erie Center explores the linkages among land use, aquatic resources, water quality, sustainable living and human health - using the Maumee River and Bay and its key influence on the western Lake Erie Basin as a model. The Lake Erie Center assembles within a single facility programs and expertise in aquatic conservation, bioremediation and restoration, coastal zone processes, environmental chemistry and hydrology, ecology and ecosystem management, fishery genetics, geography and land use planning, limnology, remote sensing, and environmental and health monitoring. 


Algae Update
***HARMFUL ALGAL BLOOM PUBLIC FORUM***
If you missed the algae public forum you can watch it here.
 For more information on the 2014 Algal Bloom, click here.
For more information on the water task force, click here. 

Click Here To See Our  Current Job Openings!
Click Here For Info On The 2015 NSM REU Program! 
Lake Erie Center Public Lecture: Dr. Christopher Vandergoot, Ohio Dept. Natural Resources, "Following Lake Erie Walleye: Confirming previous movement perceptions or formulating new ones." Thursday, February 19, 2015, 7:00pm (LEC Room 155)

Lake Erie Center Public Lecture: Dr. Bruce Manny, USGS Great Lakes Science Center, "Giants of the deep -- Restoration of lake sturgeon in the central Great Lakes." Thursday, March 19, 2015, 7:00pm (LEC Room 155)


Lake Erie Center 2015 Art Contest: Artists of all ages, backgrounds and skill levels are invited to submit a piece of 2D or 3D art that fits the theme, "The Nature of our region, from oak openings to Maumee Bay!" Take a look around our region and let the natural wonders inspire your creativity! Prizes will be given in multiple age categories, including a $50 gift card for the 1st place winner! To enter the contest, submit a digital photo of your artwork to lakeeriecenter@utoledo.edu. You can also mail your artwork to the LEC, ATTN: Lake Erie Center Art Contest, 6200 Bayshore Road, Oregon, OH 43616, or stop by during business hours. Entries must be received by March 30, 2015!

Lake Erie Center Public Lecture: Dr. Jhonatan Sepulveda-Villet, University of Wisconsin-Milwaukee, "Feeding fish today, feeding families tomorrow: promoting food security through Great Lakes aquaculture." Thursday, April 30, 2015, 7:00pm (LEC Room 155)



 Tweets by @lakeeriecenter






 
Our webcam looks north onto Maumee Bay, across the street from our building, which is located at 6200 Bayshore Road in Oregon, Ohio. 

Technical info: Apple iSight running on EvoCam

View current weather data from the LEC weather station
View photos from our "The Bay Today" series on our Facebook page