The Lake Erie Center
Mission
Research environmental conditions and living and non-living aquatic resources in Maumee Bay and western Lake Erie, as a model for the Great Lakes and aquatic ecosystems worldwide



Discern the linkages among land-use practices, water quality, habitat, economics, natural resources, sustainability, and environmental and public health


Provide a state-of-the-art research and education facility for sponsored research and collaborations by faculty from the University of Toledo, other universities, federal and state agencies, and visiting scientists



Facilitate hands-on cutting-edge environmental research and education experiences for graduate and undergraduate students

Engage secondary school students, teachers,  and the public with environmental education, sustainable living, and informed outreach awareness programs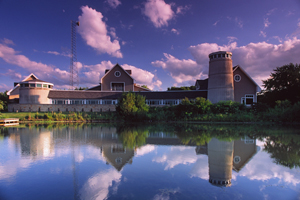 Dr. Daryl was joined by Congresswoman Marcy Kaptur and UT Interim President Nagi Naganathan to mark the opening of the Great Lakes Restoration Initiative funded wetland project on May 27, 2015.  The full news reports can be view below.
CONGRATULATIONS to Matthew Snyder for winning the prestigious
University of Toledo Fellowship award for the 2015-2016 academic year!
Matthew is a graduate student in Dr. C. Stepien's Great Lakes Genetics Lab
The new Lake Erie Center's boat is now in the water and ready for research.
The naming contest has ended and the results will be posted soon.
 

Our webcam looks north onto Maumee Bay, across the street from our building, which is located at 6200 Bayshore Road in Oregon, Ohio.
Technical info: Apple iSight running on Evo Camcated