The Lake Erie Center
Mission
Research environmental conditions and living and non-living aquatic resources in Maumee Bay and western Lake Erie, as a model for the Great Lakes and aquatic ecosystems worldwide

Discern the linkages among land-use practices, water quality, habitat, economics, natural resources, sustainability, and environmental and public health

Provide a state-of-the-art research and education facility for sponsored research and collaborations by faculty from the University of Toledo, other universities, federal and state agencies, and visiting scientists

Facilitate hands-on cutting-edge environmental research and education experiences for graduate and undergraduate students

Engage secondary school students, teachers,  and the public with environmental education, sustainable living, and informed outreach awareness programs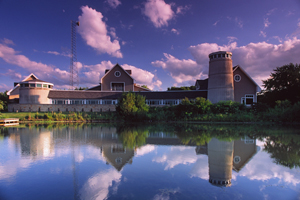 UT Lake Erie Center Student, Holly Embke discovers Asian Carp spawning in Great Lakes tributary.
UT Researchers discuss methods for forecasting E. Coli at Mamuee Bay State Park's Lake Erie Beach.




Dr. Thomas Bridgeman speaks with 13abc Action News about the impact of spring rain on the 2016 algal bloom season.