PhysiCs and Astronomy Postdoc on international collaboration that unveils secrets of stellar winds on massive stars
Dr. Noel Richardson of UT's Department of Physics was part of team that has proven a long proposed theory that hot spots on the star's surface affect the behavior of stellar winds. Read more here.

Dr. Leon McDougle named  College of Natural Sciences and Mathematics 2017-18 Outstanding Alumnus
Leon McDougle, M.D., M.P.H., who received a BA in Biology from UT in 1985, is a Professor of Family Medicine and 1st Chief Diversity Officer at The Ohio State University Wexner Medical Center. Learn more about Dr. McDougal's many accomplishments here.

MATH Professor joins editorial board of international mathematics journal
Dr. Zeljko Cuckovic, professor of mathematics, has been invited to join the editorial board of the Journal of Mathematical Analysis and Applications. Read more here.
COLLEGE OF NATURAL SCIENCES AND MATHEMATICS
Departments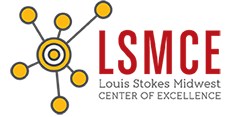 Promoting Diversity in STEM Education as a partner in the Louis Stokes Midwest Center for Excellence.