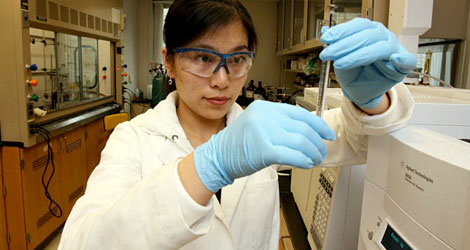 Fostering the advancement of science, mathematics and technology locally, regionally, and globally; and serving as a transformative force within a diverse, interdisciplinary, and collaborative educational environment for improving our world through science and mathematics.
Welcome
Resources & links
Get Connected
Contact Us
NSM Office
Wolfe Hall
Room 2246
Mail Stop 620
Phone: 419.530.7840
webmaster@utoledo.edu
Student Services Office
University Hall
Mail Stop 906
Third Floor Rms 3000 and 3160
Phone: 419.530.2671
TriCollege@utoledo.edu

Recent NSM Grad wins first place twice at the Sigma Xi Research Symposium
July 24, 2014 - Stephanie Angel who graduated with a BS in Biology in May won two first place prizes for her presentation at the national Sigma Xi Research Symposium. Read more here and to see Stephanie's work, visit this link: stephmangel.tumblr.com 

UT Physicists' work selected as editor's choice in Physical Review Applied and highlighted by APS.
May 15, 2014 - Dr. Victor Karpov's paper on Electrostatic Theory of Metal Whiskers was selected as the Editor's Choice in the journal Physical Review Applied. Learn more.  "Image courtesy of NASA Electronic Parts and Packaging (NEPP) Program  http://nepp.nasa.gov/whisker."
 Statistics Consulting
The Department of Mathematics and Statistics now offers statistics consulting through The Statistical Consulting Service.  Learn more here.